Have you ever made Greek scrambled eggs?
Strapatsatha are Greek scrambled eggs – and it's a lot harder to say than it is to make! On my quest to make eggs more interesting, I stumbled upon this recipe. It's a refreshing variation of a breakfast dish we all love, spiked with tomatoes and feta for a zesty makeover. After all, tomatoes and eggs are a match made in food heaven: Keto shakshuka, anyone? If you haven't tried that yet you are seriously missing out. And this is even easier to put together on a groggy morning because it doesn't require any pureeing or chopping of tomatoes. Just slide it on a grater and you're done.
You can also add your own twist to this recipe. Some of the recipes I've seen use onions, balsamic vinegar, even spices like cumin and paprika so you could really play around with it. If you're using onions, saute them at the start with the garlic, and deglaze with the balsamic vinegar for a bit of sweetness.
But it has tomatoes! Is that keto?
Weeeooooweeeeeeoooooooweeeeeeooooo. Is that the Keto Police I hear? Before you arrest me officers, I would just like to point out that the tomatoes in this recipe add up to 3 net carbs. That makes this dish perfectly suited to keto, so put those handcuffs away! This could easily fit into your 20 gram carb macros for the day and it'll keep you satiated till lunch.
And if you're in the mood for more Greek recipes, give my Keto gyros a whirl – and you don't even need a rotisserie. Maybe with a side of tzatziki? Damn, I wish I had these dishes on the menu when I had Greek guests over. Pop over to the Headbanger's Kitchen Youtube channel to see what happened when I fed metal musicians from Greece some Indian food. I also had one of my favourite drummers, George Kollias, at my house, eating my grandmother's kebabs. Watch how that turned out!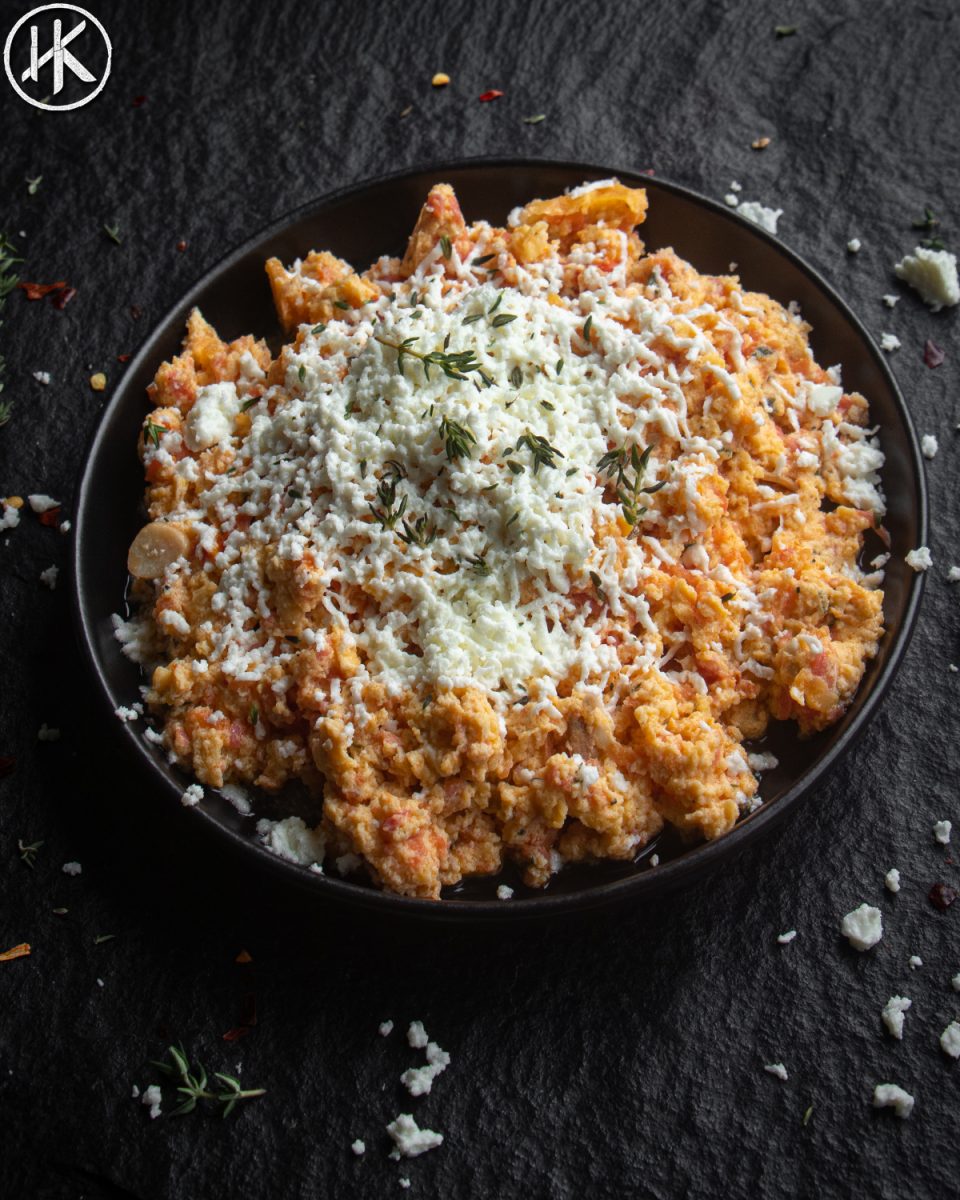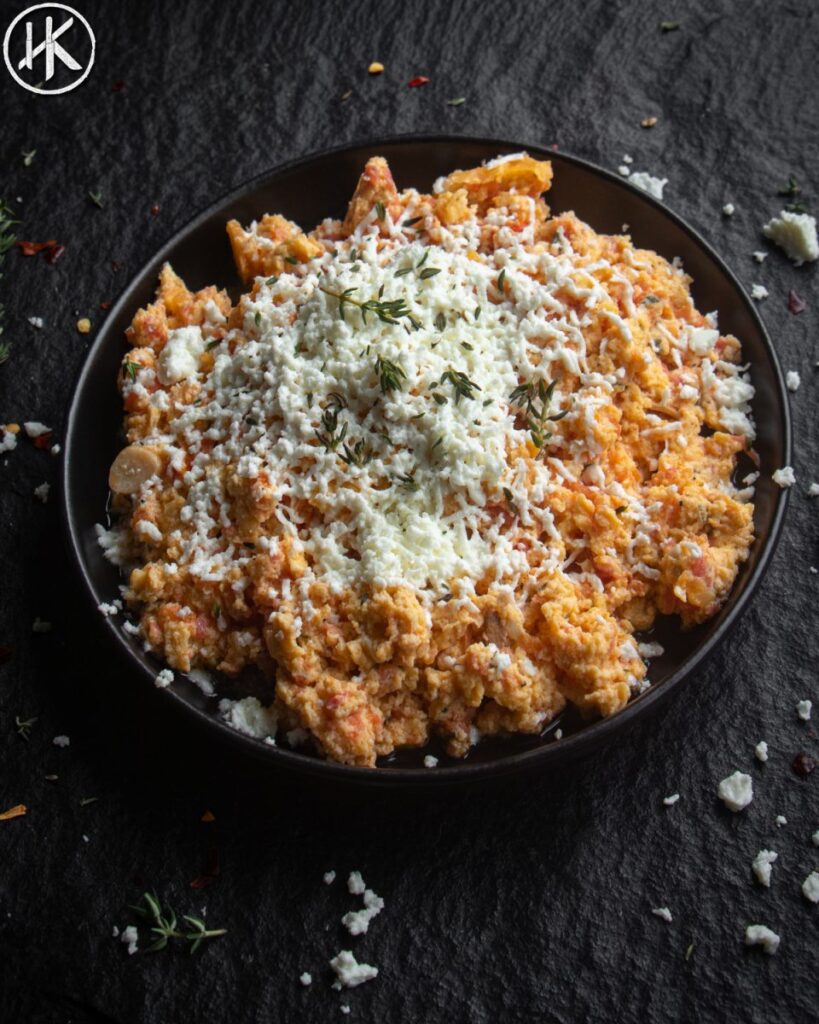 Nutrition Info (Per serving)
Calories: 267
Net Carbs: 4g
Carbs: 5g
Fat: 21g
Protein: 16g
Fiber: 1g
This recipe makes 3 servings. Get this recipe on myfitnesspal.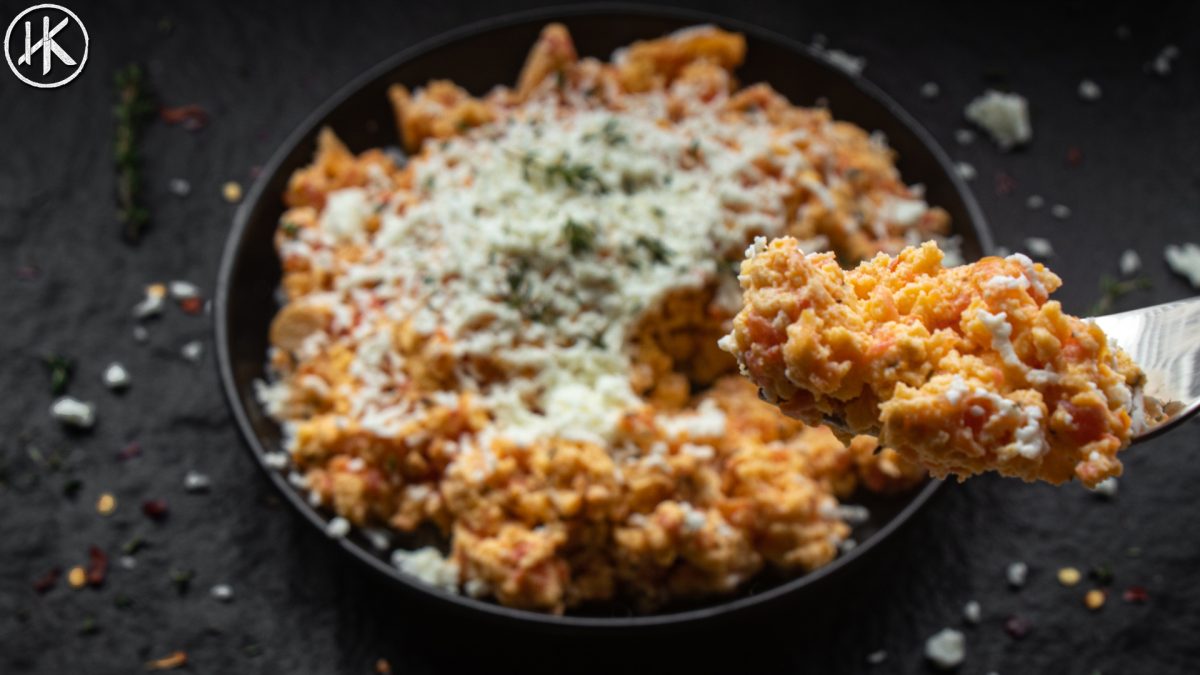 Greek Scrambled Eggs
A Keto version of this classic Greek breakfast
Ingredients
4

Eggs

2

Small Tomatoes

150 grams grated

100

gram

Feta Cheese divided

2

tbsp

olive oil

1

clove

Clove Garlic

1

tsp

Fresh Thyme

Salt

a pinch

Pepper

a pinch
Instructions
Get the grater out and grate the two tomatoes, discarding the skin

Slice up the garlic, or mince it if you're feeling lazy

Crack the eggs into a bowl and beat them till they're fluffy

Get a pan on the stove on a medium flame and add the olive oil

When the oil comes to temp, add in the garlic and saute till it just starts to brown

Add in the grated tomato and give it all a good mix. Use a splatter screen if the tomatoes start to sputter

Season the tomato-garlic mix with salt and pepper, then cover and let it cook for about 3 to 4 minutes

Lift the lid, give everything a stir and toss in the fresh thyme. Mix and let it continue to cook for about two minutes.

Two minutes later, crumble in feta. Add in the eggs and gently scramble them along with the tomato-feta mix. You won't need to salt the eggs because the feta is plenty salty.

Cook the eggs to the consistency you like. I prefer mine just on the edge of soft and creamy but firm.

Remove the eggs to a plate, then grate some more feta on top to garnish. Add a bit more fresh thyme for garnish. Serve piping hot!