Can you ever have too much curry?
A Keto beef curry is on the menu today! I've done a lot of curry recipes. I even hosted a curry week on the Youtube channel. But like I asked, 'can you ever have too much curry?'. I guess not. Today I'm whipping up a Keto curry inspired by the cuisine of Southern India. I've said this before that India is a huge country. Each state has it's own cuisine, language and culture. You'll find in the northern part of the country the food is richer and they use a lot more dairy. A good example is my Keto butter chicken or palak paneer. In the southern part it's more curry leaves and coconut milk. Anyway enough jibber jabber, let's cook!
Breaking down the beef!
If you've followed my channel for a while, or following the news in India in general, you'll know that there is some beef with beef. Lots of misconceptions about Indians not eating beef and the cow being holy etc etc. Lots of half truths and things like that but I won't get into that because it's a pickle itself. What I will say is that when I say beef, the meat I'm using is water buffalo. I'm talking about the kind that you get mozzarella cheese from. We also don't farm raise these animals for their meat. They are animals that work through their life and when they get old they are sold for the meat. This will explain why our 'beef' has no fat and is very lean meat and very tough because it's a working animal. The only tender part, is the tenderloin.
This will explain why even after pressure cooking the meat it's still chewy and tough. I'm sure many of you will offer suggestions to 'tenderize it' but you can't create fat or tender meat here. If you live in India, I'd recommend doing this with tenderloin. If you live outside India you are already privileged enough to have access to a wonderful selection of slow roasting cuts. Braising beef, short rib, brisket and chuck roast. They will all work well. Enjoy!

Indian Beef Curry
Now let me be clear here. You get actual beef in India. From the cow. Yes, but I live in a state where it's banned so I make do with water buffalo. As I've said previously curries vary across the country and the flavors and ingredients change with the region.
Honestly you can make a curry out of a variety of ingredients and spices. Just skip a couple and you've changed the profile significantly. Generally onions and tomato form the sort of body of the curry. Either by chopping them finely and cooking them down for a long period of time or puree the ingredients and make a paste. We rarely use tomato paste which is something found only in western countries.
Ginger and garlic cloves almost always feature and often as ginger garlic paste. Some curries will use one or the other. We almost always finish the dishes with cilantro or coriander as we call it in India.
When it comes to spices the mixture always varies. Everything from turmeric, garam masala, red chili powder, coriander powder, pepper etc. There are always whole spices as well like bay leaves, cumin, cinnamon etc.
For the most part at home people make curries in the pressure cooker. This is especially true if it's meat like beef, pork or mutton which needs a long time to cook. Some people even pressure cook chicken on the bone, especially if it's a tough meat free range chicken or desi chicken as we call them. If you have an instant pot/slow cooker you can use that. You can also use a dutch oven and pop it in the oven. Or just simmer on the stovetop.

Nutrition Info (Per serving)
Calories: 304
Net Carbs: 4g
Carbs: 5g
Fat: 16g
Protein: 33g
Fiber: 1g
This recipe makes 4 servings. Get this recipe on myfitnesspal.
Please note that the macros will change according to what cut of beef you use and how much fat % it has. Similarly if you make this curry with pork, chicken, fish or veggies the macros will be different. If you substitute the coconut milk for cream you will increase the fat macros slightly. If you want higher fat macros make sure you put a tablespoon of butter on your portion to increase the fat macros.  You could also just eat a fat bomb along with this meal. Try my chocolate peanut butter fat bombs or my nutella fat bombs.
Other beefy (water buffalo) creations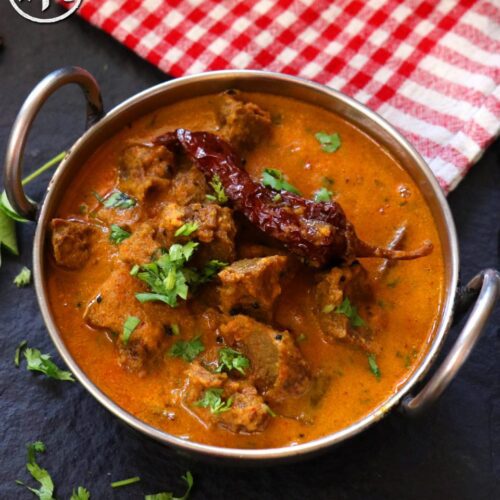 Keto Beef Curry
A South Indian style Beef Curry
Instructions
Start by chopping the beef into small bite size pieces.

In a pressure cooker add the beef, salt, cinnamon stick, bay leaves, cardamon pods, peppercorns and water. Pressure cook for 30 minutes or till tender.

While the beef is cooking add the onion, tomato, ginger, garlic and a tablespoon of water to a nutribullet or food processor and blend into a paste.

Once the beef is cooked remove with a slotted spoon and set aside. Strain the liquid from the pressure cooker and set aside as well.

Heat the oil in a frying pan or a heavy bottom saucepan and add in the mustard seeds and the dried red chillies

Once the mustard seeds start popping add in the curry leaves and hing.

Next add in the blended curry paste you made in the food processor to the saucepan and give it a good mix after adding some salt.

It's time to add in all the spices. Add the chilli powder, tumeric, garam masala, cumin powder and coriander powder.

Mix well and cook for about 5 minutes till the paste begins to thicken and start frying in the oils.

Add the beef back to the pan and mix well till all the pieces are coated with the spice mixture. Once that's done pour in the stock that was strained after pressure cooking the beef.

Give it all a good mix and cook for a further 15-20 minutes till the sauce has cooked down to a nice thick consistency.

Finally add in the coconut milk and cook for another 5 minutes and then turn the heat off and add in some coriander.

Serve with some cauliflower rice, Keto naan or Keto dosa.