Authentic Greek Tzatziki Sauce
I've been wanting to make Greek food on the show for a while. I did a whole week of Keto Hungarian recipes last year and a full 2 months of Keto Thai food recipes. Unfortunately people still seem to be more excited about Keto breads and Keto desserts. So I held off on the Greek food dream. Jan this year I did my Keto for beginners series and since that ended I figured now was the time. So I'm kicking off with a super simple and easy Greek recipe. It's what I call a Keto Essential. It's Tzatziki which is a garlic and yogurt sauce. It's the perfect condiment to have with meat. Enjoy!
Try it with some Kebabs
Having tasted this dip I personally think it would go great with some of my Indian recipes as well. I'm obviously working on some Greek Style recipes to go along with this but while that's work in progress, try it with these recipes.

Nutrition Info (Per serving)
Calories: 57
Net Carbs: 2g
Carbs: 2g
Fat: 4g
Protein: 2g
Fiber: 0g
This recipe makes 15 servings. 1 Serving is approx 30grams or 2Tbsp. Get this recipe on myfitnesspal. Now I must mention that I have calculated these macros using an Indian brand of greek yogurt so the macros might vary depending on what brand of yogurt you use. I also used the macros for the entire cucumber, I'm not sure if there is any change because the water has been squeezed out. Also if you want to up the fat macros of this just add more olive oil.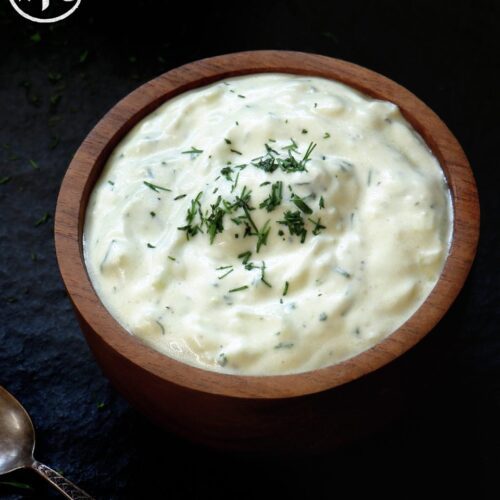 Keto Tzatziki
An authentic Greek yogurt and garlic sauce
Ingredients
400

grams

Full Fat Greek Yogurt

250

grams

Cucumber

This was the weight of my full cucumber with skin and everything

4

Tbsp

Greek Olive Oil

5

grams

garlic

2

Tbsp

White Wine Vinegar

5

grams

Dill

Salt & Pepper to taste
Instructions
Start by peeling and washing the cucumber. Then using a large cheese grater grate it into a bowl and season with salt, also add 1 tbsp of the white wine vinegar and set it aside.

After 10 minutes put the cucumber in a clean cloth and squeeze out all the water from it. Set that aside.

In a mortar and pestle or food processor blend together the garlic with about a tablespoon of olive oil. You want a nice garlic paste almost. Alternatively you can just mince the garlic

In a large bowl add the greek yogurt, remaining olive oil and white wine vinegar, the drained cucumber, the garlic paste and also chop the dill and add it to the bowl. Season to taste and give everything a good mix.

Chill in the fridge for a bit and then serve with your favourite foods or use as a dip for vegetables and Keto chips.