This Keto Greek Salad is a Mediterranean summer on your plate
Okay, first things first. Calling this a Greek salad is like calling all Indian dishes "curry" – it's not wrong, but it's doing it a disservice. We're making Horiatiki, perhaps the most familiar of Greek salads (and there are many!). This Keto Greek salad is a gorgeous tumble of sliced red onions, bell peppers, tomatoes, cucumbers, Kalamata olives, topped with salty, fresh feta, drizzled with the best olive oil you can get your hands on, and just a sprinkle of oregano. It's everything that's great about summer. And it's the perfect throw-together on a hot day when you can't bear to step into the kitchen.
It's as easy as slicing up some veggies. And yes, it is Keto- friendly. It might seem like the veggie carbs add up, but remember, a lot of that is fibre and if there's a healthy way to get your carbs in on keto, this is it.
And because it has such few ingredients, it really helps to get the best you can find. Plump summer tomatoes or cherry tomatoes, Kalamata olives (which have a very different flavour profile to Spanish or green olives), sharp red onions – all of these will affect the final flavour profile of your salad.
Can I change up the ingredients?
Yep, I did too because part of what makes this Keto Greek salad so easy is using what's on hand. You can sub cucumbers for beets (if you're not making a keto version). You can even throw in some lettuce – though that will make it an American-Greek salad. I didn't have oregano handy, so I switched it out for thyme (don't hate me, Greek fam). Of course, you can also sub the kalamata olives for regular olives or even capers. The only thing you might want to keep are the red onions; nothing else quite gives it the biting sharpness that cuts through the olive oil and feta.
The dressing for the salad too is as easy as can be. Good quality olive oil, red wine vinegar, oregano/thyme, salt and pepper, mixmixmix, and you're done! Traditionally the salad is served with all the ingredients distinctly separate in a bowl, and not mixed – it's up to each person to take what they want from it and then mix it in their own dish, but since I'm eating this by myself, I can do what I want. You're also supposed to serve it with a slab of feta on top but since the cheese police didn't stop by my house, I just crumbled it over the salad – it's just easier to eat that way.
If you're making this as a side to go with a main, may I recommend you pair it with my perfect duck breast? The acidity of the salad really cuts through the fattiness of that duck as it does through steak. If this is putting you in the mood for more Greek food, whip up my Greek scrambled eggs – I promise it'll be the best breakfast decision you've made recently.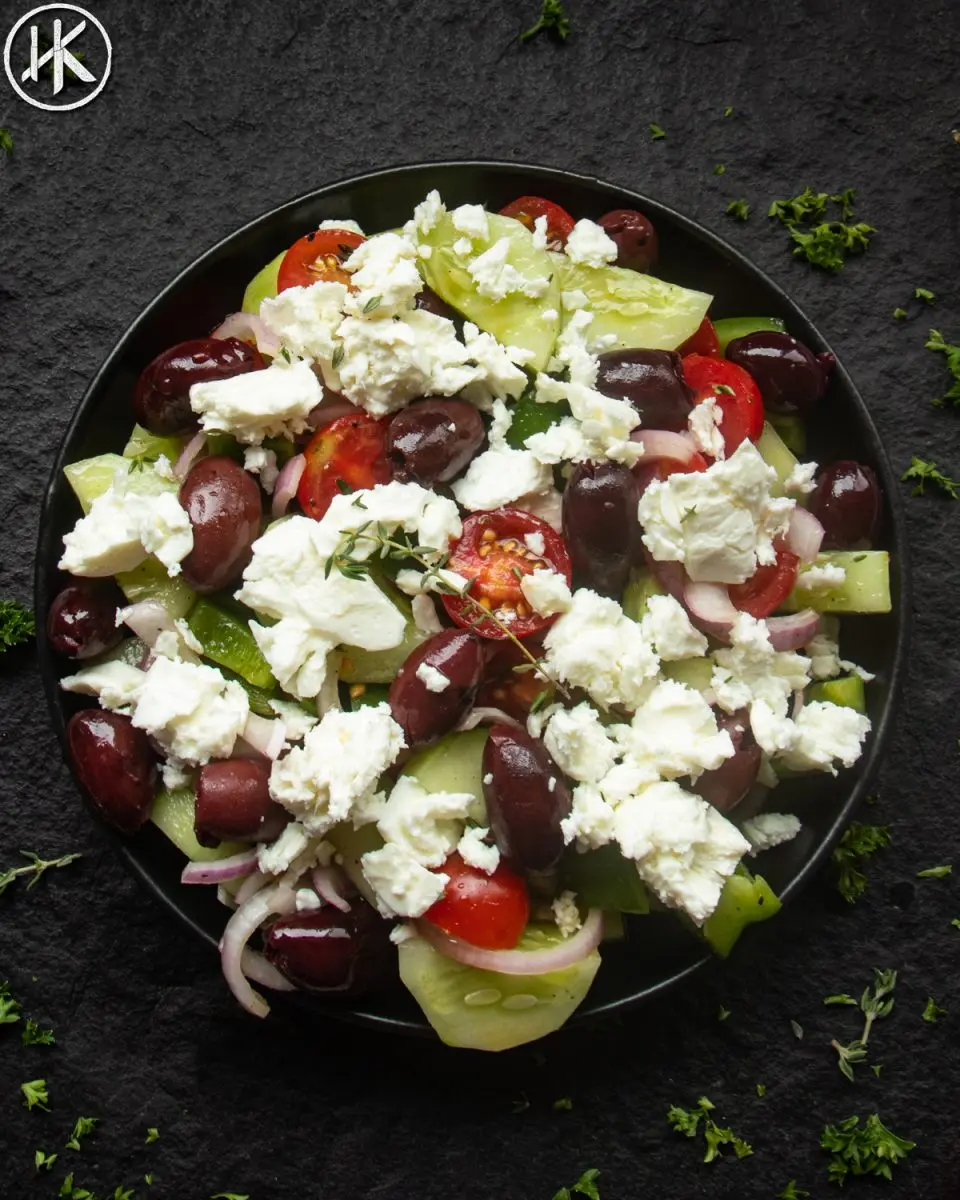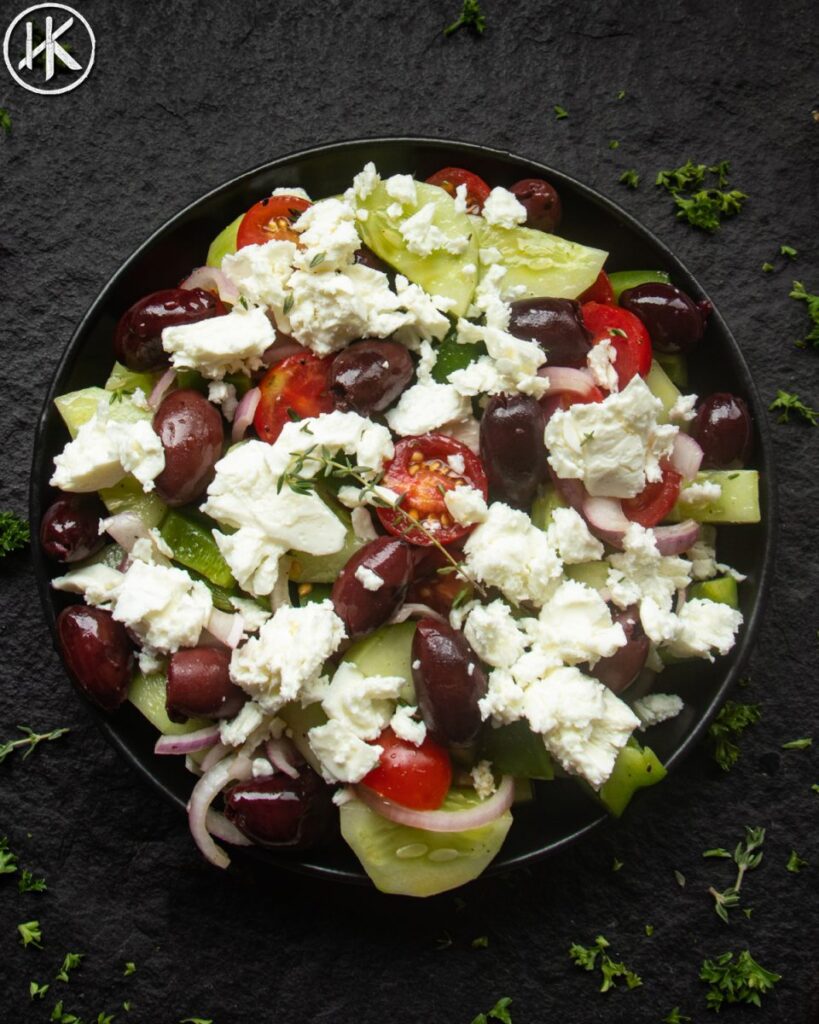 Nutrition Info (Per serving)
Calories: 362
Net Carbs: 15g
Carbs: 18g
Fat: 27g
Protein: 12g
Fiber: 3g
This recipe makes 2 servings. Get this recipe on myfitnesspal.
Now I can already see people losing their sh*t because this salad has 15g net carbs. I get it, if you're one of the Keto police or someone who wants to stay below 20g come hell or high water this salad is probably not for you. However you must realize that 15g of carbs from fresh veggies like cucumber, onions, bell peppers and a fruit like tomato are very different from eating 15g of carbs from say a candy bar. Show me one person who got fat eating a cucumber or show me even a diabetic who can't eat these vegetables. Chances are you won't find one. So for all intents and purposes this should be fine, it's okay to have a few extra carbs from healthy foods like veggies. But it's a choice that you have to make. I can't make it for you. But if you're not fussed like me, bon apatite.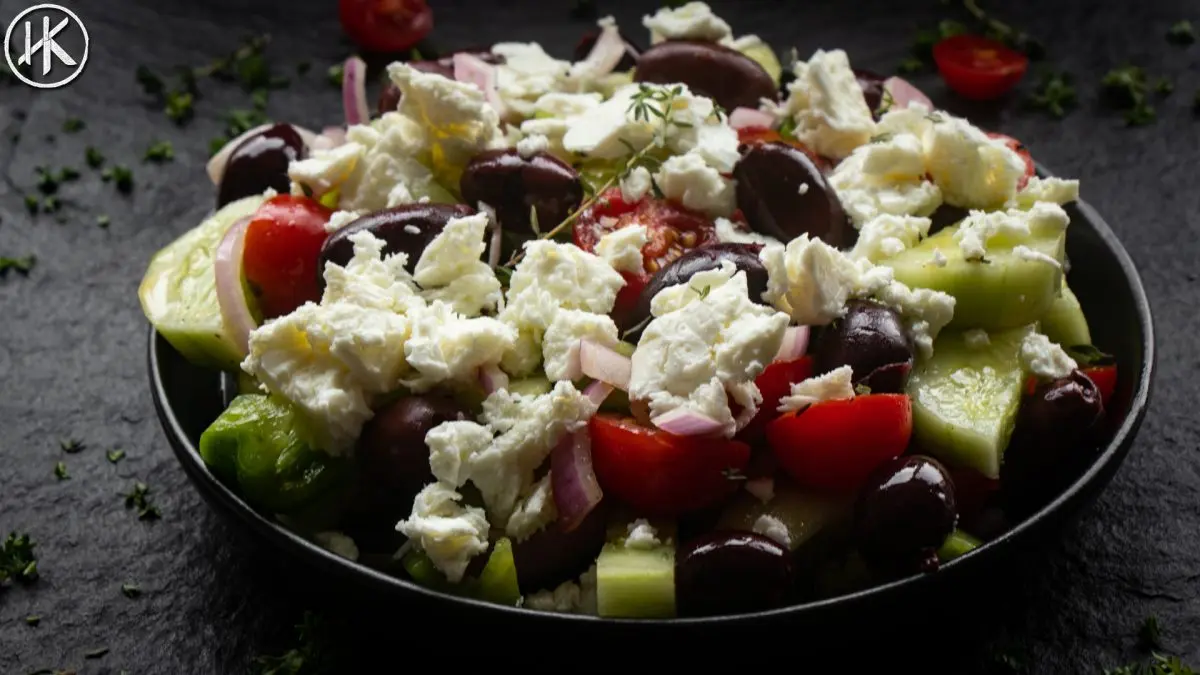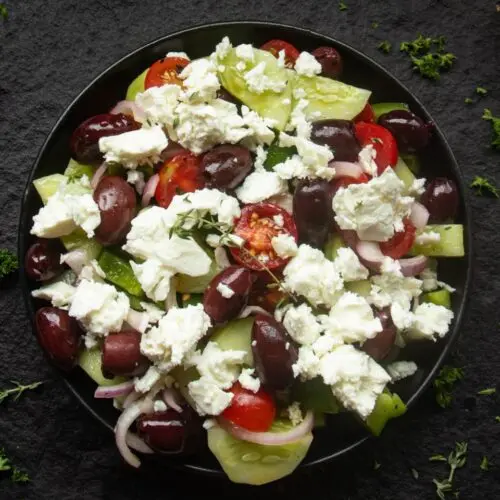 Keto Greek Salad
A delicious and easy Greek salad with feta and kalamata olives
Ingredients
200

grams

Cucumber

50

grams

red onions

100

grams

Cherry Tomatoes

50

grams

Green Bell Pepper

50

grams

Kalamata Olives

100

grams

Feta Cheese

2

tbsp

olive oil

1

tbsp

red wine vinegar

Salt to Taste

Pepper to taste

1

tsp

fresh thyme or oregano
Instructions
Start by prepping the vegetables. Peel the cucumbers, halve them lengthwise, then quarter the halves and dice it up, so you're left with nice, chunky pieces of cucumber.

If you're using regular tomatoes, cut them to mirror the cucumber slices. If you're using cherry tomatoes, just cut each one in half.

Slice the onions into thin half-moons. If you're not a fan of sharp, raw onions, dunk them in cold water for a bit to take some of the pungency out.

Dice the bell peppers into chunky pieces just like the cucumbers and the onions.

Mix up all the cut veggies in a bowl

To make the dressing, add the extra virgin olive oil to a bowl. If you can get your hands on kalamata olive oil, I would highly recommend it.

To the olive oil, add one tablespoon of red wine vinegar. Lemon juice will work as sub in a pinch if you don't have the red wine vinegar but the flavour will be different.

Add in the fresh oregano or thyme, fresh ground pepper and salt. Give it all a good whisk until it emulsifies.

Pour the dressing on the salad and toss to mix everything, so all the lovely veggies are coated slickly in it.

Serve with a slab of feta on top, or crumbled like I did.