Keto Tortillas but also Keto Naan
Are they Keto Tortillas or is it a Keto Naan?
Keto Tortillas or Keto Naan? It's both!! It's basically a Keto flatbread made with almond flour. Now I've already done a recipe for a Keto naan/tortilla using coconut flour a few years ago. And might I add that the video has crossed over 1 million views!!! As with each of these recipes that use coconut flour, the first question I get is 'Can this be made with almond flour?'. And that is why I decided to just go ahead and make this recipe.
So whether you have almond flour in your pantry or coconut flour, you can now enjoy this delicious Keto flatbread.
Jazz Up your flatbreads!!!
Sometimes a plain flatbread can get boring so why not jazz it up. In the video I use some garlic, butter and coriander to make a compound butter which you can brush on your hot naan. It's absolutely delish!! I also put some Nigella seeds or black onion seeds on another one of them. These are interesting things you can do with your naan. You can also bake these for about 10-12 minutes in a really hot oven. Probably around 220C but since I haven't tested this myself I can't be 100% sure.
If you do bake them and have it figured out then let me know in the comments below. And finally if you want to buy that papad jali that I use (the stovetop grill with the handle) then just click here: https://geni.us/papadjali and order it. Cheers!
Nutrition Info (Per serving)
Calories: 102
Net Carbs: 1g
Carbs: 3g
Fat: 8g
Protein: 3g
Fiber: 2g
This recipe makes 4 servings. 1 serving = 1 flatbread.  Get this recipe on myfitnesspal.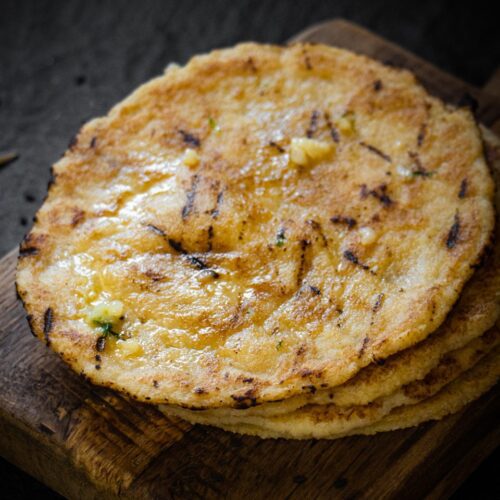 Keto Tortillas but also Keto Naan
A super easy Keto flatbread made using almond flour. It can be used as a Keto tortilla or a Keto naan.
Instructions
In a bowl mix together all the dry ingredients.

Microwave the water for about 30 seconds or just warm it on the stove.

Add half the water and give it all a good mix and then slowly add the rest of the water to form a dough ball.

Divide the dough into 4 equal parts. I recommend using a kitchen scale for accuracy.

Then place the dough ball between two sheets of parchment paper and roll it out. Alternatively use a tortilla press. I have a trick using a frying pan to replicate the effect of a tortilla press so watch the video to see that.

Then heat some butter or Keto approved cooking fat in a pan and then place your flatbread in the pan.

Cook on a medium heat for 3-4 minutes till it is golden brown.

Flip the flatbread over and cook till the 2nd side is done. You can add more butter/oil to the pan if you like. Watch the video for variations on the recipe and cooking options.

Finally you can give it a quick kiss with the flame using a papad jali if you want to get some of those black marks like you do on a tandoor for your naan. Otherwise skip this step.

Enjoy these with your fav curry as a naan or use it as a tortilla to make your fav tacos.
Notes
The recipe in cups is.
1/2 Cup almond flour
2 Tbsp Pysllium Husk
1/4 Cup Water