Keto Shrimp & Grits
Are grits Keto? Can you eat grits on Keto? The answer is No. But you can eat these Keto grits. We're making the classic shrimp and grits and we're making it 100% Keto. Now I must confess that I've never eaten grits. They just aren't available or made in India. I have however eaten polenta and I do believe they are quite similar. Both are made from cornmeal. So to make these grits 100% Keto friendly we're using our good old friend, cauliflower. But trust me on this, it's going to be so delicious that you will not miss the original. Anyway let's get cooking!
Cooking Keto Grits
My Keto grits took a long time to cook. I used my cauliflower raw and cooked it low and slow for a long period. I do believe you can speed up the process quite a bit. One option is to microwave the cauliflower for 5-10 minutes in the microwave till it's tender. That should easily reduce the cooking time to about 10 minutes of boiling it with the stock and then adding the butter, cream and cheese to finish it.
Mine took quite a while also because I had the lid on and if you want to evaporate the liquid, it's best to keep the lid off. Now you can also adjust the amount of cheese, cream and butter to your personal taste. If you wish to make this dairy free you can but I'm not sure why you would want to. Since the hallmark of this dish is that cheesy and creamy taste.
If you aren't a big fan of shrimp you can always use fish, chicken etc. Honestly the grits are something I could eat as a side with many dishes. My Keto beef bourguignon comes to mind as something I'd enjoy with these grits. Another option could be my Keto beef stroganoff or even my Keto coq au vin.
Nutrition Info (Per serving) – For the grits
Calories: 199
Net Carbs: 3g
Carbs: 6g
Fat: 15g
Protein: 8g
Fiber: 3g
This recipe makes 4 servings. Get this recipe on myfitnesspal. You can easily increase the fat content by just adding more butter to this.
Nutrition Info (Per serving) – For the shrimp & bacon
Calories: 161
Net Carbs: 1g
Carbs: 1g
Fat: 11g
Protein: 13g
Fiber: 0g
This recipe makes 4 servings. Get this recipe on myfitnesspal. If you want to can skip the bacon and begin the process of cooking the shrimp with 1 tbsp of olive oil instead. In this case the macros will change. The protein % will drop a bit. This portion of the macros is for the shrimp and the bacon.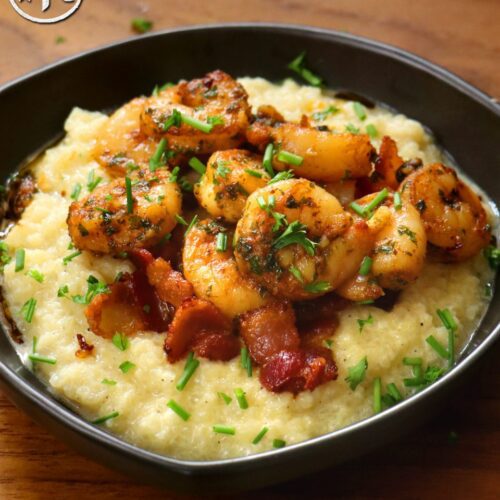 Keto Grits with Shrimp
The classic shrimp and grits made Keto
Ingredients
For the bacon and shrimp
300

grams

Shrimp

100

grams

bacon

15

grams

Butter

5

grams

garlic

1

Tsp

Chopped Parsley

1

Tsp

Cajun Seasoning

I recommend this

1/2

Tsp

Black Pepper

1

Tsp

Chives/Spring Onion Green for Garnish

1

Tsp

Lemon Juice

1/2

Tsp

Smoked Paprika

I recommend this
Instructions
For the grits
Using a food processor rice the cauliflower using the blade attachment. You are looking for a cous cous like consistency.

In a large saucepan bring the chicken stock up to a boil and add in the cauliflower and cover with a lid and cook on a medium heat for about 15 minutes.

Remove the lid and add in the butter, salt and pepper and cook till the cauliflower is nice and tender.

Add in the cheese and cream and give it all a good mix.

Now remove the lid and cook till the cauliflower grits are the consistency you like.

Once done, turn off the heat and serve hot!
For the bacon & shrimp
Drain and dry the prawns and add them to a large bowl. Season with the cajun seasoning and black pepper and set them aside. If the seasoning doesn't have salt then add salt to taste as well.

Chop the bacon into pieces and fry in a pan till nice and crispy and then remove and set aside.

Now add the prawns to the same pan. Make sure you do NOT remove any of the bacon fat from the pan. Make sure the heat is on high as you want to get some colour on the prawns and since they cook fast we don't want them in the pan for more than 4-5 minutes in total.

Just about 2 minutes after adding the shrimp mince the garlic and add it in and give everything a good mix.

Next add in the butter and parsley to the frying pan and cook for about a minute more till the shrimp is cooked all the way through.

Turn off the heat and add in the lemon juice and give it a final good mix.

Serve the shrimp and bacon bits on top of your Keto grits and garnish with chives or the green part of a spring onion.

Enjoy!