Rooster Cooked in Wine
Coq Au Vin originally translates to 'rooster cooked in wine'. It was a dish that was cooked low and slow. Rooster meat is not quite as tender as the chicken you buy today and if you buy and eat 'desi murgi' or country chicken, you will find it is also a much tougher meat. So this was rooster slow cooked in red wine that has evolved into a chicken dish. It's most likely due to us not eating much rooster these days. If you saw my Keto Beef Bourguignon recipe, this is pretty similar to that. Anyway time to cook.
The fat and the carbs and the protein
The macros for this recipe will vary from cook to cook because of the bacon. The bacon I am using is a local brand and they are smoked bacon cubes which contain a HUGE amount of fat. It's almost 1800 calories for the 200 grams of bacon. Depending on what bacon you use the macros for your dish might vary. Also if you decide to use chicken without skin or chicken breast then the macros will vary as well. For the wine I used a generic red wine which is about 3 carbs in total. If you skip the wine, use less mushrooms or ditch the onions then the carbs will be even lower.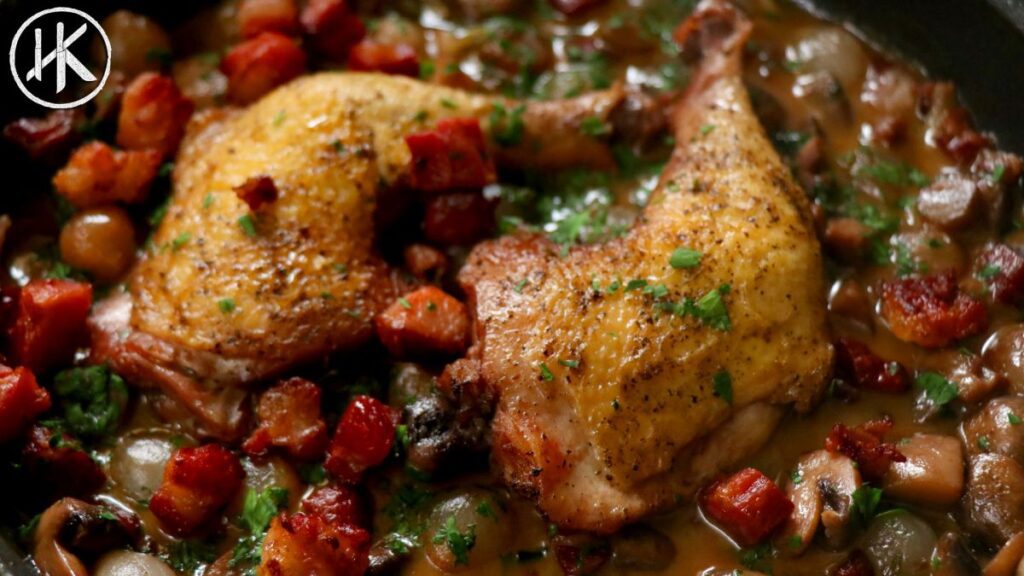 Nutrition Info (Per serving)
Calories: 785
Net Carbs: 4g
Carbs: 5g
Fat: 64g
Protein: 61g
Fiber: 1g
This recipe makes 4 servings. Get this recipe on myfitnesspal.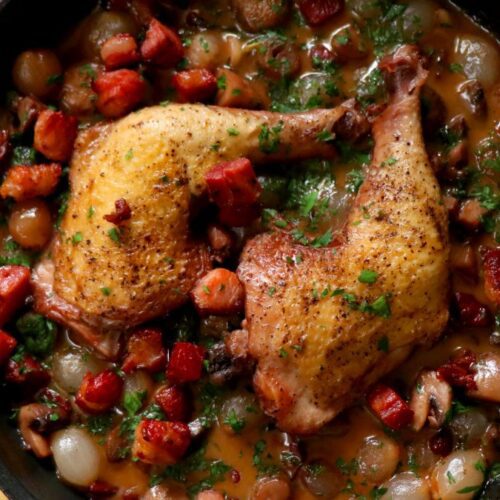 Keto Coq Au Vin
A french classic
Ingredients
4

Full Chicken Legs with Skin

200

grams

Smoked Bacon Cubes

100

grams

Pearl Onions

200

grams

White Mushrooms

150

ml

Red Wine

Pick a nice dry one

200

ml

Chicken stock

Try this one

a bunch of thyme

Parsley for garnish

salt and pepper to taste

1/8

tsp

Xanthan Gum

Try this one
Instructions
Fry the bacon in a skillet/frying pan till nice and crispy and then set aside.

Season the chicken legs with salt and pepper and fry in the residual bacon fat.

Make sure you get a nice sear on the chicken and baste it in the fat to ensure it is crispy all around. Once it has a nice golden brown colour remove and set aside.

In the same pan sauté the mushrooms and onions. Season with a bit of salt and pepper.

Once they get some colour adding the thyme and then deglaze with the wine.

Return the chicken to the pan, add the stock, half the bacon and then cover and let it cook till the chicken is nicely braised in the sauce.

Once cooked, remove the chicken legs and reduce the sauce to the desired consistency. Add the xanthan gum to thicken.

Once the sauce is ready, add the chicken and garnish with the crispy bacon and fresh parsley.