We're turning beef and broccoli on it's head
Beef and broccoli is a classic combination. I've done a Keto beef and broccoli stir fry recipe on my channel already. So today we're going to change it up a bit and make a newer version. It's probably just more of a play on the combination.
Bun-less burgers or hamburger steaks with cheese and broccoli. Simple and delicious. When it comes to meat if you don't eat beef than just use pork, chicken, veal, venison etc. Basically any ground meat works fine. Season with salt and pepper, pan fry, top with cheese. I seasoned my broccoli with 'everything bagel' seasoning. You can season it with anything you like from tumeric to cumin to paprika to cayenne pepper, they are all ok.
Tips and Tricks
If you want to make your own everything bagel seasoning then it's onion powder, garlic powder, poppy seeds. salt and both black and white sesame seeds. I don't know the proportions but just add equal parts for a fairly good spice blend. Now if you don't like broccoli you can use asparagus, brussel sprouts, spinach, cabbage etc. Any Keto veggies will be fine. Vegetarians can use paneer instead of meat. Season the paneer, pan fry it in butter and then melt some cheese over it. Like little paneer burgers. You could use tofu too.
In the video I mention not to throw the broccoli stem. There are 3 uses for it. You can make my broccoli cheddar soup. You can cut the stalk into cubes and boil it and use it like a fake potato in my Keto poha recipe. And you can use it to thicken your sauces by boiling it and then blending it into a puree like I did in my Keto pot roast recipe.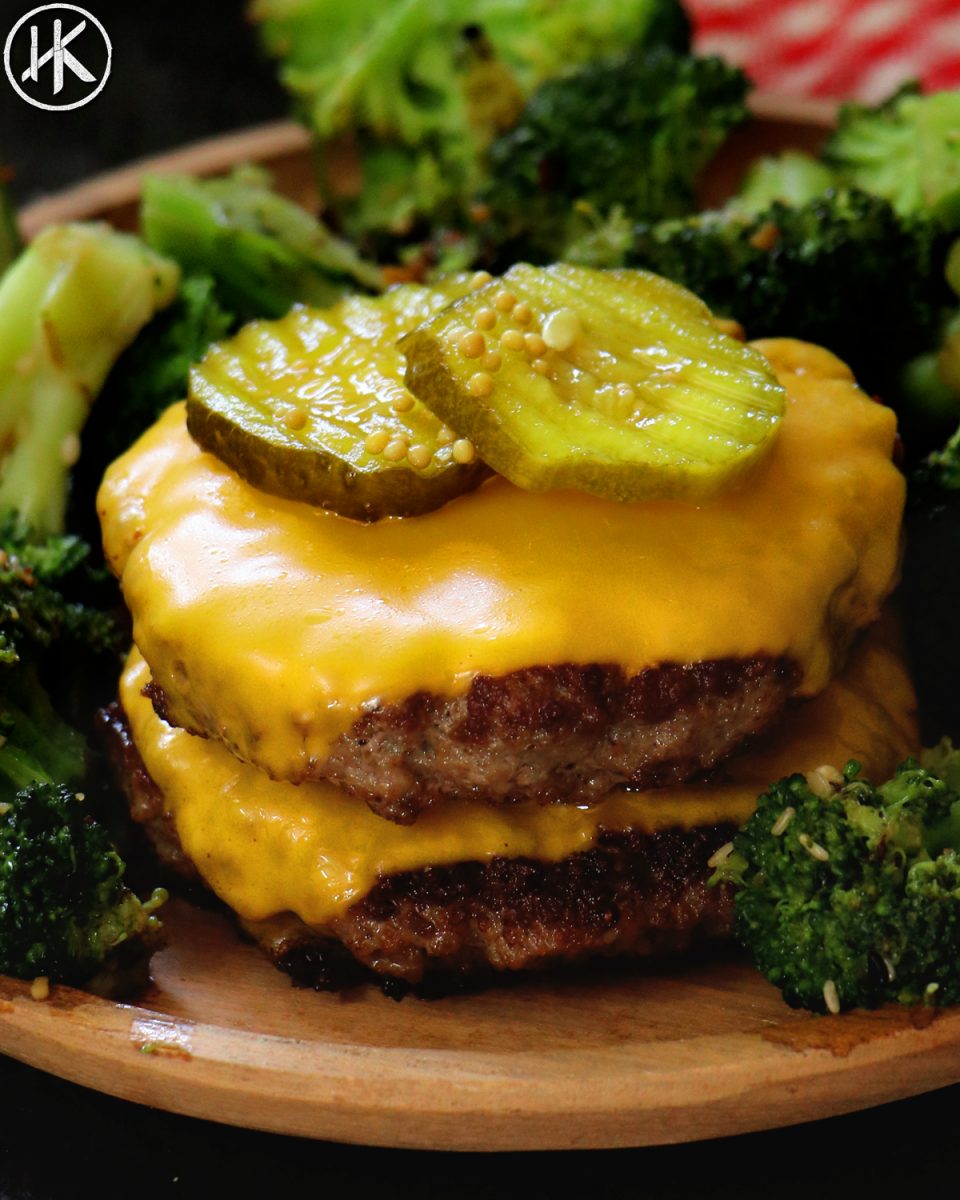 Nutrition Info
I've not calculated the macros for this because you can pretty easily just input the raw ingredients by weight into your add since there are hardly any. So if you buy 500grams of raw beef 80-20 and use 200 grams cooked in 1tsp of avocado oil then just add those two ingredients into the app. Same for the broccoli and butter and seasoning. Pretty easy. If you are still confused please watch my Keto 101 video series where I explain how to do this.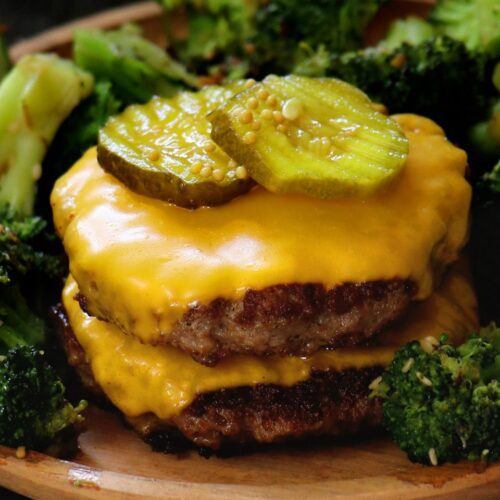 Beef And Broccoli
Ingredients
500

grams

Ground Beef

500

grams

broccoli

1

Tsp

Everything Bagel Seasoning

I use this

5

Slices

Cheese

1

Tbsp

Avocado Oil

Order online

1

Tbsp

Butter

Order online

50

ml

Water

Salt & Pepper to taste

5

Slices

Gherkin

One per patty
Instructions
Using your food scale portion out the meat for the burgers. Now you want to use 115-120g on average per patty. So when you buy 500grams of beef you can make 5 patties of 120g each. Every country sells different size packets so there is no standard but you can basically cook all the burgers in advance depending on how much ground beef you buy.

Once you weighed out your meat shape the patty by hand or in a burger mold. Season both sides of it with salt and pepper.

Heat the avocado oil in a cast iron skillet and when it's smoking hot lay down the burgers and cook for 3-4 minutes till a beautiful crust develops. Use a medium-high heat to cook. When one side is done flip it over, lay the cheese slices on the patty and cover and cook with the lid on for 2-3 minutes so the cheese melts. Remove the patty and set aside.

Remove any excess oil from the pan and throw in the broccoli along with the water and cover and cook till the broccoli is nice and tender. Add in the butter and everything bagel seasoning and give it a good mix.

Serve the burger patties and broccoli. Now 2 burger patties plus about 1/2 the broccoli should be sufficient for 1 serving which is what you will eat. Keep the left overs for the next day. Top the burger patties with gherkins if you like. Jalapenos is also an option.