5 Ingredient Keto Cauliflower Cheese
Cauliflower Cheese or Keto Mac and Cheese?
I grew up eating mac and cheese (not cauliflower cheese), which is not the case with most Indian people. But then again I don't think I'm like most Indian people. Either way it's a dish that brings back memories and my mom made an incredible mac and cheese. So it wasn't long before I whipped up a proper Keto mac and cheese on the channel. And like all things on the Keto diet, cauliflower found itself front and center. As you are all aware, cauliflower is pretty much a replacement for everything on Keto.
So it was only natural that pasta was replaced by the low-carb cauliflower in mac and cheese. The debate however is that isn't that just cauliflower cheese? Well I'll leave that up to you to decide. Meanwhile enjoy this stripped down 5 ingredient Keto mac and cheese recipe.
What if I don't like cauliflower?
It's funny how things change. When I started Keto there weren't really any replacement products in the market. However today if you don't like cauliflower, no problem. You can actually get konjac noodles or shiratake noodles which are the perfect pasta/noodle replacement. So if you don't like zucchini noodles or don't have time to make my meat noodles or maybe you just want something more like 'the real deal'. Then these are great options.
I'm also going to throw it out there that you can use broccoli as well and turn it into a broccoli cheese if you don't like cauliflower. At the end of the day 100g of cauliflower has a total of 5 grams of carbs from which 2 grams is fiber making it 3 grams of net carbs. Broccoli is not far behind being about 6 grams of total carbs from which almost 2.5 grams is fiber making it 3.5 grams net carbs. Use either, depending on which one tastes better to you.
You can also amp up this recipe by throwing in more ingredients. I mean simple things like garlic powder or some chili flakes or maybe even dried oregano will amp up the flavour. In fact let me know what is your best addition to this recipe. Maybe some bacon? pine nuts? Share your creative ideas in the comments.
Lets talk cheese!
What cheese should you use. Now if you're not going to restrict yourself to 5 ingredients that opens up a whole new world. Let's talk flavor, cheese affects the flavour. Now cheddar cheese would be my go to cheese but the world of cheddars is HUGE! I mean if you go for a more mature cheddar that flavor profile is totally different from say a younger or less aged cheese. Take blue cheese for example, that's a world of funky flavor right there.
I'd say cream cheese is a good option because while it's got a bit of tang to it the effect from it is fairly neutral to the flavour. It's high-fat and Keto-friendly and best of all, it plays nice with the other cheeses. You could also use other soft cheese like feta cheese, goat cheese, ricotta cheese or even mascarpone. Parmesan cheese is great to finish the dish with right at the end. I'd personally put the cauliflower cheese in a baking dish, top with mozzarella and bake it in the oven.
Whether you use a hard cheese or a soft one or a mix of both. There is so much you can do with cheese. In fact I'd love to know your fav cheese. Do you prefer hard cheeses or softer ones?
If you are someone who is sadly lactose intolerant or can't handle dairy products then I'm afraid this dish might be off the menu for you.
Nutrition Info (Per serving)
Calories: 262
Net Carbs: 5g
Carbs: 8g
Fat: 24g
Protein: 7g
Fiber: 3g
This recipe makes 3 servings. Get this recipe on myfitnesspal.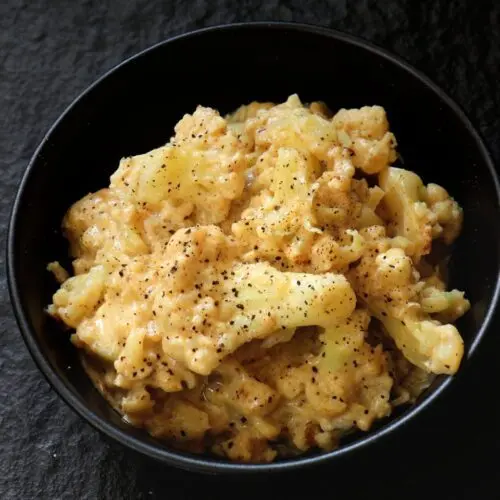 5 Ingredient Keto Cauliflower Cheese
Easy cauliflower cheese
Ingredients
300

grams

Cauliflower Florets

15

grams

Butter

Order online

1/2

Tsp

Nutmeg Powder

50

grams

Cheese

100

grams

Heavy Cream

Order online

Salt & Pepper to taste

Water if needed

1

Tsp

Avocado Oil

Order online
Instructions
Break the cauliflower head into florets and make sure they are small pieces and not too big. Then add them to a large bowl and season with salt, add about a tablespoon of water and microwave for 6-8 minutes till the cauliflower is nice and tender. To test run your knife through a floret and it should cut through easily.

Then heat the butter in a pan and add a teaspoon of avocado oil or olive oil to prevent the butter from burning. Add in the cauliflower and sautee on a high heat. Season with pepper and nutmeg.

Cook the cauliflower till it starts to get some lovely golden brown colour on it. Then deglaze with a splash or two of water. Add in the cheese and mix well till a sauce starts to form. Finally add in the cream and then mix till you get a smooth and creamy sauce.

Now cook the cauliflower cheese till the sauce is the consistency you like. Alternatively you can transfer to an oven proof dish, add more cheese on top and bake it till the cheese turns golden brown.

Serve with some freshly cracked black pepper on top.