Bringing back the comfort into Keto food
Chicken Parmesan is a staple and a comfort food for many people. In my earlier videos I've shown you how to make my Keto marinara sauce as well as Keto bread crumbs. Putting these two together you can definitely whip up something close to the original. My plan however was to reinvent it a bit and also make an easy, meal for one style dish that didn't require you to make bread crumbs and have the marinara sauce lying around. This is something you can whip up in about 15-20 minutes with just a few simple ingredients lying around.
Reinventing the classic Chicken Parmesan
So for my version of Keto Chicken Parmesan I decided to use fresh parsley and Parmesan cheese to create a 'Keto bread crumb'. I also decided to create a tomato sauce in the same pan in about 5-6 minutes. The sauce itself is packed full of flavour and is pretty low on carbs since it's just tomatoes with some garlic and dried seasoning and of course fresh basil to finish with. All in all I think we've got ourselves a winner winner, chicken dinner.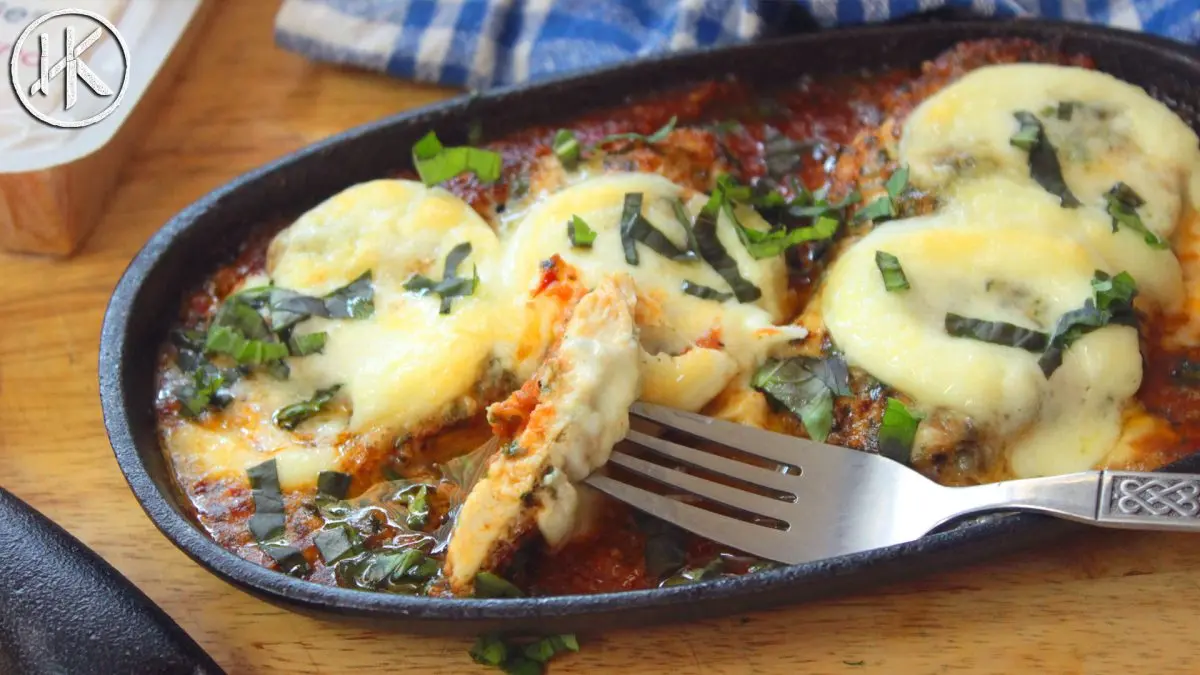 Nutrition Info (Per serving)
Calories: 477
Net Carbs: 3g
Carbs: 4g
Fat: 32g
Protein: 47g
Fiber: 1g
This recipe makes 2 servings. Get this recipe on myfitnesspal.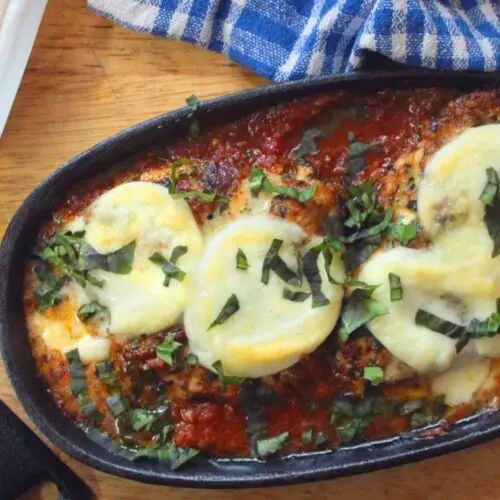 Keto Chicken Parmesan
A classic dish made Keto.
Instructions
Butterfly the chicken breasts. Cover with cling wrap and beat till nice and thin. You want a nice even and thin chicken escalope

Season the chicken with salt and pepper on both sides

Beat the egg together with the Italian seasoning to make the eggwash and mix together the grated parmesan cheese and finely chipped parsley to create the 'keto breadcrumbs'

Dip the chicken into the eggwash and then coat with the faux breadcrumb mixture.

Pan fry the chicken breasts with the olive oil and half the butter. Cook for 60-90 seconds on each side.

Set the chicken aside and allow it to rest

Add the minced garlic to the same pan and cook till lightly browning

Add in the freshly pureed tomatoes to the pan along with some salt, the dried oregano and chilli flakes. Also add the remaining butter and cover and cook on a medium flame for 4-5 minutes

Finish the sauce with some freshly chopped basil leaves

To assembled the chicken parm, layer an oven proof dish with the tomato sauce, place the chicken on top and chop some fresh buffalo mozzarella and place on top of the chicken

Broil in the oven for 7-8 minutes at the highest temperature to melt and brown the cheese on top

Once the cheese has melted, serve!