Okay fine, it's water buffalo!!
While growing up there wasn't much of a 'food scene' and restaurants were either India, Chinese or Continental. Under the wide banner of continental cuisine was everything from burgers to pizzas to nachos. Looming under the 'main course' section was normally chicken a-la-kiev or paprika chicken and beef or chicken Stroganoff. I don't recall how authentic it was but I do remember it being one of my favourite dishes to eat, a rich creamy gravy, tender beef (at least back in the day) and always served with rice.  This recipe is my recreation of those childhood memories and I'm making it Keto friendly and trying to also make it as close to what's the real authentic Stroganoff.
Cookin Low and Slow
I wish I could experience the wonderful world of beef that exists outside India on a regular basis. But for now I'm stuck here. I've said this several times, you get 'beef', 'mince' and 'tenderloin'. For this recipe I used beef which has to be cooked low and slow to become tender. Speaking of beef, we got some other killer beef recipes like my Beef Massaman curry, Blue cheese beef burger and my Keto steak with a herb butter.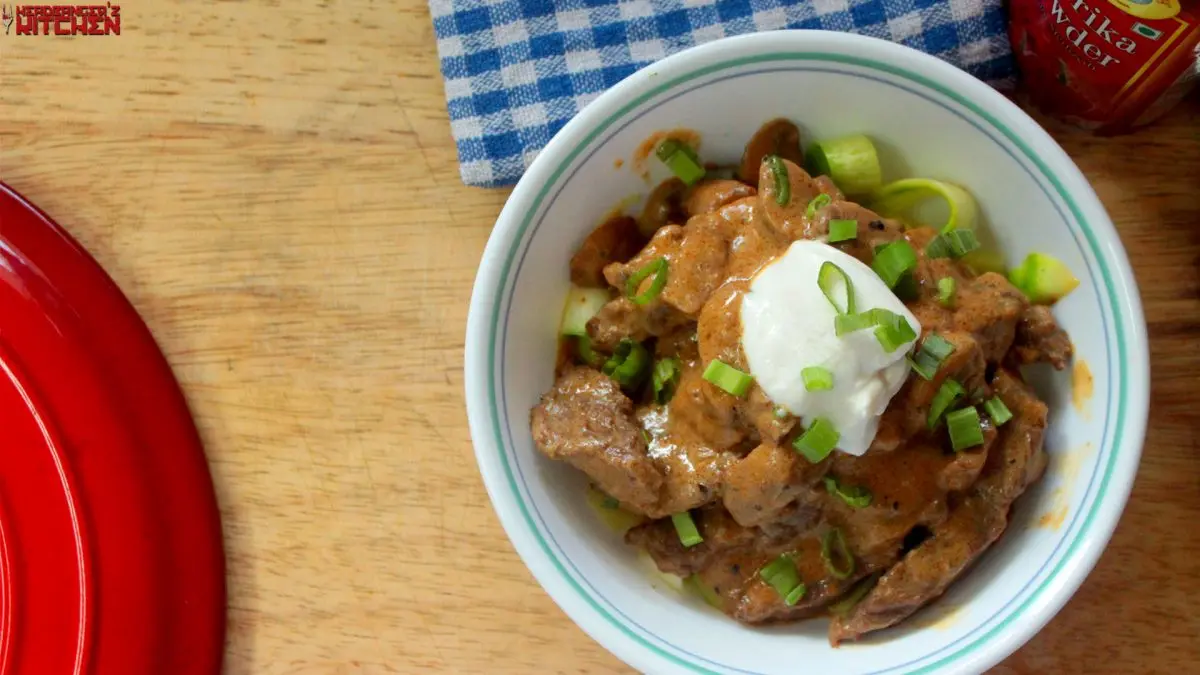 Nutrition Info (Per serving)
Calories: 590
Net Carbs: 6g
Carbs: 7g
Fat: 43g
Protein: 50g
Fiber: 1g
This recipe makes 5 serving. Get this recipe on myfitnesspal.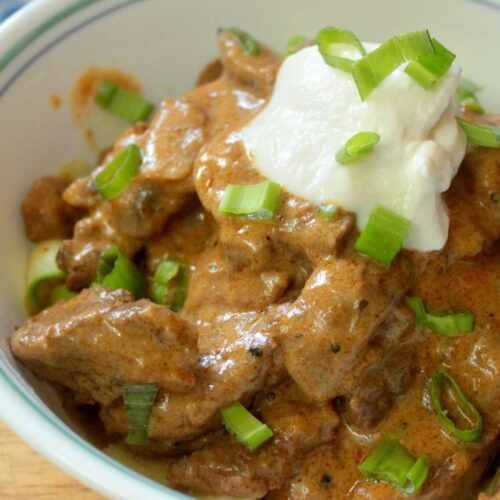 Keto Beef Stroganoff
A Russian classic.
Ingredients
800

grams

Beef (Chuck or any slow cooking cut)

200

grams

White Mushrooms

100

grams

Chopped Onion

75

grams

Sour Cream

(5 Tbsp)

50

grams

Heavy Cream

(3.5 Tbsp)

15

grams

Butter

Try this one

15

ml

olive oil

I use this one

Chives/Spring Onion Green for Garnish

1

Tsp

Paprika

1/2

Tsp

Cayenne Pepper

1

Tsp

Black Pepper

1

Tsp

Salt

Use 1/2 to season the beef in the start and slowly add the rest as the cook progresses
Instructions
Slice the mushrooms and onions

Cut the beef into long strips and season with salt and pepper

Heat some olive oil in a dutch oven and brown the beef in batches. You want to do this on a high heat so that you beef doesn't stew.

Add a knob of butter and sautee the onions and mushrooms on a medium-high heat.

Season with salt, pepper, paprika, cayenne pepper

Add in the beef and 1/2 liter of water. Turn it up to a high heat and bring to a boil and once it is boiling turn the heat down to low.

Cover and cook till the beef is fork tender and the liquid has reduced by half or more

Add in the sour cream and heavy cream and mix in well

Turn off the heat and garnish with chives/spring onions green
Notes
Don't keep the heat on after adding the sour cream as if boiled it can split.