A low-carb tomato/marinara sauce is essential in every kitchen.
Whether you are making a keto pizza or a zucchini pasta dish, an awesomesauce is needed. So try our keto marinara sauce or as us Indians call it Red Pasta Sauce or Pizza Sauce.
Tomato is a fruit, Tomatoes are Keto friendly
It's still not common knowledge that a tomato is actually a fruit. I still have Indians constantly telling me a tomato is not Keto friendly. The truth is, a tomato is absolutely fine on the Keto diet. However it is best used in moderation. This is the main reason I implore people to read up, learn more and be better aware of what is acceptable on Keto. In fact I've even done a Keto 101 series where I demystify the question'What food can I eat on the Keto diet'. Just watch it here. Having said that, 100 grams of tomato has about 3.9grams of carbs from which about 1.2grams of it is fiber. So even if you look at it as a ball park figure, it's about 2.7grams of carbs per 100 grams of the fruit. I'm pretty sure you can find space for that i your 20grams of carbs in a day. Anyway, enjoy and eat without fear.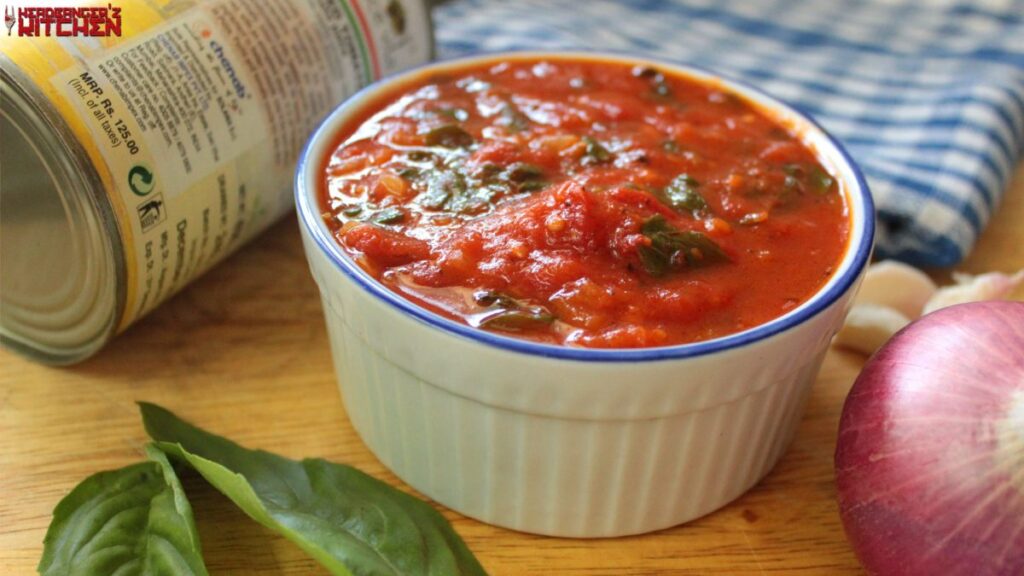 Nutrition Info (Per serving)
Calories: 71
Net Carbs: 1g
Carbs: 2g
Fat: 7g
Protein: 1g
Fiber: 1g
This recipe makes 8 servings. 1 Serving = about 60grams. Get this recipe on myfitnesspal.
Keto Marinara Sauce
An absolutely delicious marinara sauce to use on your pizzas or zucchini pasta dishes.
Instructions
Heat the bacon fat in a saucepan

Add the chopped onion, season with salt and fry till translucent

Add in the chopped garlic and chilly flakes and cook till golden brown

Add in your tomatoes and season with salt and pepper.

Cover and cook for 10-12 mintues till the oil separates from the tomatoes

Add the fresh oregano and basil and cook for a further 2-3 minutes

Finish with a tablespoon of butter

Use on pizzas and pasta dishes.