A Thai Massaman Curry made with beef
Hello and welcome to the final episode of curry week. We've cooked up prawns curry, pork vindaloo, chicken jalfrezi and paneer jalfrezi, the only protein left was BEEF. Today we've making a Thai curry, a Massaman curry which is not the spiciest of the Thai curries and we're cooking it with beef. I have to say this is an incredible tasting curry but I just wish I got better quality beef in India. Apart from that it was perfect.
Curry Up!
The best thing about making the curry paste at home is that it really does have a totally different freshness to it. You can also make a large batch and store it in the fridge for a long time, you could even freeze it. The main thing with Thai food is that it's a bit of sweet, salty, spicy and tangy. So when you make the paste yourself you can skip the sugar or sub it for stevia. The store bought ones in India at least don't have that much sugar but it's got carbs that you can manage without. Anyway cook this low and slow, use a nice cut of beef and enjoy!
Nutrition Info (Per serving)
Calories: 461
Net Carbs: 4g
Carbs: 4g
Fat: 37g
Protein: 33g
Fiber: 1g
This recipe makes 4 serving. Get this recipe on myfitnesspal.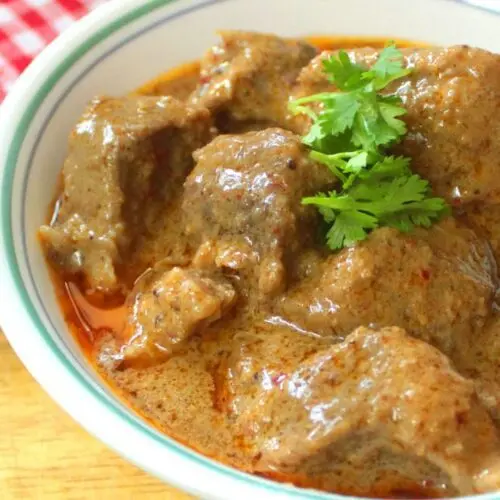 Keto Massaman Curry
A Thai Massaman curry made with beef.
Ingredients
For the curry paste (makes enough for 2 curries)
1

Tsp

Cumin Seeds

Buy Online

1

Tsp

Fennel Seeds

Buy Online

1

Cinnamon Stick

Buy Online

2

Dried Red Chillies

Buy Online

3

Cardamom Pods

Buy Online

4

Cloves

Buy Online

8

Peppercorns

Buy Online

1/2

Tsp

Coriander Seeds

Small piece of nutmeg

20

grams

Peanuts

15

grams

Lemongrass

(White Part)

15

grams

Galangal (Thai Ginger)

15

grams

garlic

40

grams

Red Onion/Shallots

3-4

Coriander Roots

1

tbsp

Shrimp Paste/Bean Paste
Instructions
Toast all the spices; cumin seeds, fennel seeds, cinnamon, red chillies, cardamon, cloves, peppercorns, coriander seeds and nutmeg on a dry pan till aromatic and then grind to a powder

Toast the onion/shallots, galangal, garlic, peanuts, coriander roots and lemongrass in the same pan and grind to a paste.

Mix the dry spice paste and the other paste together to make the massaman paste.

In a saucepan heat 50ml of coconut milk and once bubbling add in 1/2 the paste made

Cook till the oil separates from the mixture and add in the beef

Add in the remaining coconut milk and some water.

Add the vinegar, stevia and fish sauce and cook on a low flame for 1 hour

Taste the sauce and add salt as required right at the very end.

You can either keep the gravy nice and thick or add some more water/coconut milk to thin it out.

Serve with cauliflower rice.