Who picked a peck of Keto stuffed peppers?
Did you know almost all countries in the world do a version of stuffed peppers? From the dolma of Turkey and chile rellenos of Mexican cuisine to the bharvan mirch of India and the perpetually popular jalapeno poppers of the US, you'll find a twist on it in every culture. Which is my way of saying I can't believe it's taken me this long to put together a Keto stuffed peppers recipe. My version borrows a little bit from Indian kheema for a meaty, cheesy snack that could also be dinner. And lunch. Even breakfast. Trust me, I've eaten it for all three.
These Keto stuffed peppers use red, yellow and green bell peppers – because we could all use some colour in our lives – which are stuffed with a mixture of spiced ground meat and caramelised onions, topped with cheese and baked to golden deliciousness. You can use just one colour of pepper, of course. Just remember that the green ones have the least amount of carbs, because, believe it or not, red, yellow and orange peppers are all just different stages of ripening of the green pepper! I know, it blew my mind too.
Pepper? No thanks, I'm stuffed.
If you're not a fan of bell peppers, which a lot of people aren't surprisingly, you can use a different kind – poblano peppers are thick and meaty and can hold filling well, jalapenos would be nice too but you can't get a lot of stuffing in there. You could even try using the filling in zucchini boats if you want to take peppers out of the equation entirely.
The filling likewise subs easily. I'm using ground beef with about 10-15% fat in it – any more fat and it can become greasy. Swap out the ground beef for pork, chicken or lamb or turkey. You can even sub soy mince/granules to turn it into a veggie dish. You can replace the canned tomatoes with fresh ones, of course. You'll just have to cook it a bit longer for it to break down.
Of course, if you're someone who lurrrves bell peppers, stop by my roasted bell pepper dip which is the perfect snack with some cukes or Keto crackers. They're also an essential ingredient in my Keto chilli chicken, which is an Indian-Chinese staple.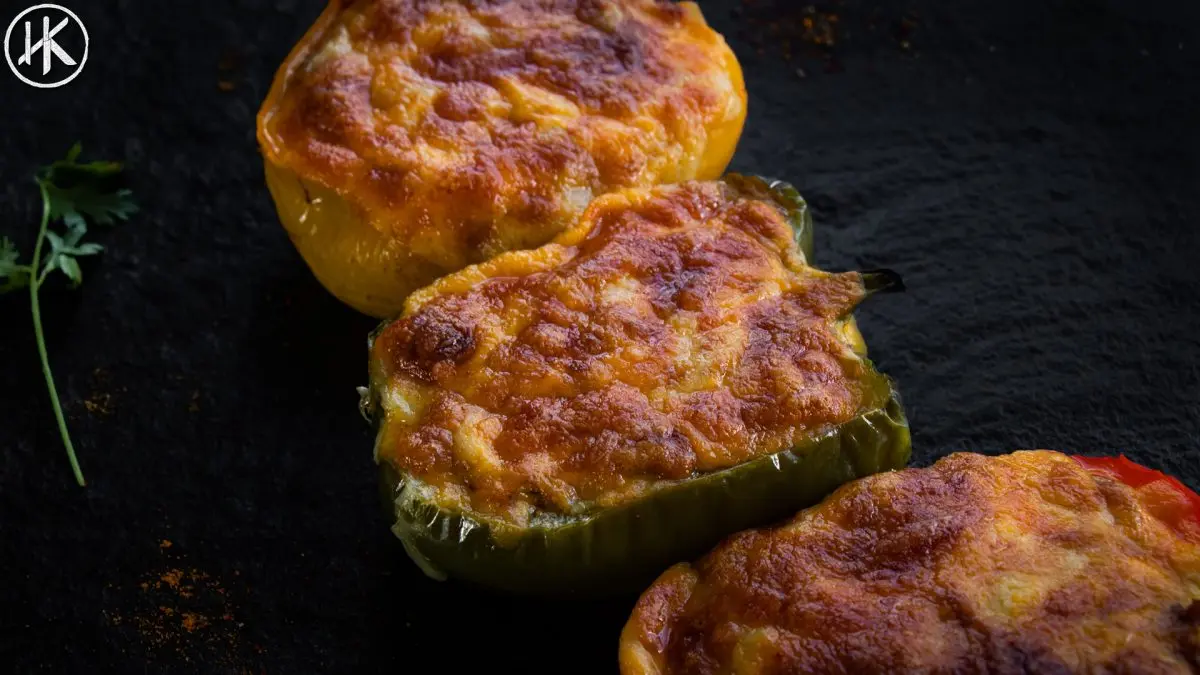 Nutrition Info (Per serving)
Calories: 268
Net Carbs: 5g
Carbs: 7g
Fat: 17g
Protein: 21g
Fiber: 2g
This recipe makes 6 servings. 1 serving = 1/2 a stuffed bell pepper. Get this recipe on myfitnesspal.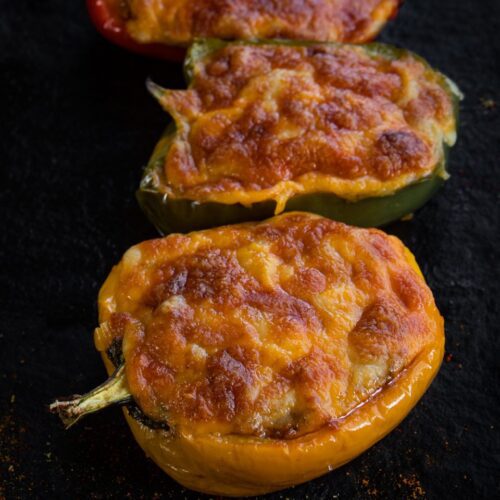 Keto stuffed peppers
An Indian inspired Keto stuffed pepper with delicious spiced ground beef
Instructions
Preheat the oven to 200C/390F. Slice the onions up into slivers. You want to keep it decently chunky to add some texture to the dish.

Also roughly chop up some fresh coriander (cilantro to the Americans). We'll use this right at the end for the stuffing.

Slice your bell peppers in half lengthwise and clean out the seeds and the membranes. You can also slice the tops off and make pepper cups, but I find that they don't stand up properly in the oven and often topple. Pepper boats are steadier.

Get your baking tray out and place the peppers skin side down on it after lightly oiling them. Sprinkle some salt on them and slide them into the oven to cook for 10 minutes.

Meanwhile, get a pan on the stove and plop a spoon of ghee or any cooking fat into it. Once hot, add the onions in and saute them. You want them to caramelise them gently to bring out the flavour.

Once the onions get nice and brown, add in the ground beef. With the flame on medium high, saute the beef with the onions until it starts to release water and the fat begins to render out.

Once most of the beef juices have dried up, add in the ginger garlic paste and season with salt. Once the raw smell disappears from the ginger garlic paste, in about a minute and a half, add in the rest of our spices - turmeric, chilli powder, cumin and coriander powder and the pinch of garam masala and give it all a good mix.

Once the beef gets a bit of colour on it, add in the tomatoes. Give it a mix, then cover and let cook for 10 minutes. Meanwhile, take the peppers out of the oven and let them rest while you finish making the stuffing.

After 10 minutes, open the lid of the pan. Your beef should be fairy dry and just a bit saucy. At this point, add in the cream cheese. You can also sub it for coconut cream or sour cream.

Turn off the heat, add in the coriander and give it a final stir.

Use a spoon to stuff each pepper half with the filling, leaving a bit of room on the top for cheese.

Top each half with the shredded cheese and pop it back into the oven at about 230C/450F to really get the cheese to melt and bubble and brown, about 10 minutes.

When the cheese is melty and brown, take the peppers out and serve while it's still crispy on top.