Indian Curry (Chicken Curry)
An Indian curry with chicken
This Indian curry is the perfect place to start your Indian cooking journey. Chicken breast is the protein of choice and this is recipe number 2 in my 3 recipe series. The first one was the Korean chicken curry. All these curries taste even better with chicken thigh and the chances of over cooking it are almost zero. The reason I chose this protein was because it's lean and lower in calories. But as always these recipes are flexible and you can make them with lamb, fish, chicken or even your fav veggies.
This curry is the most basic Indian style curry. I say Indian style because each and every region of the country has unique flavour profiles but this kind of just takes the common elements of all and brings them together. 
What do you eat it with?
Well if you are on Keto a spoon is your best bet. But you can always use my Keto naan or Keto chapati recipe. If you prefer your curry with rice then I have a detailed tutorial on how to make cauliflower rice. Either of these should work. I personally am off Keto since about 3 years (click here to find out why). So I just eat mine with a chapati or some rice. 
You can also serve some vegetable dishes on the side. I have a lovely bhindi masala with is an okra stir fry and I also have a great cabbage recipe. Hopefully you add all this and you have a complete meal. It's great for the whole family or whether you dining alone.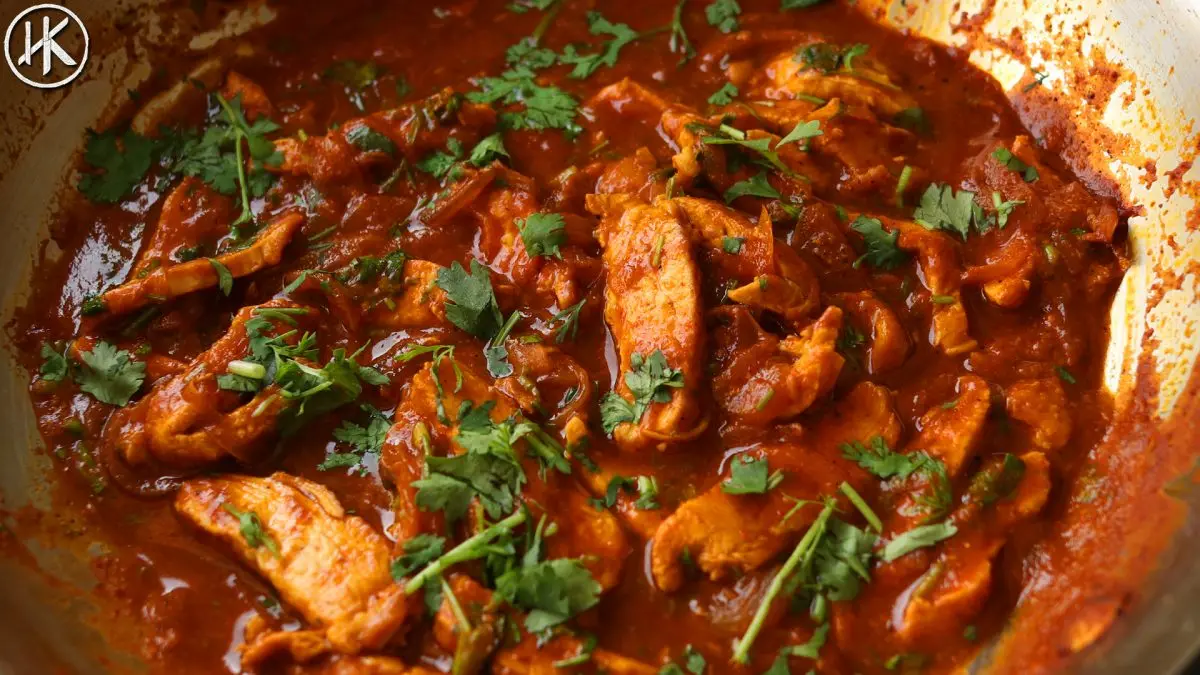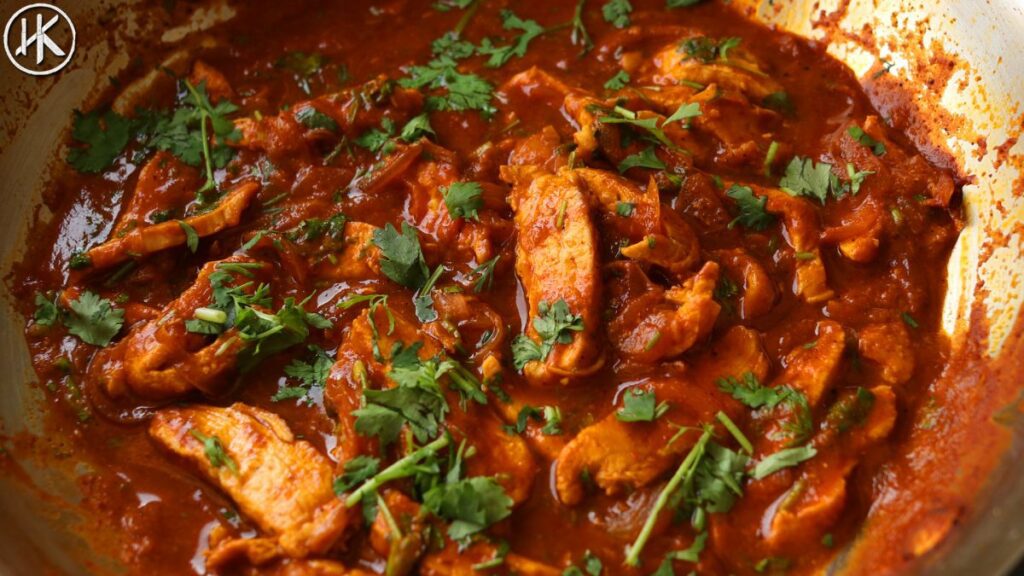 Nutrition Info (per serving)
Calories: 429
Protein: 32g
Fat: 28g
Carbs: 9g
Fiber: 1g 
Net Carbs: 8g
This recipe makes 1 serving. Get this recipe on myfitnesspal.com.
Now this recipe has a high carb count largely because of the tomato puree but you can use a fresh tomato or cut down the amount of onion used as well. If you are not Keto it doesn't matter as neither the onion nor the tomato is high in calories.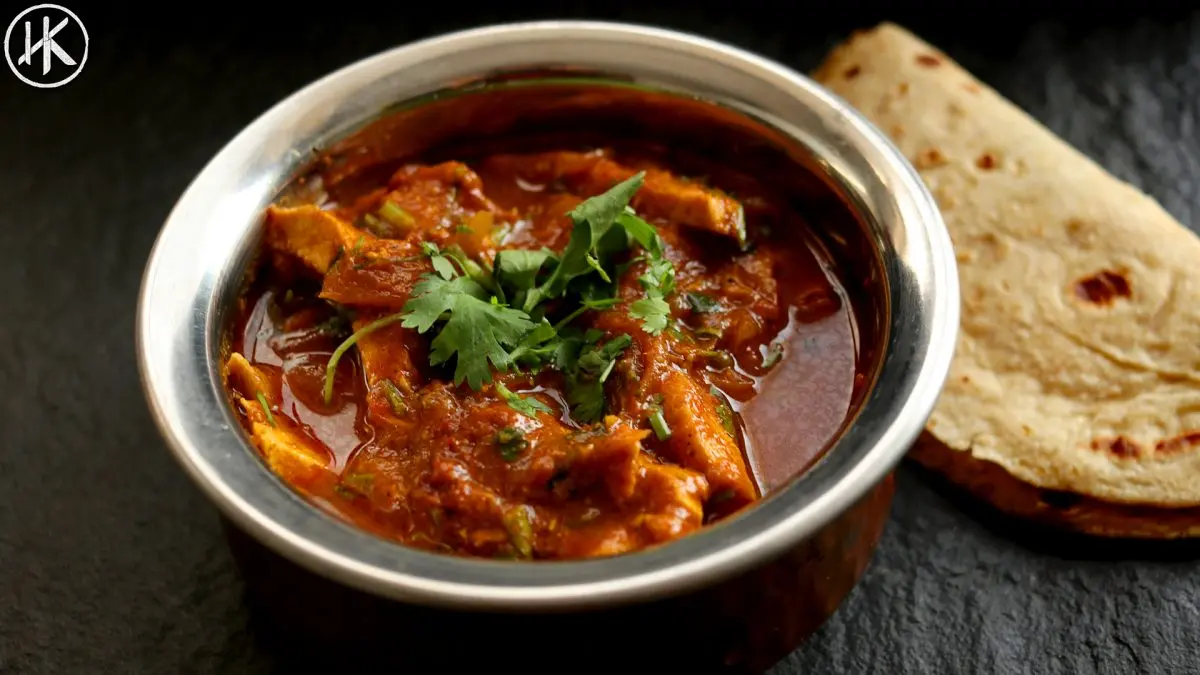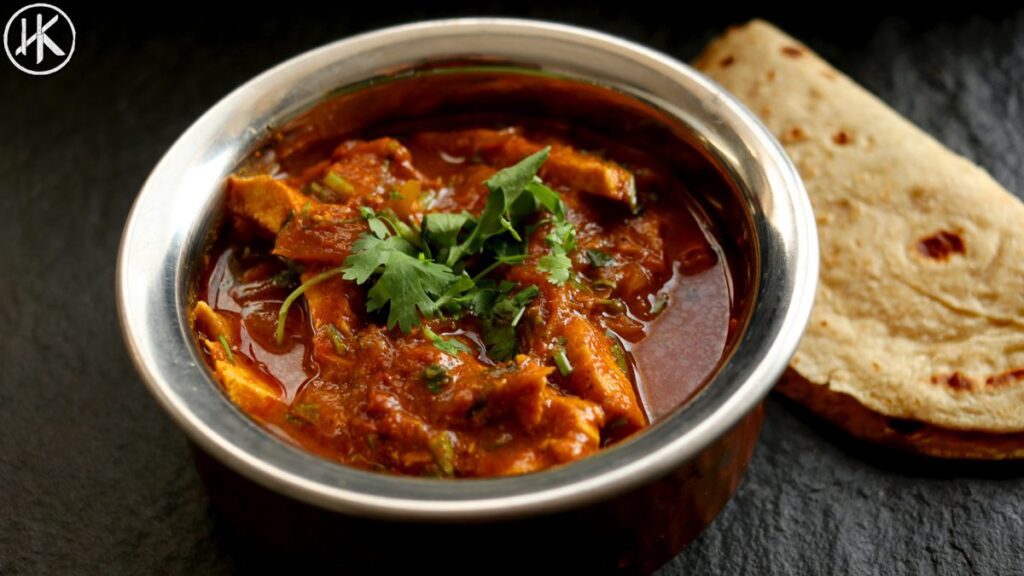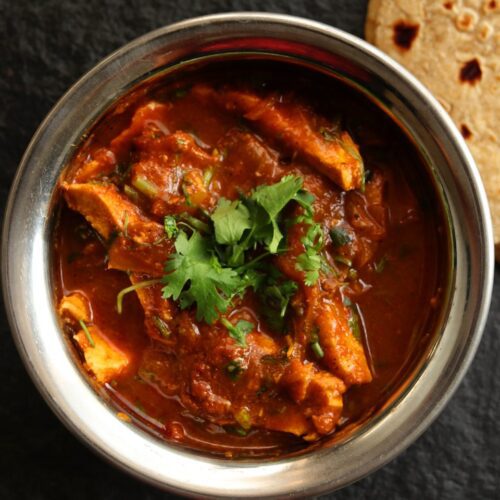 Indian Curry (Chicken Curry)
A super easy Indian curry
Ingredients
150

grams

Chicken Breast

2

Tsp

Ghee

50

grams

Onion

1

Tsp

Ginger Garlic Paste

50

grams

Tomato Puree

200

ml

Water

extra if needed.

1/2

Tsp

Turmeric

1/2

Tsp

Kashmiri Red Chilli Powder

1/2

Tsp

Cumin Powder

1/2

Tsp

Coriander Powder

1/2

Tsp

Garam Masala Powder

10

grams

Coriander
Instructions
Start by heating 1 tsp of ghee in a pan and season with salt and pepper in the shape of a breast and place the breast on top. Then season the other side.

Cook the breast for about 3-4 minutes on each side. Get a nice crust and then remove from the pan and rest. Chop the onions sautee style.

Add the onions and remaining ghee and cook on medium and brown the onions. The browner the more flavour.

Once they are nicely brown add in the ginger garlic paste and sautee for a minute before adding in the spices. Sautee for a minute before deglazing with water and adding in the puree.

Cover and cook for 6-8 minutes.

Meanwhile butterfly the chicken and slice into thin strips.

Add back to the pan and finish cooking. If you want the gravy to be more saucy add water as needed. If you want it super thick, then reduce it before adding in the chicken.

Finish with coriander and serve.