How to Make Turkey Roulade with Bacon and Cheese
We're back with another exciting turkey recipe at Headbanger's Kitchen. And this time, I'll teach you how to make turkey roulade—the easy way! 
This stunning main course is an exciting twist on the classic roast turkey, with a rich culinary history. The concept of roulade comes from the French word "rouler," meaning "to roll." The technique of rolling meat around a filling has been around for centuries, with variations found in many cultures and cuisines.
In French cuisine, roulades are typically made with thinly sliced beef or veal and often include vegetables, herbs, and cheese filling. In German cuisine, "rouladen" refers to thin slices of meat stuffed with onions, bacon, and pickles and then braised in a rich sauce.
The concept of a turkey roulade is a more recent development, likely popularized in the United States as an alternative to the conventional whole roast turkey. The turkey roulade recipe is especially a favorite among home cooks because it uses boneless, skinless turkey breast stuffed with a flavorful filling. Besides, a roulade is much easier and quicker to prepare than a whole turkey.
What pairs well with your turkey roulade?
There are so many delicious sides that go well with turkey roulade! If you're wondering what to serve alongside your roulade, here are a few personal favorites to make your taste buds happy.
First, roasted vegetables are always a healthy option for conscious folks. You can't ever go wrong with root veggies like carrots, parsnips, and sweet potatoes. You can also try roasting some green beans or asparagus, depending on what's available at your local market or online. 
And what's turkey without mashed potatoes? Creamy, buttery, and oh-so-satisfying mashed potatoes are the perfect comfort food to go with your roulade. If you're feeling fancy, add some roasted garlic or herbs like rosemary or thyme to take things up a notch.
And remember the gravy! A good gravy can make all the difference, especially if you're using a lean turkey breast. You could go with a classic turkey gravy and make it from scratch. Worried about the how? Here's our recipe. 
Hope these ideas have got your mouth watering! The best part about a turkey roulade is that it's versatile – you can let your creativity shine with the sides and accompaniments.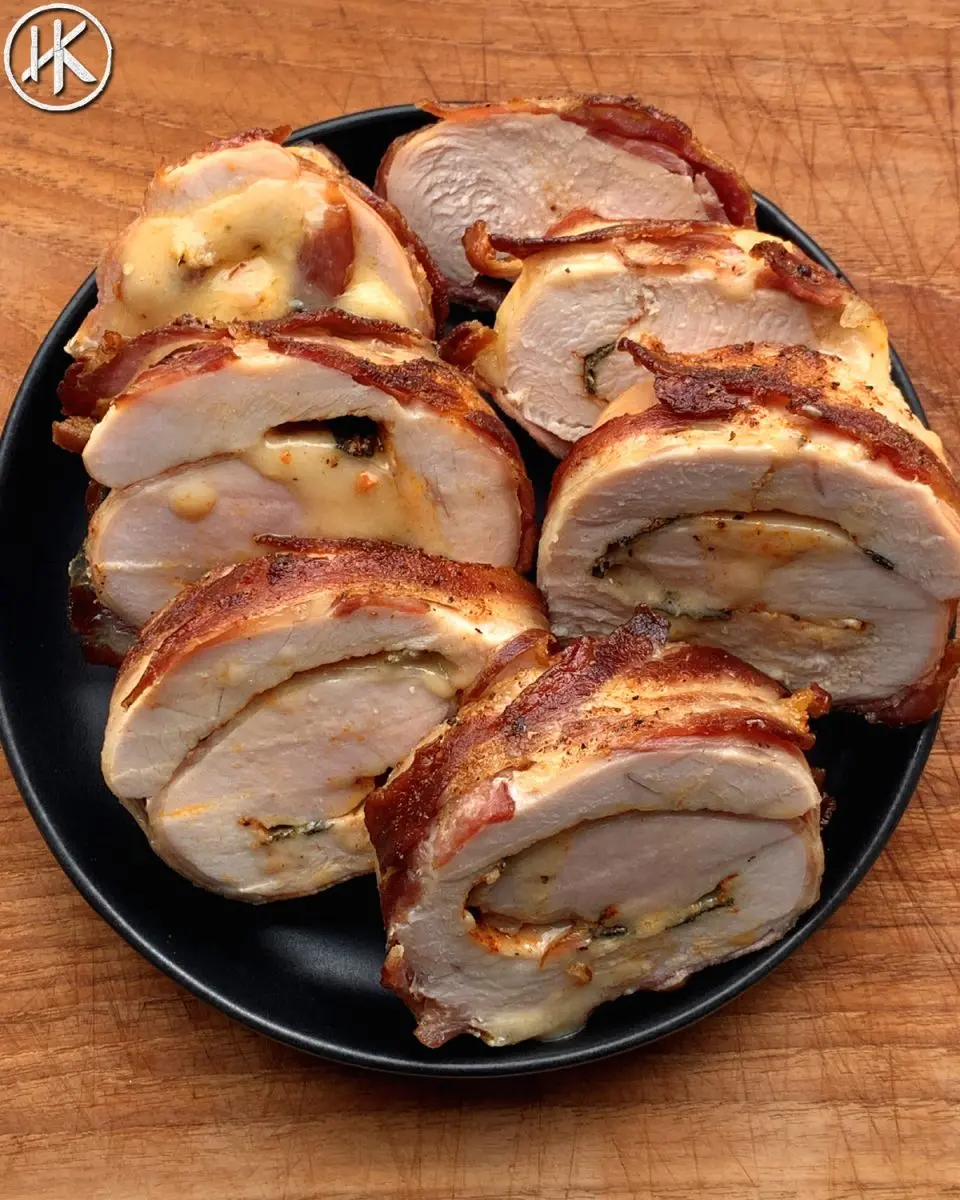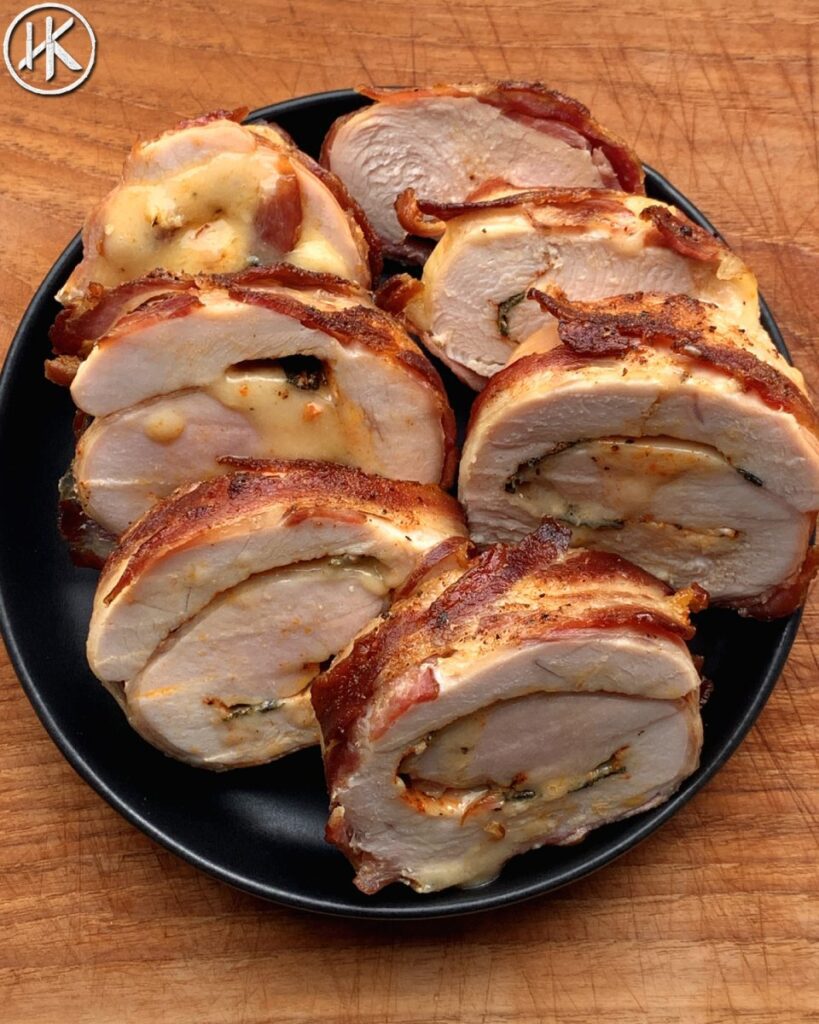 Now onto the hero of this blog. Are you ready to try the turkey roulade recipe?
Nutrition Info (Per 3 pounds)
Calories 2016
Calories from fat 432
Fat 48g
Saturated fat 19.2g
Cholesterol 720 mg
Protein 192g
Carbohydrates 192g
This recipe is apt for 2 servings. Get this recipe on myfitnesspal.com.
Enjoy your delicious and juicy turkey roulade with bacon and cheese! Are you looking for more main course ideas? Stay tuned to the Headbanger's Kitchen blog and subscribe to our YouTube channel for more turkey recipes.
The Easy Turkey Roulade Recipe with Bacon and Cheese
A step by step on how to make homemade turkey roulade with bacon and yummy cheese
Ingredients
1

Boneless, Skinless Turkey Breast

(About 2-3 pounds)

1

tsp

Black Pepper

(As per liking)

1

tsp

Garlic Powder

(As per liking)

1

tsp

Paprika

10-12

Cheese Slices

(I recommend provolone or cheddar)

6-7

Fresh Sage Leaves

10

Bacon Strips

(Enough to cover and roll the turkey breast)

Salt to Taste
Instructions
Mix black pepper, garlic powder, and paprika in a small bowl to make a spice rub.

Now, get your dry-brined turkey breast and gently butterfly it. Dry brined means you just salted the breast the day before and kept it on a wire rack overnight in the fridge

You want to start by butterflying the turkey breast so that you get an even piece of meat. Next, cover it with a cling film and beat it with a heavy pan or rolling pin to even it out.

Season the breast with the spice rub, and don't forget to salt the inside (as you like).

Put fresh sage leaves and slices of cheese over the turkey breast.

Roll the turkey breast tightly, wrap it with the cling film, and pop it into the fridge to firm up a little bit.

Now lay bacon strips next to each other and place the rolled-up turkey breast in the center. Wrap the bacon around the turkey to form another layer of the roulade.

Once again, wrap the roulade tightly in cling film and chill in the fridge for 20 minutes till it firms up.

Place the roulade on a wire rack and season it with the remaining spice mix.

Bake the roulade in the preheated oven for about 30-45 minutes or until it reaches an internal temperature of 160°F (70°C). You can also use a probe thermometer to check the temperature of your roulade for the ideal cook. I like to cook my bird at 200C/400F.

Remove the roulade from the oven and let it rest for about 10 minutes.

Slice the roulade and serve with your favorite sides.