Inspired by a Tasty Video I made this savoury meat cake
I've been feeling a bit overwhelmed with work recently, I've got a brand new album I'm working on and I've got this really interesting project (which I can't reveal) that has me rather busy and so I haven't uploaded a new recipe in a few days and I was feeling the pressure to get a video done. A friend of mine posted this Tasty video on my Facebook timeline and it inspired me to make a keto version. The original recipe had a stuffing with corn and there was breadcrumbs in the mince, this mostly from what I could make out since the video is in Portuguese.
So for my Keto version I decided to build it up with some delicious sauteed spinach, mushrooms, olives and spring onions. I also decided to go with a different set of seasoning for the mince using paprika, cayenne, black pepper and a blend of dried herbs called 'Italian Seasoning'. I also decided to not speak during the cooking and give you folks another silent episode, if you consider death metal to fall in the silence category.
How to make this cake all that it can be
I consider Tasty videos to be like food porn, it's made to look good and in reality it isn't as simple as it looks. For starters when you cook meat in a cake tin it's going to release all those meat juices and they will result in the bacon stewing and not becoming crispy. Chicken is a lean meat and if you cook it too long it will dry out. If you bundt tin is small it might be hard to work with to get enough stuffing into it resulting in a more meaty cake.
So here is my advice to save you the troubles I had, especially since I had never made this before, half way through the cooking remove the tin, overturn the cake on a wire rack, remove the cake time, return to the oven and let it cook. Why are we doing this? To prevent the bacon from stewing and to get it crispy. The reason you want to avoid doing this after cooking (like I did) is because you will overcook the chicken. Chicken cooks really fast and it doesn't need to spend any extra time in the oven, that will result in it drying out.
So that my 2 cents on how to get the perfect meat cake. Mine had some flaws but hey, it still tasted great. This recipe is actually very similar to my Keto Bacon Bomb, which, if I'm being honest, I prefer to this.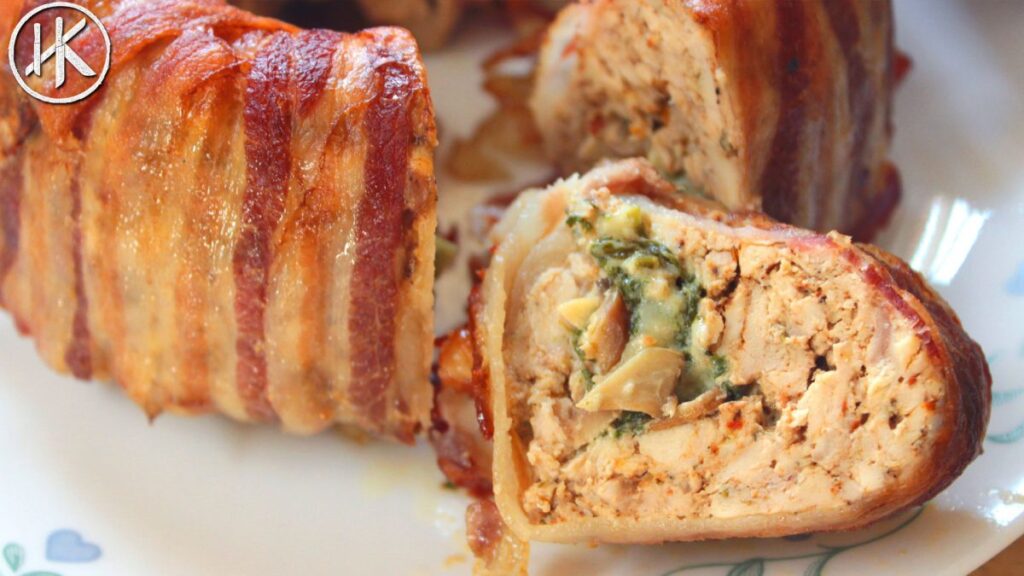 Nutrition Info (Per serving)
Calories: 320
Net Carbs: 1g
Carbs: 1g
Fat: 24g
Protein: 26g
Fiber: 0g
Cut the cake into 8 slices to get 8 servings. Get this recipe on myfitnesspal.
Keto Chicken Cake
A delicious stuffed chicken meatloaf, wrapped in bacon. A chicken cake.
Instructions
Season the chicken mince with salt, pepper, paprika, cayenne pepper and the Italian seasoning and mix well.

Mix together the cheddar cheese, cream cheese, spring onion, sauteed spinach, sauteed mushrooms and olives. Mix together well

Now layer a bundt tin with the bacon slices

Fill the tin with chicken mince leaving space for the stuffing.

Add in the cheese mixture in the center and cover the top with more mince

Fold the bacon over the mince and bake in the oven at 200 C for 30-40 minutes

Halfway through the cooking remove the tin and overturn it onto a wire rack and remove the tin and put it back in the oven to finish cooking and for the bacon to crisp up

Serve