Easy Low Fat Tandoori Chicken
Quick & Easy Tandoori Chicken
Eating just boiled chicken can get boring really quickly. In general I've noticed that low fat diets are often low on flavour as well. People like to keep it simple, boiled chicken and broccoli is a staple. I however have just one life to live and I have no time to eat bad food. So I figured this tandoori chicken would be a great option for me. Full of flavour and spices and low on fat because of minimal use of cooking fat and also using chicken breasts. However to be honest, if you're a bit more flexible then I'd say get chicken leg/thigh meat and use that instead. Anyway, enjoy!
Make it Keto
Now given that this is a simple chicken recipe it's pretty much already low carb. In fact if you eat it with some high fat side dishes it's also Keto. But you can make this recipe even more Keto friendly simply by making a few small changes. Keep in mind that this will also make it more calorie dense. Swap out the breast meat for chicken thigh or drumsticks. If you like chicken wings I actually have a Tandoori chicken wing recipe. You will also want to be more generous with the cooking fat.
Normally I'd say get chicken with skin to make the meat fattier but honestly most Indian chicken dishes do better without the skin. I guess it has to do with getting the marinade to get into the meat and having the skin on is like a barrier to that. Anyway hopefully you enjoy this recipe no matter what diet you are on.
Nutrition Info (Per serving)
Calories: 225
Carbs: 2g
Fat: 5g
Protein: 52g
Fiber: 0g
This recipe makes 4 servings. Get this recipe on myfitnesspal.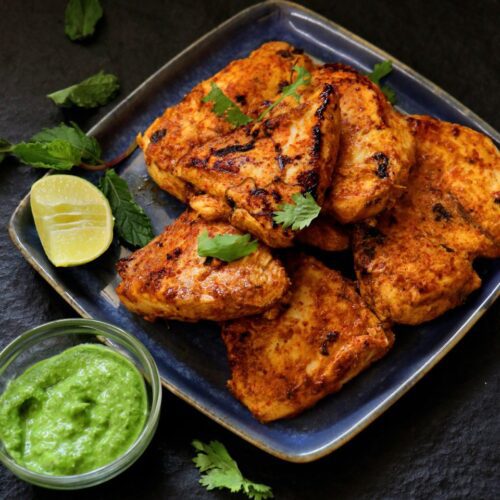 Easy Low Fat Tandoori Chicken
An Indian classic
Ingredients
500

grams

Chicken Breast

50

grams

Yogurt (Dahi)

10

grams

Ginger Garlic Paste

Buy Online

1

Tbsp

Ghee

Buy Online

1

Tsp

Salt

1

Tsp

Kashmiri Red Chilli Powder

Buy Online

1

Tsp

Tandoori Masala

Buy Online

1/2

Tsp

Kasuri Methi (Fenugreek Leaves)

Buy Online

Juice of half a lime
Instructions
Start by prepping the chicken. Separate the chicken tender from the breast. Then cut off the bottom part of the breast (the thin section) and then slice the fat top part from the center to butterfly it.

In a large bowl mix all the other ingredients and then add the chicken and give it all a good mix. Marinate for at least 1 hour or overnight in the fridge.

Heat a non stick pan on the stove and then fry the chicken in batches. Cook for 3-4 minutes on each side. Breast meat cooks very fast and the longer you cook it the more it will dry out.

Once cooked, serve with some mint and coriander chutney.