A Kerala style curry with coconut milk
Welcome to Curry Week on HK and we'll be cooking up some amazing Keto curries. Today it's a home style coconut prawn curry. This is one of the most basic curries with a very simple base and just a few ingredients. The base made from ginger,garlic, onion, tomato and chilles. Yes! you CAN eat both onion and tomato on Keto, watch my Keto 101 series for more info.
There are your basic spices and then the 3 stars of the show, curry leaves, coconut milk and kokum. Kokum is a plant from the mangosteen family and it's sort of a sour dried fruit. We don't actually eat it but we add it to the curry for a bit of sourness. It really adds that punch to the curry. Anyway enough jibber jabber, time to curry up and get cooking.
The origins of this curry
It was in Jan 2015 that I had the opportunity to cook for a great guitar player called Mattias IA Eklund and I cooked up a Freaky Fish Curry.  This was back when Headbanger's Kitchen was just a heavy metal cooking show where I interviewed metal musicians and fed them a dish named after their band or song. Mattias plays in a band called Freak Kitchen and I guess you can put two and two together. I was never into Indian food but since I started getting international musicians on the show, I had to up my cooking game. We have a maid (very common in India) who cooks lunch everyday for my parents (and me when I was not on Keto) and I learnt this recipe from her.
I realize Indian food seems intimidating but it's really quite easy once you get the basics down and there are various ways to cook the same thing. So I tweaked the original recipe and turned it into this Keto version. I hope you dig.
Nutrition Info (Per serving)
Calories: 263
Net Carbs: 6g
Carbs: 6g
Fat: 17g
Protein: 15g
Fiber: 0g
This recipe makes 3 serving. Get this recipe on myfitnesspal.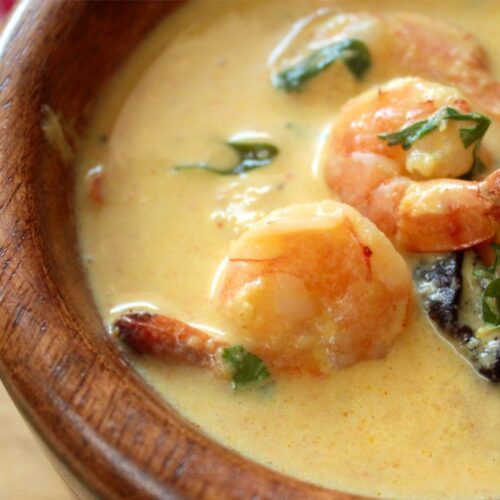 Keto Prawn Curry
A south Indian style prawn curry with coconut milk.
Instructions
Grind the onion, tomato, green chilly, ginger and garlic together to make a curry paste

Heat the coconut oil in a saucepan and fry the mustard seeds and curry leaves

Once the mustard seeds start to pop add in the curry paste along with the chilly powder, turmeric, coriander powder and salt and fry it

Add about 30-50ml of water and cover and cook for 5 minutes

Add in the kokum and the coconut milk and cook for a minute

Add in the prawns and cover and cook for 3 minutes more

Finish with coriander

Serve with cauliflower rice.