Grilled Chicken with Roasted Red Pepper Sauce

A Creamy Keto Red Pepper Sauce
When I first heard of red pepper sauce I had images of fiery red chilies and a mouth burning sauce. Then I realized they were sweet red bell peppers. But it was only recently when my wife Deepti and I visited a local Italian restaurant did inspiration for this dish strike. Deepti ordered a prawn risotto which was prepared in a red pepper sauce. While she was unimpressed with the dish I wasn't. It gave me the idea for this dish. A simple sauce made by roasting red bell peppers with onions and garlic and finishing with some parmesan cheese and cream. Served over some simple grilled chicken. 
Of course you can use this sauce for a number of creations, it would go well over some pasta, even rice. Anyway enough jibber jabber, watch the video and enjoy!  
Roasting the peppers
I roasted my red bell peppers in the oven which is the most fuss free way. Alternatively you can roast them on the stove top. This is a method we use in my Keto baba ganoush and baingan bharta recipe for the eggplant. This definitely saves you time but is a bit messier. So weigh the pros and cons and take a call. 
We also roast the onions and garlic just to add to that lovely sweetness. Blending them all and straining it gives us a silky smooth texture. Honestly since the ingredients are roasted already once you blend it the sauce is ready. I mean you can just add the cream and cheese and pour the sauce over any dish or some pasta. 
I cook the sauce a bit more because I want to get in some of the flavors from the chicken. So when you cook the chicken there are little brown bits left in the pan called 'fond' and that's flavour. So all that adds a bit more to the sauce especially for a savory dish like this. Now if you feel the fat content is low for the dish you can throw in a few extra knobs of butter to up the fat content of the dish.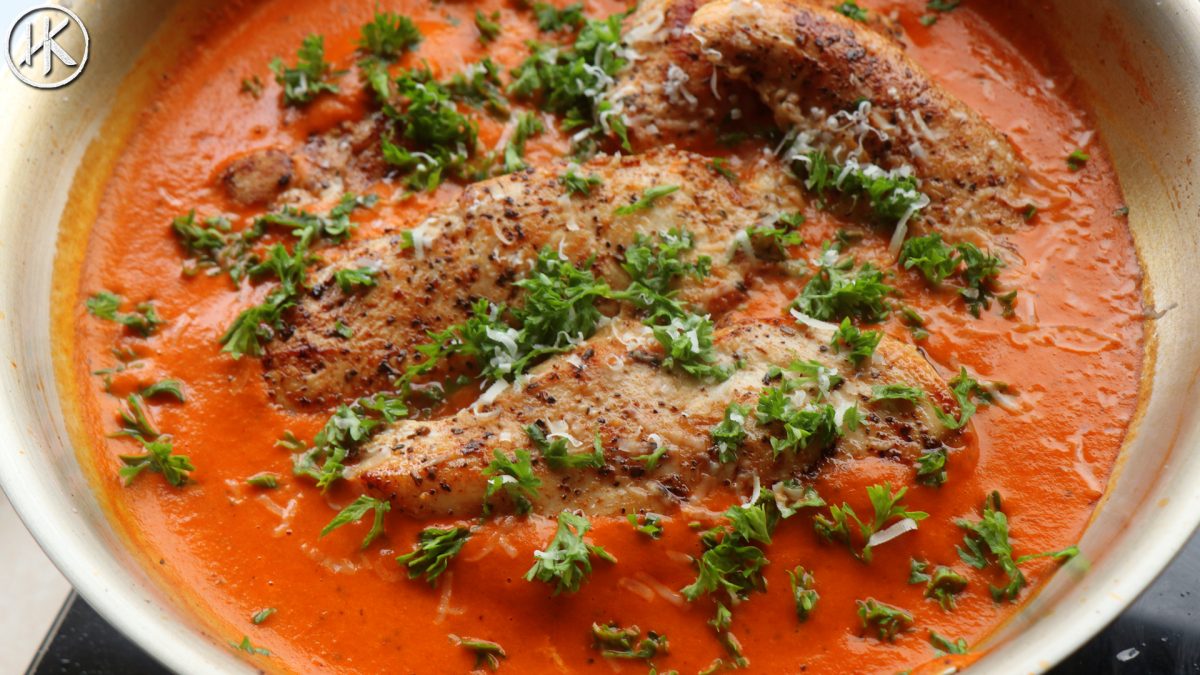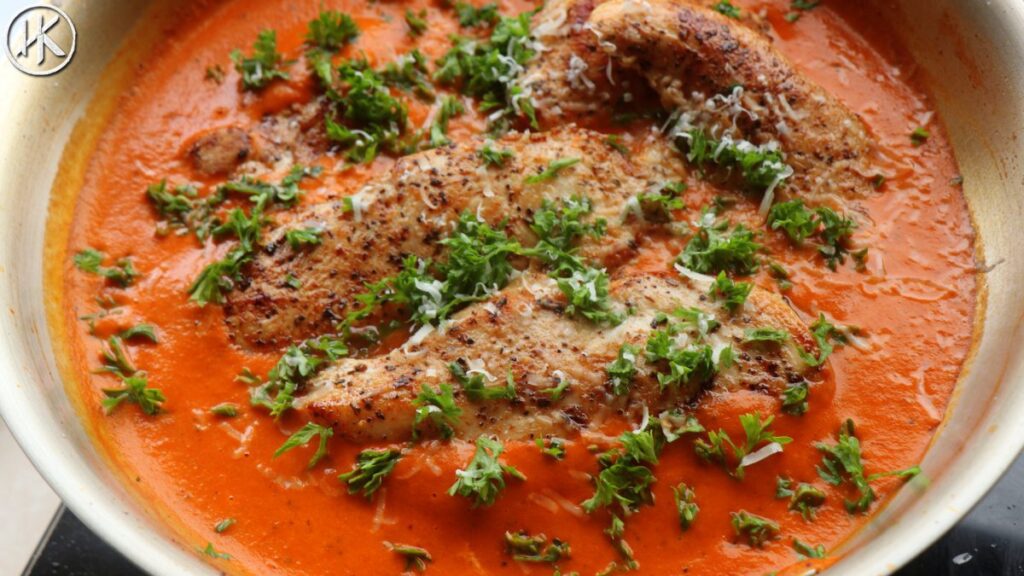 Sauce it up!
This sauce is super versatile. The technique of roasting vegetables and then blending them is something that can be applied to a lot of dishes. For example I did a Keto pot roast where I blended the vegetables to thicken the sauce. This sauce has great texture and flavour. I think if you had a nice piece of fish or pork this sauce would go great over that as well. If you reduce it and cook it down to an almost jammy texture it becomes like a 'pesto' almost. You can throw that in some mayo to make a sandwich spread or a salad dressing. The possibilities are endless. 
Now obviously if you want to lower the carbs in this sauce you can skip the onions and garlic and just let it be pure peppers. That will definitely still be a tasty sauce. It really depends on how strict a version of Keto you are doing. I think if you are on a low carb diet this is definitely more suited to that lifestyle but it's still pretty Keto friendly. 
In my video I used bacon fat to cook everything and that's because I had some left over. But honestly you can use any cooking fat of your choice. I think olive oil would be the best bet for this recipe. Sure you can use avocado oil but I'd stay clear from coconut oil since it does have quite a strong flavour. 

Nutrition Info (Per serving) – Sauce Only
Calories: 146
Protein: 4g
Fat: 9g
Carbs: 12g
Fiber: 3g
Net Carbs: 9g
This recipe makes 4 servings. Get this recipe on myfitnesspal.com 
Grilled Chicken with Roasted Red Pepper Sauce
A creamy roasted red pepper sauce served over pan cooked chicken
Ingredients
For the sauce
500

grams

Red Bell Peppers

100

grams

Onion

15

grams

garlic

1

Tsp

bacon fat

For brushing the peppers, onions and garlic

1

Tsp

Salt

1/2

Tsp

Black Pepper

1/2

Tsp

Dried Oregano

1

Tsp

Paprika

50

ml

Heavy Cream

30

grams

Parmesan cheese
For the dry rub
1

Tsp

Salt

1/2

Tsp

Black Pepper

1

Tsp

Paprika

1

Tsp

Dried Oregano
For the chicken
450

grams

Boneless Chicken Breast

1

Tsp

bacon fat

Or any other cooking fat

1

Tbsp

Chopped Parsley
Instructions
Start by lining a roasting tray with foil or parchment paper.

Clean and prep the bell peppers by cutting half and removing the seeds and steams. Peel the onion and cut into half as well and also remove the skin on the garlic cloves.

Place the peppers, onions and garlic on the roasting tray and brush with oil. Roast in a pre-heated oven at 200C/450F for 20-25 minutes till the peppers are nice and charred and cooked all the way through.

Remove from the oven and place the peppers in a bowl for 10 minutes and cover with a lid. This allows the peppers to steam and it makes the skins easier to remove.

Once steamed remove the skins of the peppers and add to a blender along with the onions, garlic and dry spices.

Blend well and then strain for a silky smooth texture.

For the chicken mix all the dry spices together to make a rub.

Butcher the chicken like in the video or leave whole depending on how you want it. Season on both sides with the rub.

Heat the bacon fat in the skillet and fry the chicken breast on a medium/high heat to get a nice crust on the outside. About 2 minutes each side if butchered like in my video, about 4 min each side if it's a full size breast.

Once cooked remove from the pan and deglaze with the blended red pepper sauce. Bring it up to a simmer and then add in the parmesan cheese and heavy cream.

Mix well. Taste for seasoning. If you want to thicken the sauce then reduce it till you are happy with the thickness.

Return the chicken pieces to the sauce. Finish with some parsley and grate some more parmesan over to finish.

Serve.