Cheesy Chicken legs wrapped in bacon
On Headbanger's Kitchen we're quite well known for wrapping things in bacon (like the bacon bomb balls). So here is my recipe for a delicious bacon wrapped chicken that's a perfect appetizer or even just a great Keto snack when you are hungry or event a main course. Whatever way you look at it, it's deeeelicious.
Spice it up
This recipe was inspired by my original bacon wrapped tandoori chicken from the Headbanger's Kitchen 'Bacon Tadka' series. So you can always follow that recipe or pretty much flavour the chicken how you like. Bacon lends itself well to all kinds of cuisine so play around with the flavours and see what works for you.
It's important to consider the kind of bacon you use here. On one hand you have the streaky bacon that will release more fat, crisp up better and give you that crunch bite. The other option is back bacon which is less fatty but will give your dish a more porky flavour but not crisp up quite as much. So which one do you pick?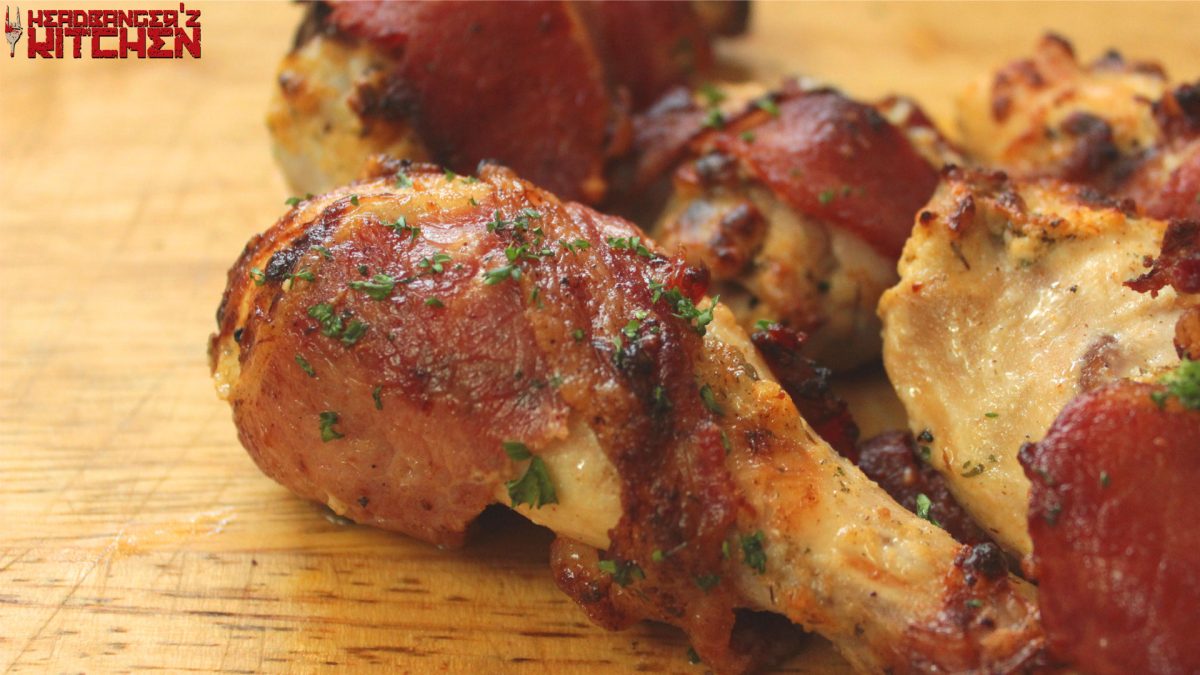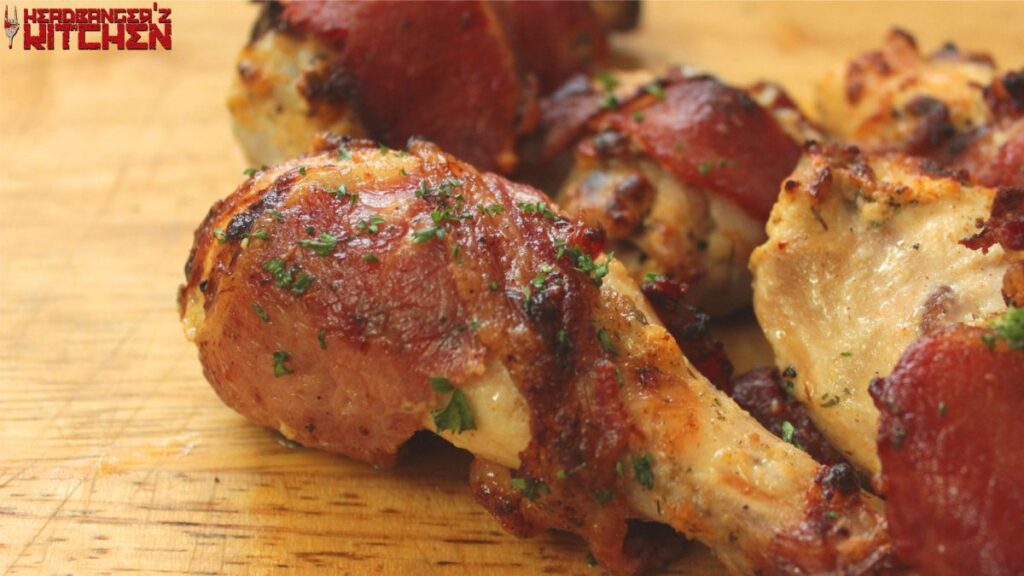 Nutrition Info (Per serving)
Calories: 400
Net Carbs: 3g
Carbs: 3g
Fat: 22g
Protein: 49g
Fiber: 0g
This recipe makes 2 serving. Get this recipe on myfitnesspal.
Bacon Wrapped Chicken
Delicious herb and cheese flavoured chicken, wrapped in bacon
Ingredients
2

Chicken Legs

Drumstick and Thigh

4

Rashers of Bacon

2

tbsp

Yoghurt

1

tbsp

Cream Cheese

2

Cloves Garlic Minced

30

grams

Mozzeralla or Cheddar Cheese

Cajun Seasoning

I recommend this one

Dried Thyme

Try this one

Pepper
Instructions
Separate the drumstick and thigh and score the chicken pieces.

Mix the yoghurt and cream cheese together to a smooth paste

Add the pepper, cajuin seasoning, salt if needed, dried thyme, cheese and garlic

Marinate the chicken and leave for an hour

Wrap with bacon and bake in the oven for about 20-25 minutes till the chicken is cooked and the bacon crispy. Oven temp 220-250C.

Serve it!!