Chicken Fried Steak Recipe
Ready to transport your taste buds straight to the Southern American? This Chicken Fried Steak is the epitome of comfort food, combining tender steak with a crispy coating, all drenched in a savory gravy. Perfect for those days when you crave a hearty meal.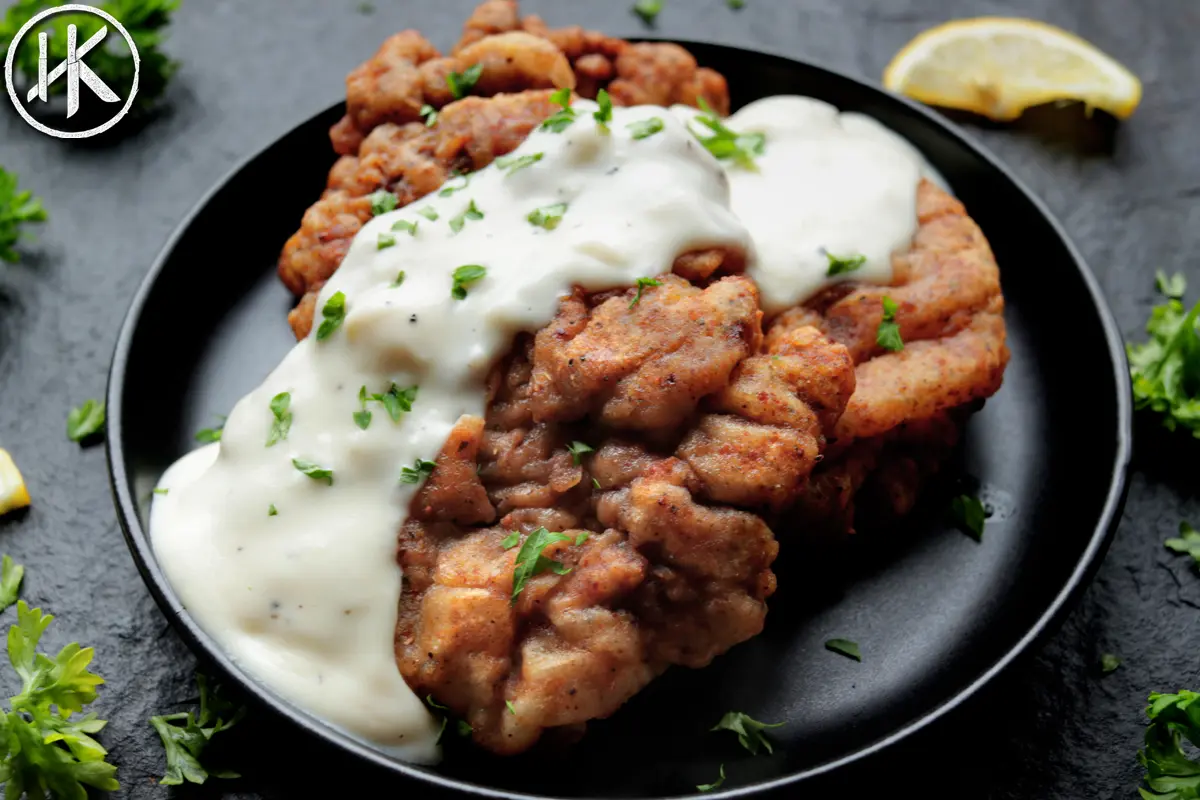 Ingredient Notes
Cube Steak: This popular cut in America is ideal for this dish. The meat should be flattened to ensure even cooking and optimal crispness. Each steak should be around 150g, but feel free to use smaller cuts if you prefer.
Oil: Essential for deep frying. Choose oils with a high smoke point like canola, sunflower, or peanut oil for best results.
For the Gravy:

Flour & Butter: They form the roux, which is the base for the gravy. Make sure to cook them together until a smooth paste forms.
Milk: This provides the creaminess to your gravy. Always have a bit of extra milk on hand to adjust the gravy's consistency if it thickens too much.
Chicken Stock Cube: This intensifies the gravy's flavor. You can opt for low-sodium versions if watching salt intake.
Pepper: Add according to taste. Freshly ground black pepper usually offers the best flavor.

For the Coating:

Flour: The primary component that gives the steak its crispy texture once fried.
Creole Seasoning: Optional, but it brings a unique and flavorful touch to the dish. If it's not available, try a blend of spices like onion powder, garlic powder, dried oregano, and paprika.
Egg, Buttermilk & Tabasco: Together, they form a spicy and tangy wet mixture that helps the flour adhere to the steak, imparting flavor and ensuring a crisp exterior.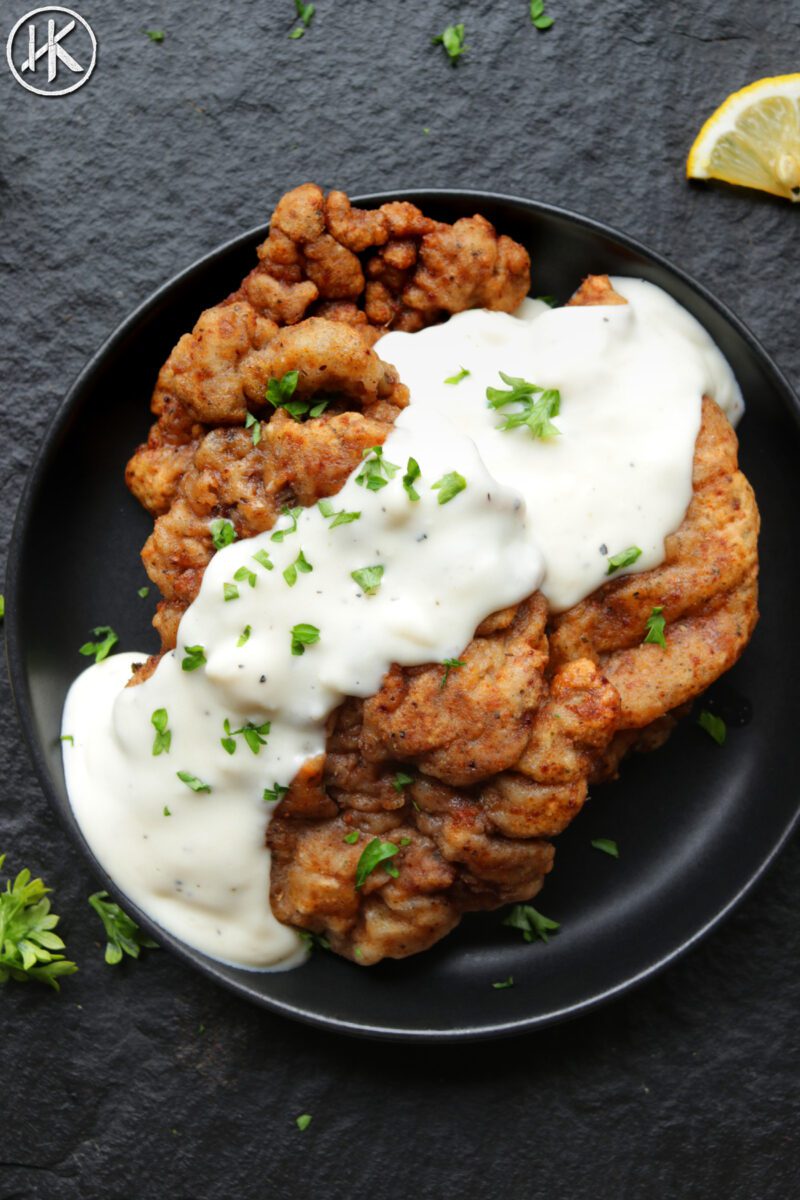 Expert Tips
Optimal Frying Temperature: Aim to keep the oil temperature between 350°F to 375°F (175°C to 190°C) for the crispiest results without burning the steak.
Roux is Crucial: When making the gravy, ensure the flour and butter mixture (roux) is smooth. This step will avoid lumps in the final gravy.
Draining Excess Oil: Once the steaks are fried, transfer them to a wire rack over a baking sheet. This allows excess oil to drip away and keeps the steak crispy.
Adjusting Gravy Consistency: If your gravy is too thick, don't hesitate to add a bit more milk. Add gradually, stirring constantly to maintain a smooth texture.
Storage and Leftovers
Storing the Steak: If you have leftover fried steak, it's best to store it in an airtight container in the refrigerator for up to 2 days. When reheating, use an oven or air fryer to restore its crispiness. Microwaving may make it soggy.
Gravy Preservation: The gravy can be kept separately in a tight-lid container in the fridge for 3-4 days. To reheat, warm it on the stovetop, adding a splash of milk if it has thickened excessively during storage.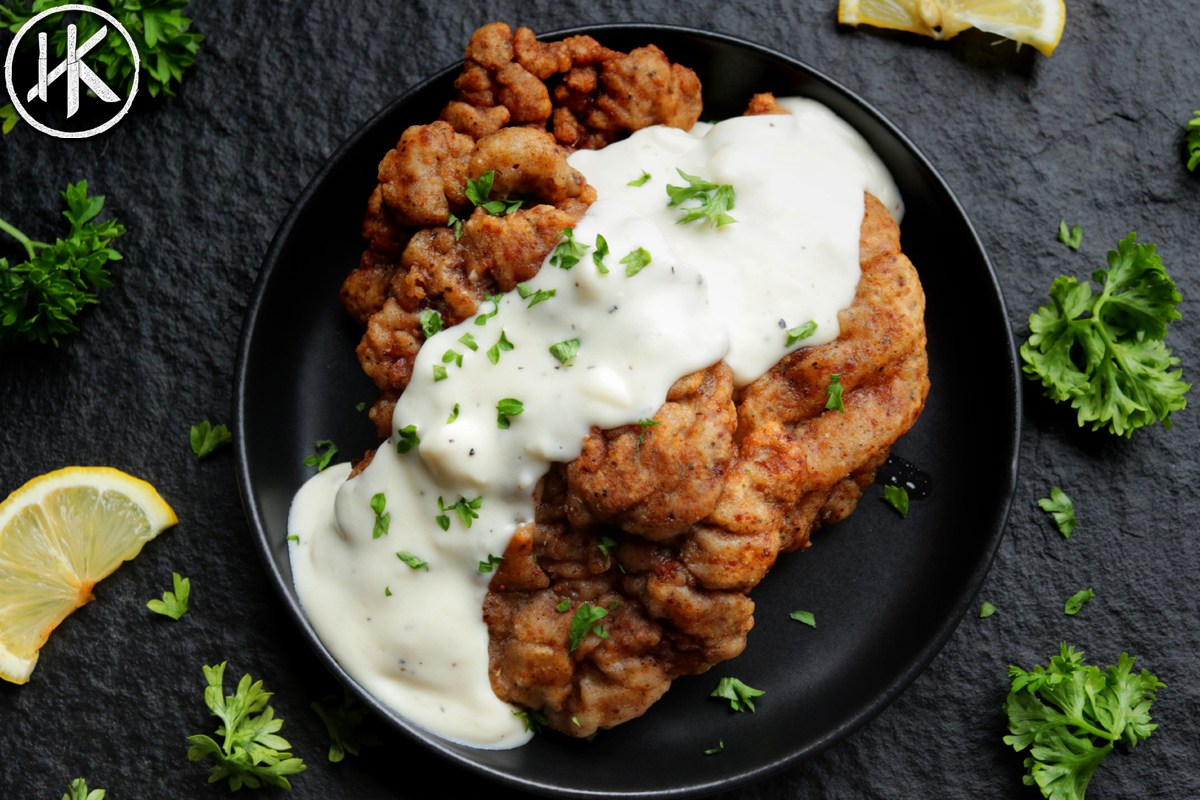 FAQs
What makes this dish different from regular fried chicken?
The main difference lies in the meat. Chicken Fried Steak uses beef steak, while fried chicken uses, well, chicken. The beef steak is tenderized, coated, and then fried, similar to the process of frying chicken, hence the name.
Can I use a different type of steak?
For this recipe, cube steak is the preferred choice in the USA because it's tenderized and cooks quickly. However, you can use other steaks; just make sure to pound them thin to ensure even cooking.
How do I know when the oil is hot enough for frying?
To test the oil, drop a small piece of the flour coating into it. If it sizzles and rises to the surface quickly, the oil is ready. Be sure not to overheat the oil as it can burn the steak's coating before cooking it through.
More Recipes You May Like:
Chicken Fried Steak
This Chicken Fried Steak is the epitome of comfort food, combining tender steak with a crispy coating, all drenched in a savory gravy.
Ingredients
Chicken Steak
1

lb

Cube Steak

Salt

to season

Oil

for deep frying
Gravy
2

tbsp

Flour

2

tbsp

Butter

2

cups

Milk

(plus an extra ¼ incase the gravy is too thick)

1

Chicken Stock Cube

Pepper

to taste
Coating
1

cup

Flour

1

tbsp

Creole Seasoning

optional

1

Egg

¼

cup

Buttermilk

2

tsp

Tabasco
Instructions
Preparing the Gravy:
In a large pot over medium heat, melt the butter. Stir in the flour and chicken stock cube to form a yellow paste and let it cook for 1-2 minutes. Gradually whisk in the milk, ensuring no lumps form.

Allow the mixture to reach a slight simmer. If the sauce becomes too thick, whisk in the extra milk until you achieve your desired consistency. Season with pepper as per your taste. Cover the pot and set the gravy aside.
Preparing the Steak:
In a mixing bowl, combine the flour with creole seasoning (if using). In another bowl, whisk together the egg, buttermilk, and tabasco.

Season each steak with salt. Coat the steaks in the seasoned flour, then dip them in the egg mixture, and finally coat them again with the seasoned flour.

In a large pan, heat the oil. Once hot, fry the coated steaks in batches for about 1-2 minutes on each side or until golden brown and crispy. Transfer the fried steaks onto a wire rack to drain any excess oil.

Plate the steaks and generously drizzle the prepared gravy over them.
Nutrition
Calories:
758
kcal
Carbohydrates:
55
g
Protein:
41
g
Fat:
40
g
Saturated Fat:
12
g
Polyunsaturated Fat:
6
g
Monounsaturated Fat:
19
g
Trans Fat:
0.1
g
Cholesterol:
185
mg
Sodium:
658
mg
Potassium:
853
mg
Fiber:
1
g
Sugar:
15
g
Vitamin A:
1074
IU
Vitamin C:
6
mg
Calcium:
360
mg
Iron:
6
mg