Keto Bacon and Egg Fried Rice
BAE = Bacon & Eggs
What can I say about bacon and eggs that hasn't been said before? The world loves it, we call it BAE and make memes about it. We can also make lots of tasty dishes from it and this is one of those. This low carb bacon and egg fried rice made with cauliflower rice is perfect to eat on it's own or as an accompaniment to my Keto Thai curry or even my Keto Chilli Chicken. It's great for breakfast, brunch, lunch or even dinner. The best part is that it takes one pan to make and it's super quick.
So go ahead and give this a try!
Tips & Tricks
It's always a quick and easy way to cook the cauliflower rice in the microwave. Rice the cauliflower or buy it riced and then just pop it into the microwave and cook it. If you trying to avoid using soya sauce because it does have wheat in it you can use coconut aminos which are a more Keto friendly option. You can also add different vegetables to this fried rice. You can also add in some yummy prawns or chicken. There are a number of possibilities. Either way enjoy!
I've also done quite a variety of fried rice recipes. One of the most simple and basic ones is the chicken fried rice. My personal favourite is my pork fried rice. A super easy and definitely unique recipe is my quick and easy Thai fried rice. So go ahead and try one of these recipes too.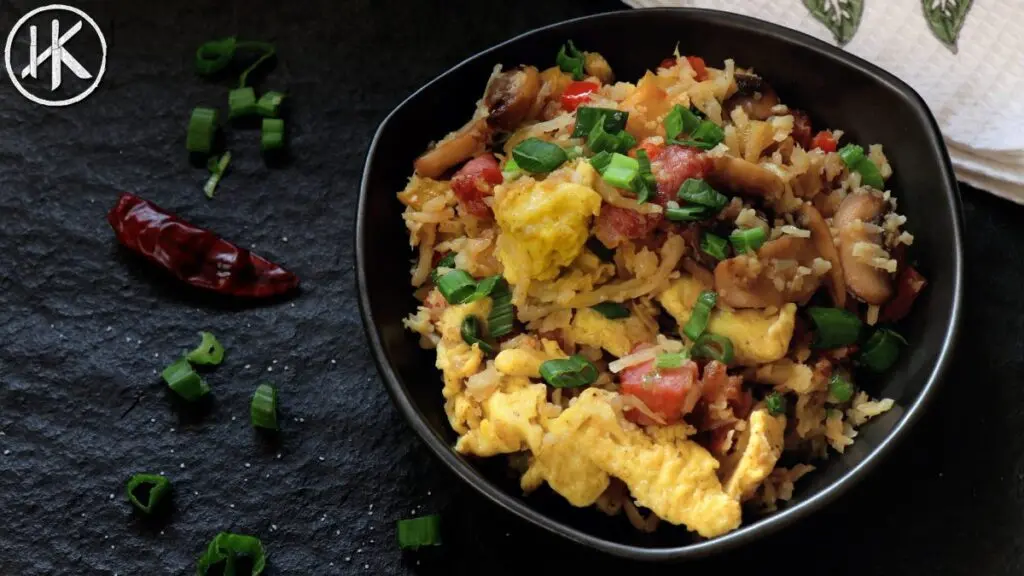 Nutrition Info (Per serving)
Calories: 460
Net Carbs: 5g
Carbs: 9g
Fat: 40g
Protein: 17g
Fiber: 4g
This recipe makes 3 servings. Get this recipe on myfitnesspal.
Keto Bacon and Egg Fried Rice
A delicious bacon and egg fried rice.
Ingredients
250

grams

Cauliflower Rice

Get the recipe here

200

grams

Smoked Bacon Cubes

50

grams

Spring Onion

50

grams

Yellow Bell Peppers

50

grams

Red Bell Peppers

100

grams

White Mushrooms

5

grams

garlic

2

Tsp

Soya Sauce

Try this one

Salt & Pepper to taste

2

Eggs
Instructions
Start by putting the bacon in a cold pan and cooking it on a medium heat till the fat starts to render out and the bacon becomes crispy.

As the bacon cooks, crack the eggs in a bowl, season with salt and pepper and beat them till nice and frothy.

Once the bacon has cooked remove from the pan along with the bacon fat. Spoon back in about a teaspoon or two of the rendered fat.

Add the eggs and scramble them to create nice big egg curds. Once cooked remove and set aside.

Now add some more of the fat back to the pan and chop the white part of the spring onion and add it to the pan. Also slice the mushrooms and add them.

Cook the mushrooms and onions till the water from the mushrooms is released and evaporates and they start caramelizing.

Then mince the garlic and add it to the pan along with more of the bacon fat if needed. Sautee till the garlic starts turning golden brown.

Next add the bell peppers and give everything a good mix. Now if you want your bell peppers soft then cook for 3-4 minutes otherwise after a minute of cooking add in the cauliflower rice. Also throw in any more of that bacon fat that is left over.

Give everything a good mix and season with the soya sauce, salt and pepper.

Sautee everything for another minute before adding in the fried bacon, eggs and the green part of the spring onion. Make sure you chop that green part nice and fine.

And then after giving it a final good mix, your bacon and egg fried rice is ready.