Beef is back, back again!!!
Indians eat beef. 70% of Indians eat meat. These are facts. We have an incredible array of mouth watering meaty dishes in this country and I have every intention of showcasing them. Down with this vegetarian tyranny of constantly demanding "eggless" recipes and more veg recipes. No more will I allow myself to be referred to as 'non veg' like I'm less of a person because I eat meat. So today we're protesting against all this with some delicious Kerala Beef Fry. As always for my safety I must inform you that it's water buffalo and not cow beef. Now before you get offended I'd rather you take my comments in a more jovial spirit as they are intended. Sometimes it's not easy to convey it in writing and I didn't want to clutter this page with tongue out smileys. Anyway enough jibber jabber from me, let's cook some beef.
Spice it up!
As you probably saw in the video, my wife said that it needed more spice. You are all aware that I'm not big on spicy food at all, especially the spice that comes from green chillies and excess garam masala. If you want to spice this recipe up I'd suggest frying a couple of slit green chillies along with the curry leaves to really heat up the dish. Dried Kashmiri red chillies could be another alternative as well for a milder heat. I'm pretty sure you can also use red chilly powder in the marinade but none of the original recipes I saw had that.
I also chose to leave out the coconut chips. In India we get 2 kinds of coconuts, the smooth green ones which have lots of water and have a softer flesh inside. The second kind is the hairy brown ones which not much water inside but a hard coconut flesh, this is the one you want to use. Normally you will just chop the flesh and add it to the marinade if you want to use it. I do believe it is Keto friendly and will only add a few more carbs to the dish, I'd say about 50 grams of it would suffice.
Nutrition Info (Per serving)
Calories: 366
Net Carbs: 3g
Carbs: 4g
Fat: 23g
Protein: 38g
Fiber: 1g
This recipe makes 3 servings. Get this recipe on myfitnesspal.
Now you may say, this recipe has more protein than fat. I would recommend pouring some melted butter or ghee over this.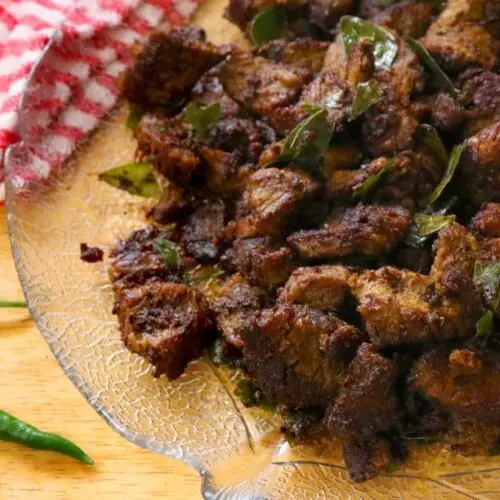 Keto Kerala Beef Fry
A delicious spicy double fry beef dish
Instructions
Chop the beef into small bite size pieces and marinate with salt, pepper, ginger garlic paste, onions, tumeric, coriander powder, garam masala powder and vinegar. Let it marinate for 30 minutes.

Add the beef into a pressure cooker with about 1/2 cup of water and cook for 20 minutes on a low flame. You can also slow cook it in a saucepan for about 40 minutes or till the beef is tender.

Once done remove the beef with a slotted spoon. Strain the liquid and reserve for later use. Any of the masala/onion in the sieve you add to the beef.

Heat the coconut oil in a pan and deep fry the curry leaves. Add the beef to that and cook on a medium heat for about 15 minutes

Keep stirring the beef so that it doesn't burn but you want all the spices to cook well and the beef almost blacken.

Once done, turn off the heat and serve.