5 Ingredient Keto Shakshuka
Shakshuka! I just love saying the word it's so much fun. This is a North African breakfast dish that's also popular in the middle east. There are many versions of this and I've decided to give it my own spin so that it's Keto friendly! This is also a 5 ingredient recipe so I am a bit limited but I'm doing my best to give you something that's close to the original and yet simple and easy to make. Hopefully you'll find this to be a perfect breakfast and not complicated to make. So enjoy!!!
Spice up that breakfast
Breakfast doesn't just have to be fried eggs and bacon. Don't get me wrong, I love scrambled eggs, fried eggs, boiled eggs etc. I do enjoy pancakes and waffles too but there is so much more that you can eat at breakfast. I mean try my Thai omelet for example. It's amazing. Maybe you have a bit too many eggs, why not try some Indian breakfast dishes? We have things like my Keto dosa and my Keto upma.
Don't let breakfast be boring. Make it exciting and spicy.

Nutrition Info (Per serving)
Calories: 283
Net Carbs: 3g
Carbs: 4g
Fat: 24g
Protein: 13g
Fiber: 1g
This recipe makes 1 serving. Get this recipe on myfitnesspal.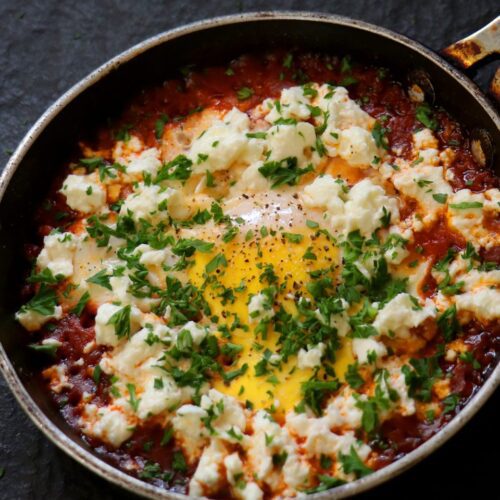 5 Ingredient Keto Shakshuka
Ingredients
1

Egg

30

grams

HK's Marinara Sauce

30

grams

Feta Cheese

1/2

Tsp

Chili Flakes

1/2

Tsp

Chopped Parsley

1

Tbsp

Butter

Salt & Pepper to taste
Instructions
Melt the butter in a frying pan and add in the chili flakes.

Once the butter starts to sizzle add in the marinara sauce and give it all a good mix.

Once that's bubbling turn the heat down to low and crack the egg in the pan.

Cover and cook for 1-2 minutes depending on how you like your eggs cooked.

Leave uncovered for a runny yolk.

Season with a bit of salt and pepper and then crumble in the feta cheese on top of the sauce and eggs.

Turn the heat off and finish with the freshly chopped parsley. This recipe is 1 serving.