We're making Keto Ribs!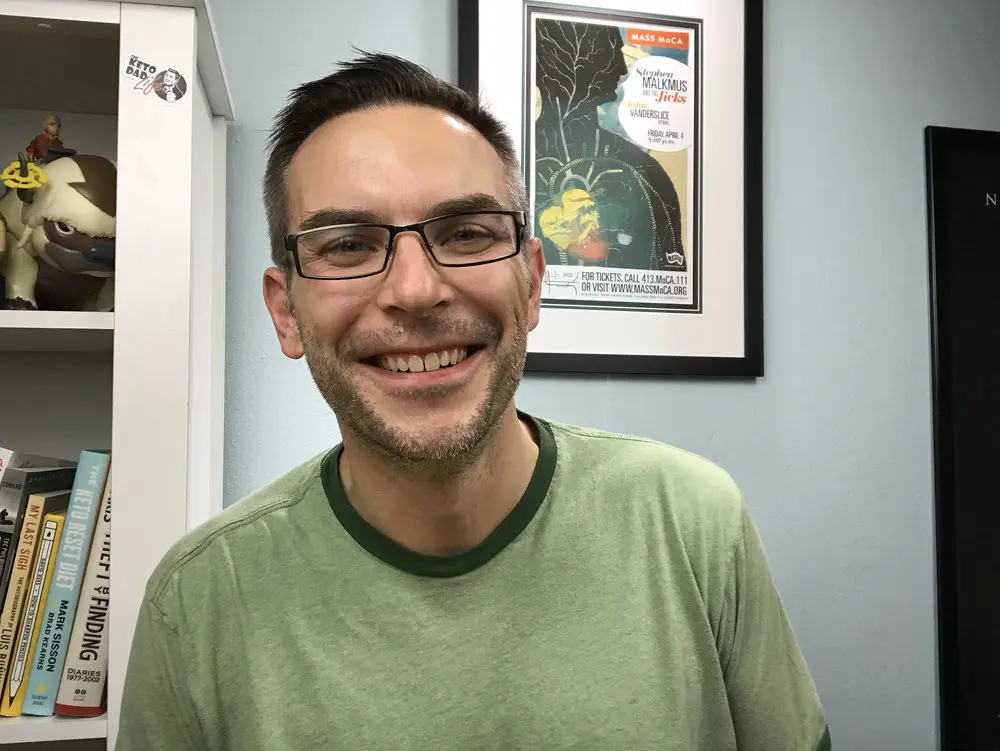 It's time to fire up your BBQ because we're making Keto ribs. Well actually you don't need the barbecue for this recipe at all. I've got my good friend Aaron also known as A.D Keto who runs a Youtube channel called High Fat High Fun to come take over Headbanger's Kitchen and show us a recipe. He's decided to teach us how to make these Keto baby back pork ribs. Anyway I'll let him tell you more about them.
What Aaron has to say!
Baby back pork ribs. After years and years of avoiding them, they've become a staple of my diet. I used to stay away from meals that required dealing with bones — it just seemed messy, and not really worth the effort for the amount of meat that I'd ultimately get (I'm looking at YOU, chicken wings). But man. I'm not sure if I've ever been MORE wrong about anything. Baby back pork ribs are not only incredibly easy to prepare, but also quite simple to navigate when it comes to the bones. The meat simply falls right off of them. There's close to ZERO mess.
More tips
The only real work that's required when preparing them comes in removing the peritoneum. It's a thin membrane on the back side of the ribs, which, if not removed, results in a rubbery texture. It also forms a barrier between the meat and any seasonings you decide to add, so be sure to get rid of it. Depending on where you purchase your rack of ribs, it may already be taken care of. Removing it can be a little tricky, as this membrane is particularly slippery, and tough to grab hold of. The method that works best for me is to use a butter knife. Once I get it worked under the membrane, it's easy enough to get it pulled away from the bones — just a little bit — enough to grab hold. I usually use a paper towel to grab it, which improves my grip (again, that thing is slick). Then I simply pull it away from the rack. It usually comes off in one big piece.
Once the peritoneum is removed, I cut the rack in half (so that both halves fit into a
9×13 baking dish
), add some salt and pepper, and then bake them very low and slow, over the course of several hours. Then, after a coating of sugar free barbecue sauce, I broil them for an additional ten minutes. They come out perfectly every time.
There really is a certain satisfaction that comes with a 'set-it-and-forget-it' meal, like a chili, or stew. Same deal here. Smelling those ribs as they slowly bake is the BESSST.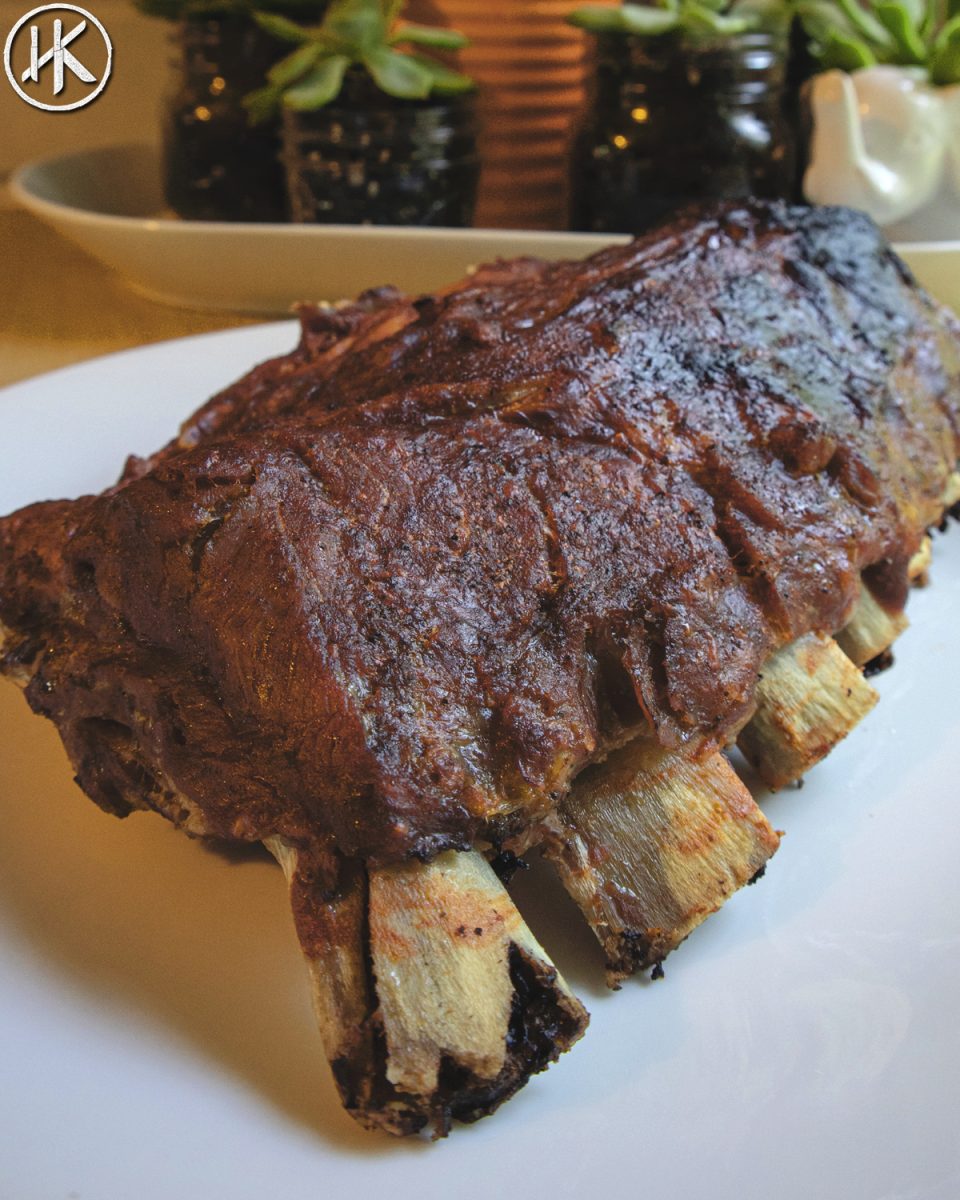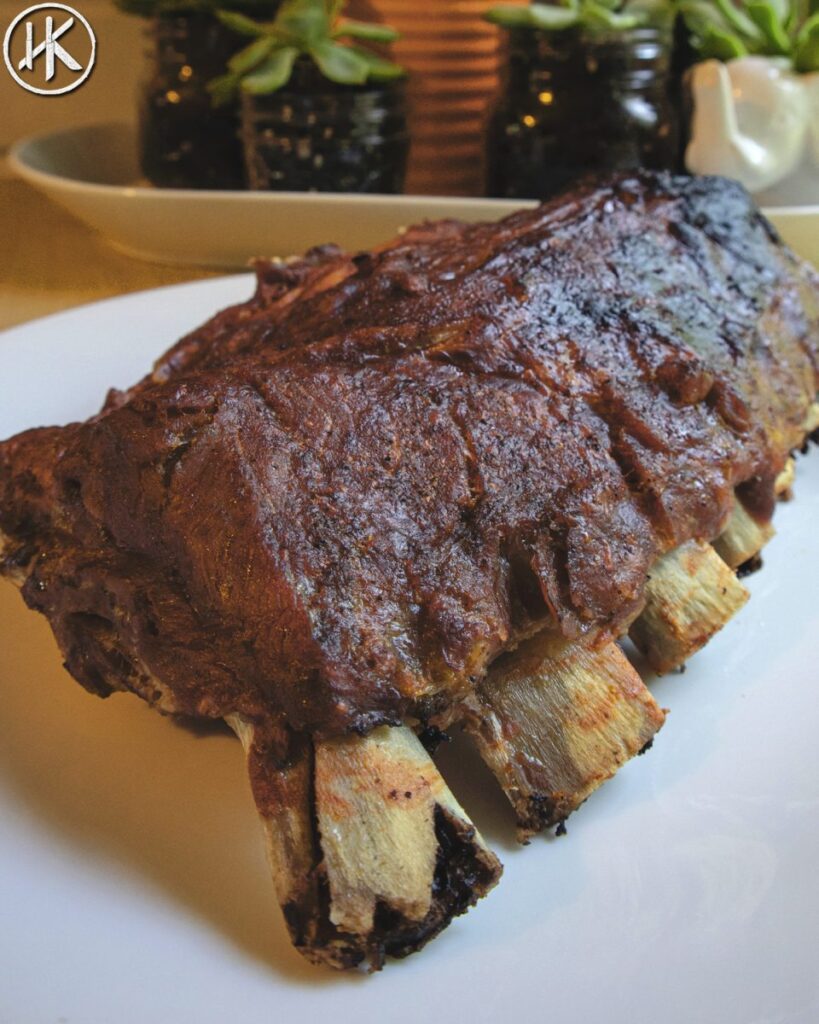 MACROS:
(this nutrition info may vary slightly, depending on the size of the rack, your chosen BBQ sauce, and the particular seasoning or rub you use)
Serving size: 4 oz., roughly 3-4 ribs
Servings: 4
Amount Per Serving:
Calories: 250
Total Carbs, without BBQ sauce: 0g
Total Carbs, with BBQ sauce: 4g-8g, depending on the brand
Net Carbs, with BBQ sauce: 1g to 4g, depending on the brand
Protein: 21g
Fat: 18g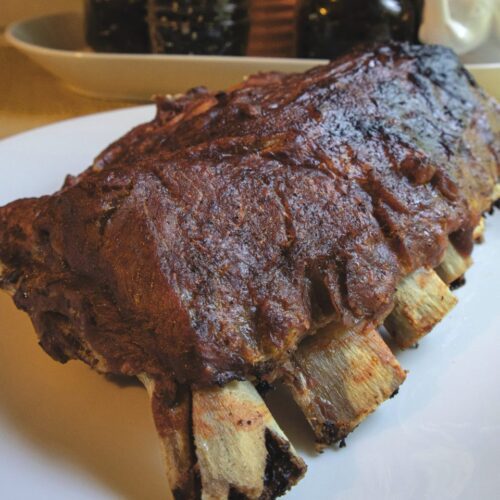 Keto Baby Back Pork Ribs
Ingredients
1

Rack of baby back pork ribs

4

Tbsp

Sugar-Free Barbecue Sauce

Kosher salt

to taste

Black Pepper

to taste
Instructions
Preheat your oven to 275°F (135°C)

Remove the peritoneum from the back side of the ribs (using a butterknife to get it started, and then a paper towel to improve grip)

Cut the ribs down the middle and place both pieces in a 9×13 baking dish

Liberally season all sides with kosher salt and pepper (or your favorite low-carb meat rub)

Cover with aluminum foil and place in the 275° oven for three hours

After three hours, take the dish out of the oven

Set the oven to broil (on HIGH)

Remove the juices from the dish

With a brush, apply roughly one tablespoon of your favorite sugar-free barbecue sauce to each side of the ribs (four TBSPs total)

Put under the broiler for about 10 minutes

Remove, plate, and enjoy!