Oh crepe! Could this really be breakfast?
So my father-in-law is on keto and, after a month of only eating eggs for breakfast, he was done. He wasn't feeling the love that Indian breakfasts bring – the idlis, the dosas, the upmas, the puttus, the uttapams, the pohas… – which he would have otherwise taken for granted. So my mother-in-law improvised, and made him a keto dosa. Now, if you haven't eaten dosa, you need to try it at least once in your life. This crisp rice-and-lentil crepe is a staple of the south of the country, eaten with chutneys and curries, stuffed with potatoes (and loaded with cheese, if you're me) – it's spectacular. My MIL passed this recipe on to me and I absolutely couldn't believe the result – a crisp, DELICIOUS crepe that tasted as good or even better than a regular dosa.
Coconut chutney is the perfect accompaniment for the dosa; it's a few ingredients just ground together and then tempered with some spices. You can also stuff the dosa with your favourite vegetables to make a masala dosa or you can be experimental like I am sometimes and throw in some pulled pork or ham and cheese… just don't tell my wife's relatives this.
This perfectly doubles up as a keto taco as well
This dosa recipe works perfectly well as a taco, or wrap, in general, as it holds together pretty well.  So you can find plenty of ways to make use of it. Just remember to leave it on the pan till it's completely cooked and starts to lift up at the edges. Try this crispy crepe once and you'll find yourself making it every other day. It's positively addictive.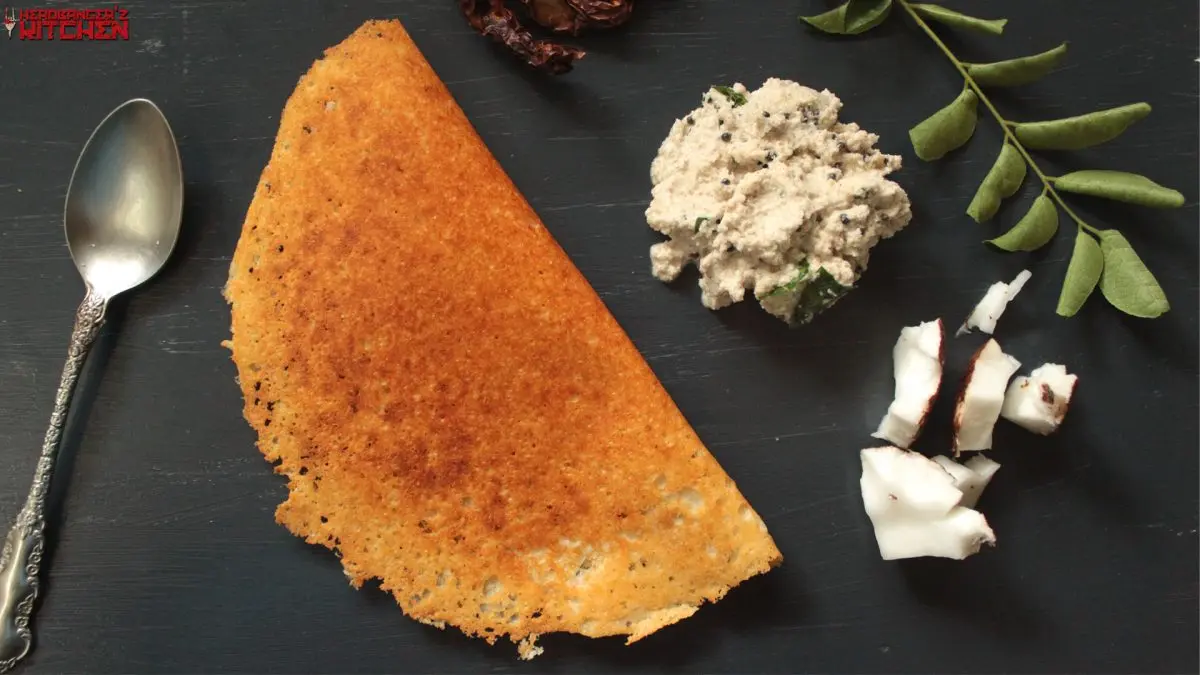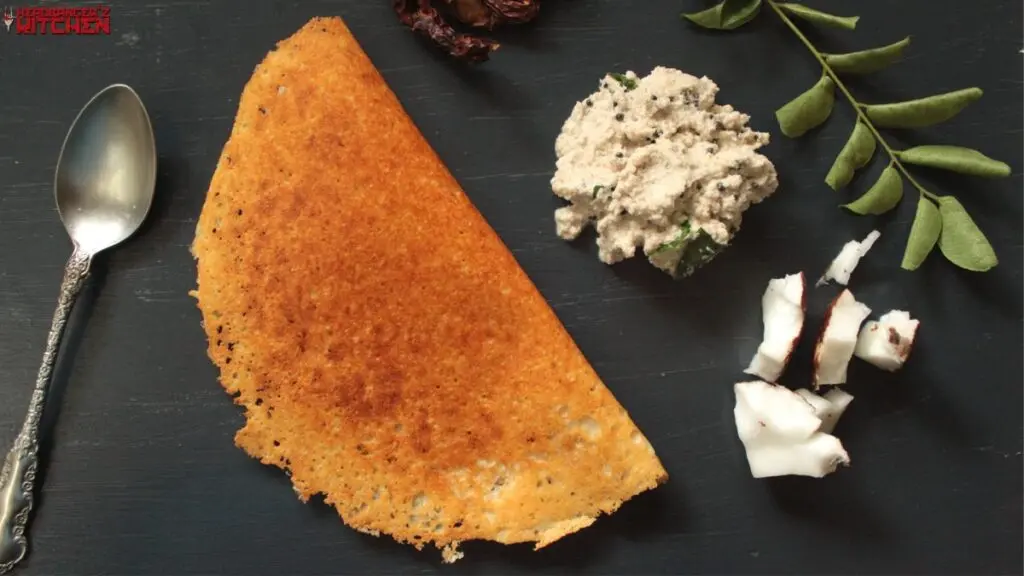 Nutrition Info for the Dosa (Per serving)
Calories: 174
Net Carbs: 2g
Carbs: 4g
Fat: 15g
Protein: 7g
Fiber: 2g
This recipe makes 1 serving . 1 serving = 1 dosa  Get this recipe on myfitnesspal.
Nutrition Info for the Chutney (Per serving)
Calories: 125
Net Carbs: 2g
Carbs: 4g
Fat: 12g
Protein: 1g
Fiber: 2g
This recipe makes 4 serving . Get this recipe on myfitnesspal.
Keto Dosa with Coconut Chutney
A delicious savoury Indian crepe made with a coconut chutney
Instructions
For the Dosa
Mix all ingredients together and form the batter

Pour the batter in a lightly oiled, non stick, frying pan and spread

Cook on a medium heat till the bottom starts to brown and the batter cooks all the way through, and the sides begin to lift a bit from the pan

Fold over and serve with the coconut chutney
For the Chutney
Blend together the coconut, chilly, salt and ginger with some water to make a coarse chutney

Heat the coconut oil in a pan and add in the mustard seeds, dried red chilly, curry leaves and hing.

Once the mustard seeds start popping pour the hot oil and spices mixture over the chutney and mix well

Eat with keto dosa.