Keto Beef Tongue with Mushroom Sauce
An Offal Fuss About Nothing
As a meat eater I believe in wasting no part of the animal. I used to eat beef tongue as a kid but then it vanished from most butchers list of available items. However after a recent visit to Goa where I ate some spectacular tongue I was delighted to find it available at my local butcher and decided to stock up and cook up. So here is my very basic, how to cook beef tongue video with a creamy mushroom and onion sauce to go with it. There is so much more we can do with this versatile meat and I'll come up with some more recipes soon. Till then, cheers and keep cooking!
Become the sauce boss
In the video I made a sauce from the stock I created by pressure cooking the beef tongue. I also used the mushrooms themselves to thicken the sauce by blending them. I also strained the sauce for a mush silkier and smoother texture. You can also finish this off with some heavy cream. You can use any kind of herbs that you like to enhance the flavour. It's pretty much a blank food canvas for you to paint on. Throw in a spoon of mustard for a bit of a kick to the sauce. Be creative with the process.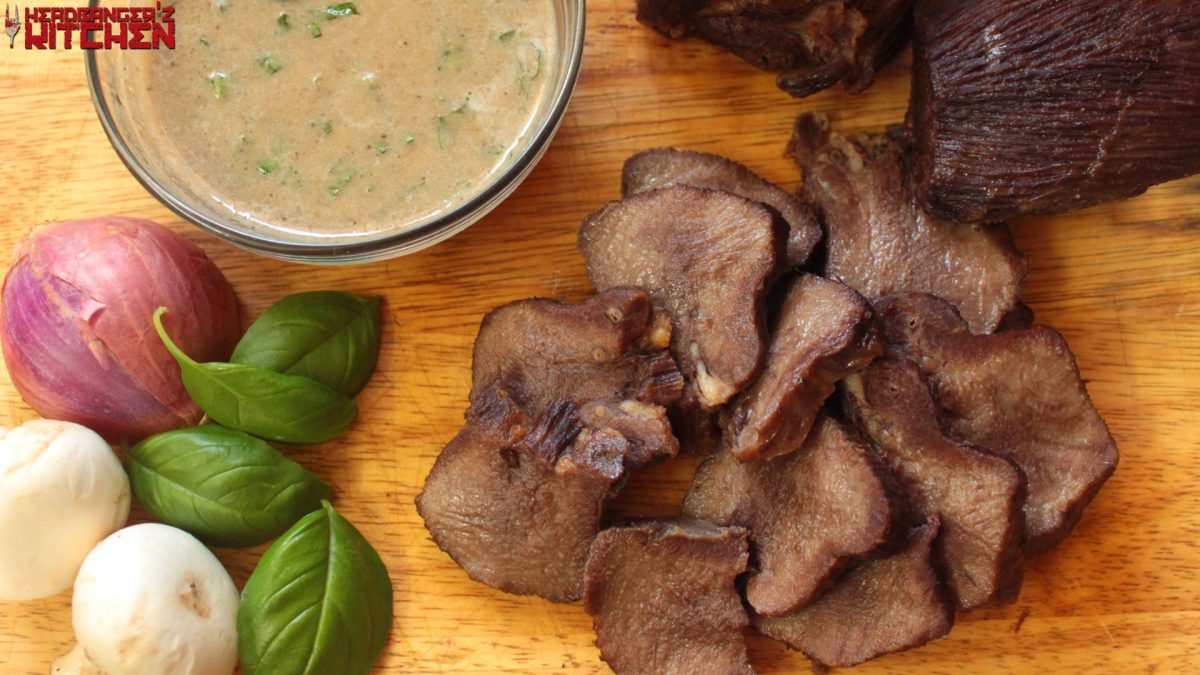 Nutrition Info (Per serving)
Calories: 583
Net Carbs: 3g
Carbs: 4g
Fat: 45g
Protein: 39g
Fiber: 1g
This recipe makes 5 servings. (Could be more depending on the size of the tongue)
Get this recipe on myfitnesspal.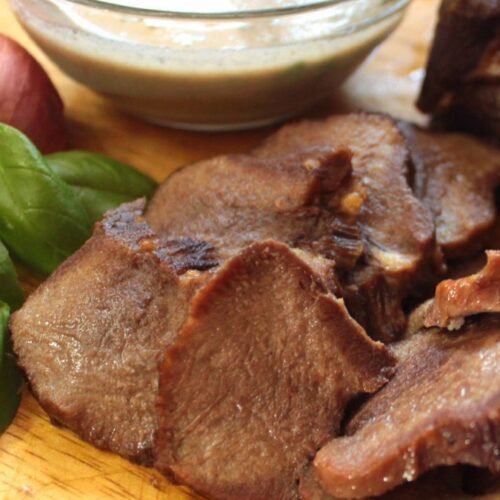 Keto Beef Tongue with Mushroom Sauce
A delicious roast beef tongue with a mushroom sauce
Ingredients
1

Beef Tongue

Peppercorns

2

Bay leaves

Salt

garlic

1 1/2

Onions

Water

Mushrooms

Basil
Instructions
Pressure cook the beef tongue with salt, peppercorns, 1 onion, 4 cloves of garlic and 1 onion in 500ml of water for 25 minutes.

Once cooked remove the tongue and strain the liquid and save the cooked garlic, onions and peppercorns. Discard the bay leaves

Cut and use the tongue as desired

Skim the fat from the stock created by cooking the tongue

Using some of the fat fry the already cooked onion, garlic and peppercorns along with 1/2 a freshly chopped onion

Once you get some colour on the onions add in 2-3 chopped mushrooms

Deglaze the pan with the stock and cook till the mushrooms soften

Blend the mixture and strain with a sieve for a smooth and delicious sauce.

Finish with fresh basil.

Serve with the cooked tongue.