Experience the flavors of Thailand with this traditional Larb recipe. Made with ground pork, fragrant herbs, and a tangy dressing, this dish promises an explosion of tastes in every bite.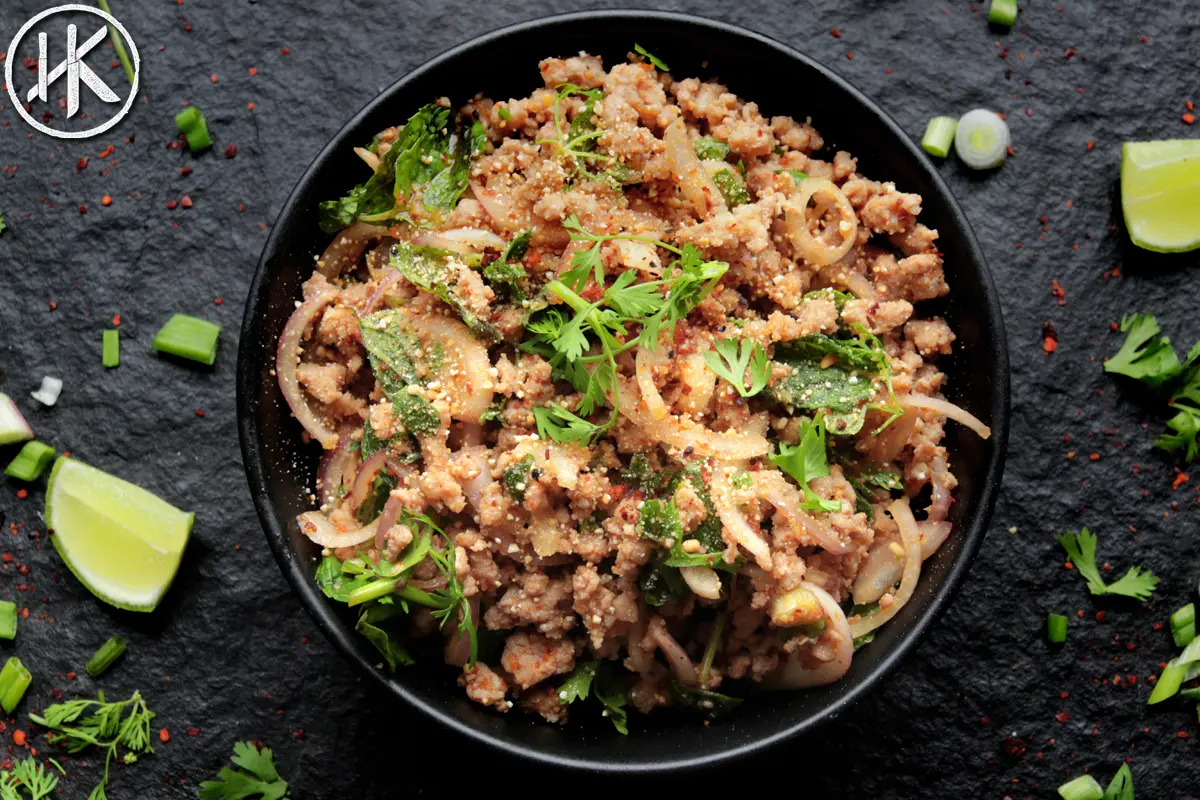 What is Larb?
Larb is a flavorful salad originating from Thailand. It consists of ground meat seasoned with herbs, lime juice, fish sauce, and chili flakes. It's often served warm or at room temperature and sometimes accompanied by vegetables.
Ingredient Notes
Ground Pork: Ground pork is the star of this dish, offering a rich meaty base for our Larb.
Jasmine Sticky Rice: Used for making the rice powder. When toasted and ground, it imparts a unique nutty texture and aroma to the dish.
Oil: Used for sautéing the pork, ensuring a juicy texture.
Red Onion and Scallions: Adds a subtle sweetness and crunch to the mixture.
Cilantro, and Mint Leaves: These herbs introduce freshness, aroma, and distinct flavors to the Larb.
Brown Sugar: Balances out the dish with its subtle sweetness against the spicy and tangy notes.
Chili Flakes: Adjust based on your preferred spice level.
Fish Sauce: A traditional Thai ingredient, fish sauce gives Larb its characteristic salty depth
Lime Juice: Essential for that tangy lift, lime juice brightens the Larb, ensuring a well-rounded flavor profile.
Expert Tips
Achieving the Perfect Rice Powder: It's crucial to toast the Jasmine sticky rice uniformly until golden brown. This process adds a deep, nutty aroma that's integral to Larb.
Balancing Flavors: Larb thrives on a balance of salty, tangy, sweet, and spicy. Before finalizing the dish, taste and adjust the seasoning to get the desired balance. Remember, the fish sauce is quite salty, so you may not need to add much additional salt.
Herbs Addition: The herbs—cilantro, mint, and scallions—should be fresh and added at the last moment. This ensures they retain their vibrancy and don't wilt excessively from the pork's heat.
Resting the Pork: Allow the cooked pork to cool for a couple of minutes before adding the other ingredients. This short resting period prevents the other ingredients from cooking too much and keeps the flavors fresh.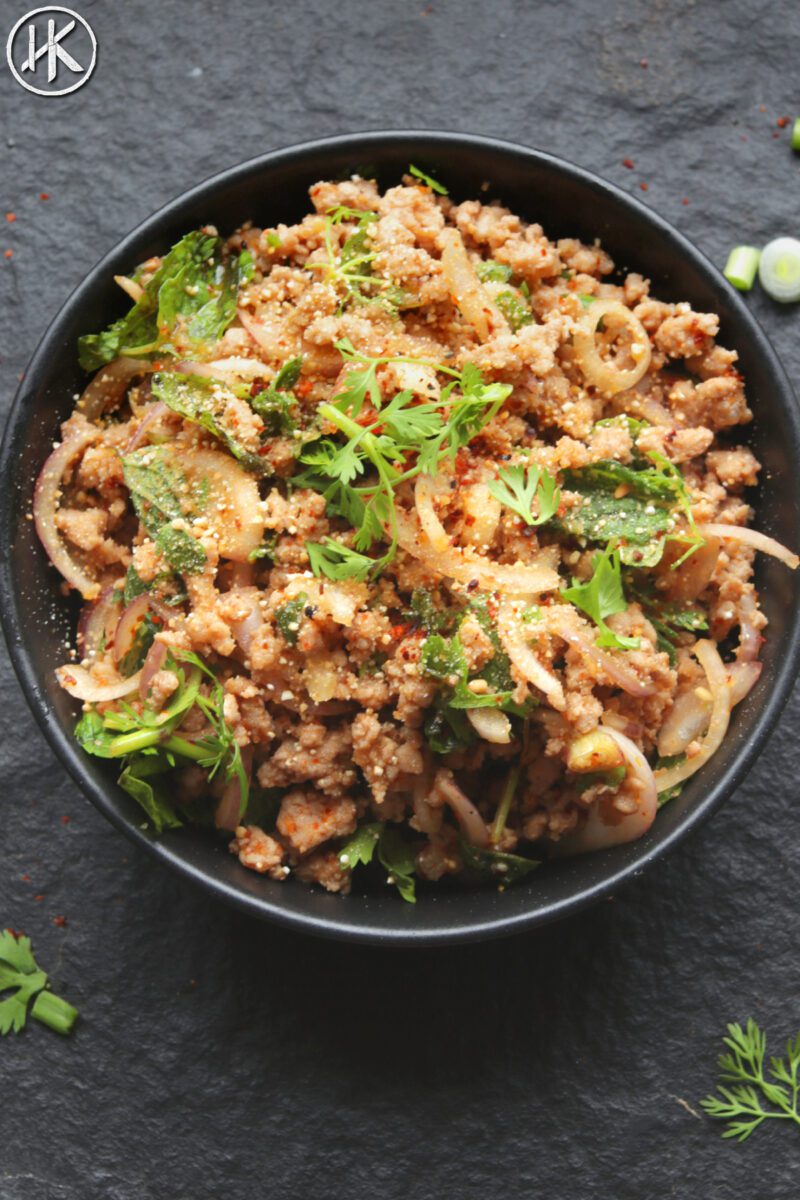 Storage and Leftovers
If you have leftovers, transfer them to an airtight container and store them in the refrigerator for up to 2 days. You can either eat the Larb cold and gently reheat in a skillet over low heat until warmed throughout.
FAQs
Is Larb traditionally spicy?
The heat in Larb can vary based on personal preference. While the dish often has a kick from chili flakes, you can adjust the amount to your liking.
How do I know when the rice is properly toasted?
Toasting rice transforms it from white to a golden brown hue. The rice should exude a nutty aroma, which is an indication that it's been toasted enough. Monitor the skillet closely, as rice can go from toasted to burnt quite quickly. Continuously stirring or shaking the pan ensures even toasting and prevents the rice from burning.
More Thai Recipes You May Like:
Thai Pork Larb Recipe
Experience the flavors of Thailand with this traditional Larb recipe. Made with ground pork, fragrant herbs, and a tangy dressing, this dish promises an explosion of tastes in every bite.
Ingredients
500

g

ground pork

1

tbsp

oil

½

cup

raw Jasmine sticky rice

you can make and store this and use as needed

75

grams

red onion

sliced

30

g

scallions

sliced

20

g

cilantro

sliced

30

g

mint leaves
For the dressing
1

tbsp

brown sugar

1

tbsp

chilli flakes

3

tbsp

fish sauce

1

tbsp

lime juice
Instructions
Place the Jasmine sticky rice in a large skillet over medium heat. Continually move the skillet in a circular motion, toasting the rice until it turns golden brown. Once done, let the toasted rice cool. Transfer it to a food processor and pulse until it achieves a powder-like consistency. Set aside.

In a mixing bowl, combine the brown sugar, chili flakes, fish sauce, and lime juice. Whisk them together until the sugar dissolves. Taste and adjust the seasoning if necessary. Set the dressing aside.

In the same skillet, heat the oil over medium-high heat. Once hot, add the ground pork and season with salt. Use a wooden spoon to break apart any large clumps and stir occasionally until the pork is fully cooked. Once done, turn off the heat and let the pork cool for about 2 minutes.

To the cooked pork, add the red onions, scallions, toasted rice powder, and the prepared dressing. Stir to combine all ingredients. Next, fold in the chopped cilantro and mint leaves.

Transfer the prepared larb to a serving bowl. For a finishing touch, sprinkle with some of the toasted rice powder, additional chili flakes if desired, and a squeeze of fresh lime.
Nutrition
Calories:
483
kcal
Carbohydrates:
27
g
Protein:
24
g
Fat:
31
g
Saturated Fat:
10
g
Polyunsaturated Fat:
4
g
Monounsaturated Fat:
14
g
Trans Fat:
0.01
g
Cholesterol:
90
mg
Sodium:
1171
mg
Potassium:
588
mg
Fiber:
2
g
Sugar:
5
g
Vitamin A:
1336
IU
Vitamin C:
9
mg
Calcium:
71
mg
Iron:
2
mg