I love Brisket!
Brisket fried rice combines my love for two amazing foods. I mean I love beef in all shapes and forms but there is something special about brisket. Perhaps it's all the American BBQ videos I watched that romanticized the brisket for me. Perhaps lots of cross section shots of brisket oozing juices. And probably from watching Aaron Franklin's masterclass as well. The brisket is right up there in my top 3 ways to eat beef. 
Now unfortunately brisket was hard to come by in India. However the barbecue scene in India has started to grow and we have a whole bunch of people across the country smoking meats. I've eaten brisket in Bangkok and Vietnam and recently some home grown places. This particular brisket I got from Smoke Culture by Steve from Kochi. Of course when I say beef I mean waterbuffalo or whatever is legal in my state. 
Anyway I had a lot of brisket and I had some left over rice and so I created this brisket fried rice. 
Fried Rice for days!
You can turn anything into fried rice. It's a great way to use up left overs. Of course it's not considered a healthy food but that's not true. I've made this epic anabolic, high protein fried rice that you can eat everyday. It's about finding the balance between the protein, fat and carbs. At home you get to control the calories and macros based on your dietary needs.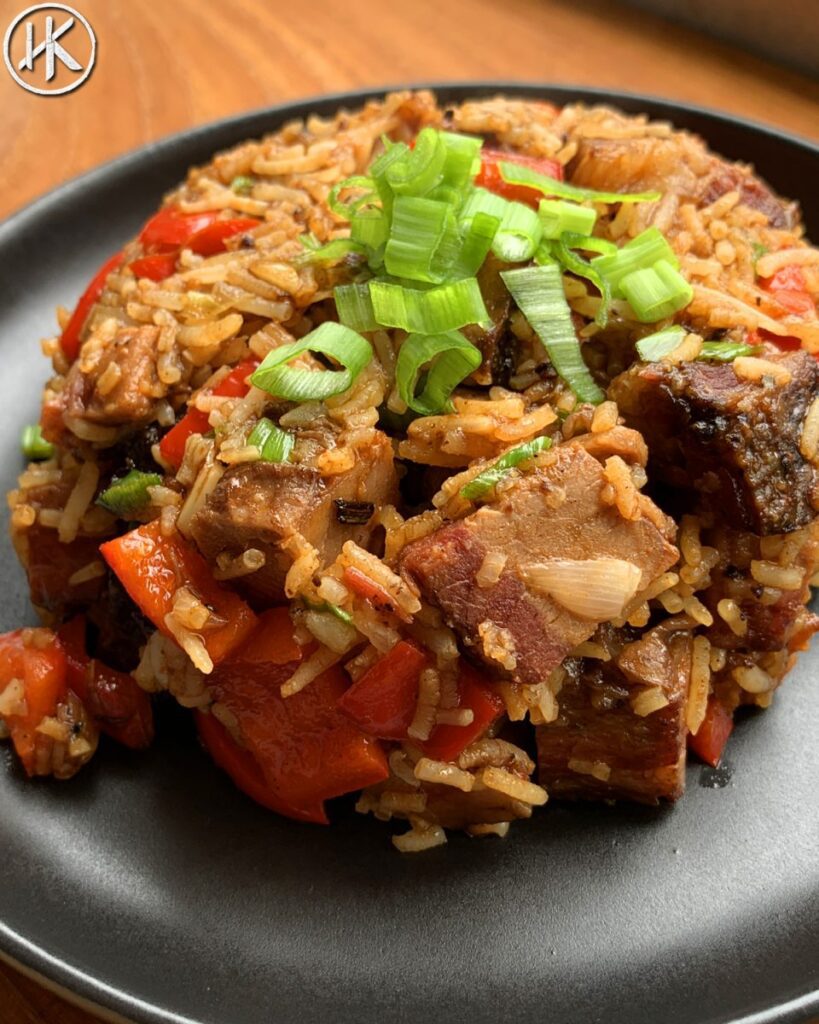 Nutrition Info (Per Serving)
Calories: 355
Protein: 25g
Fat: 15g 
Carbs: 30g
Fiber: 2g
This recipe makes 1 serving. Get this recipe on myfitnesspal.com.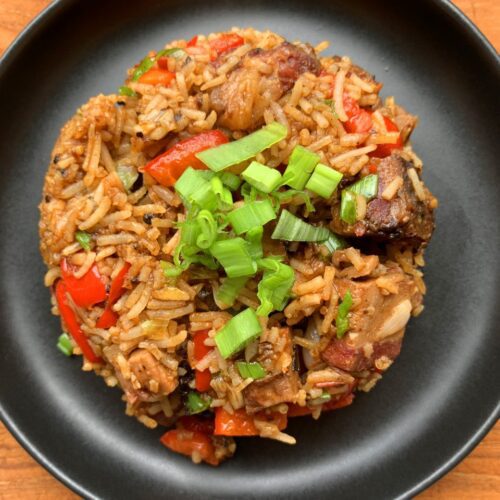 Brisket Fried Rice
a quick and easy brisket fried rice
Ingredients
For the fried rice
100

grams

day old white rice

cauliflower rice if you are Keto

100

grams

Beef Brisket

get it from your fav BBQ place

60

grams

Red Bell Peppers

15

grams

Spring Onion

Split into white and green

10

grams

garlic

1

Tsp

olive oil
For the Fried rice sauce (makes two portions)
2

Tbsp

Barbecue Sauce

Use your fav one

1

Tbsp

Dark Soya Sauce

1

Tbsp

Oyster Sauce

1

Tbsp

Cooking Sake

1

Tsp

MSG

This is for the umami

1

Tsp

Toasted Sesame Oil
Instructions
Mix all the sauces together in a bowl. You can use this 2-3 times. All the sauces are salty so you should not need any extra in the fried rice itself.

Start by chopping the garlic. spring onion, bell pepper and brisket.

Heat the olive oil in your wok and once hot add the garlic and spring onion white and sautee. Once they start to brown on the edges you add in your brisket and bell peppers.

Stir fry till the brisket starts to get a touch of colour and the peppers soften. Then throw in the rice and give it all a good mix.

Add two spoons of the sauce and mix well. Then finish with the spring onion greens.

Give everything a good mix before serving.

Enjoy!