Is it a Chicken salad or a Chicken rice bowl?
A Keto chicken rice bowl with no rice. I guess when you use vegetables to replace rice you definitely blur the lines. I mean as a concept it's a rice bowl but that's about it. Beyond that it's largely a great salad. You have all your salad elements and you have a dressing and it tastes like one if I'm being honest. I think on Keto we use terms more to give you a feel or composition of what the dish is rather than trying to replicate it 100%. I mean you can use shiratake rice in this and it will give a more 'rice' like experience.
But even with rice in it, isn't a rice bowl a salad anyway? At least that's the way I see it. Unless it's a hot curry on rice I think a rice bowl is largely like a salad or maybe I'm thinking about quinoa. Either way I hope you enjoy this recipe. Play around with the ingredients and make it your own.
Check out my video for 3 types of Keto rice that are not cauliflower. In this recipe I used my Zucchini rice.
A Caprese in disguise!
Tomato, mozzarella and basil with some salt, good extra virgin olive oil and basil. That's the holy grail of flavour combinations and I love building different dishes with this. Pesto is an extremely amazing and versatile condiment to have at home. I love making mine fresh with a mix of basil and parsley. Most of the times I actually make it without the parmesan because in India we don't get it easily and it's super expensive. I also use different nuts based on what I have at home.
This pesto dressing for this bowl can be made in advance and kept in the fridge and be used as a sandwich spread, for a salad or even to marinate chicken. It's great. The great thing about this recipe is if you just remove the chicken you've got a great vegetarian meal.
I deliberately kept the zucchini raw and I would strongly recommend that as it's got a nice fresh taste and also a bit of texture. When zucchini is cooked it becomes too mushy and isn't as enjoyable. Especially in this rice form. When it's cut into circles or quarters it's a lot different.
Anyway enjoy the recipe!

Nutrition Info For the Chicken (Per serving)
Calories: 207
Net Carbs: 1g
Carbs: 1g
Fat: 6g
Protein: 47g
Fiber: 0g
This recipe makes 3 servings. Get this recipe on myfitnesspal.
Nutrition Info For the Dressing (Per serving)
Calories: 99
Net Carbs: 1g
Carbs: 1g
Fat: 10g
Protein: 1g
Fiber: 0g
This recipe makes 3 servings. Get this recipe on myfitnesspal.
For the rice bowl itself you can manually enter the details based on what you put in your rice bowl. Since all the ingredients other than the dressing and the meat are completely raw. So you can add that over and above the meat and dressing as individual items.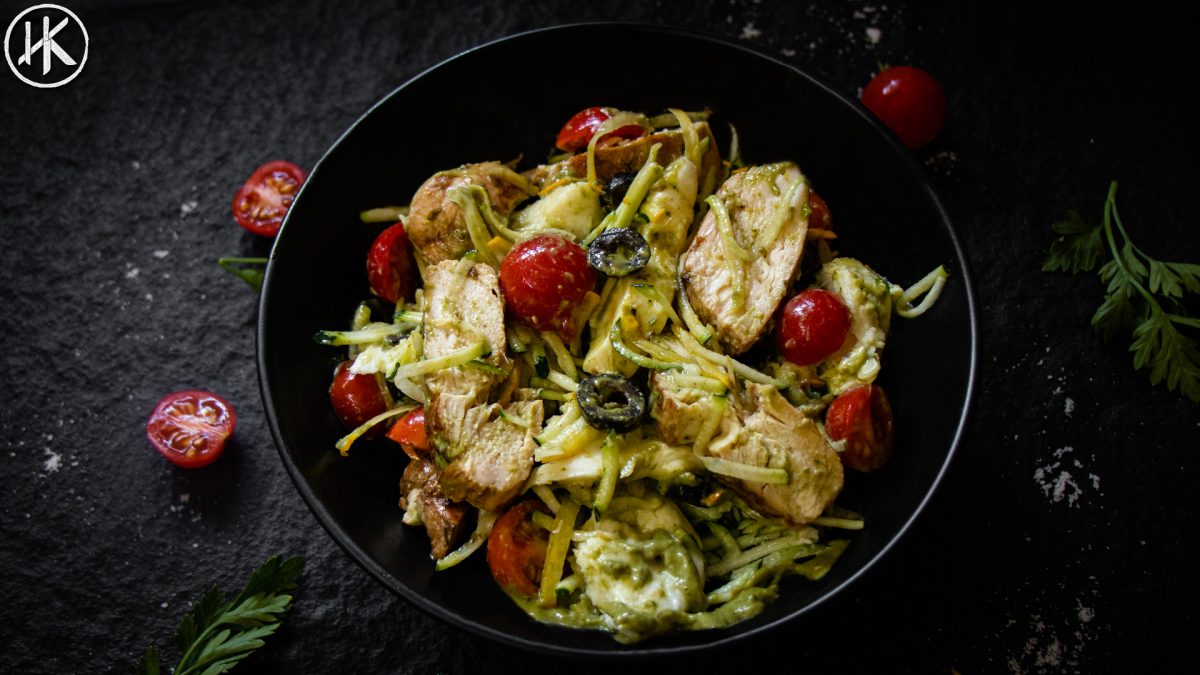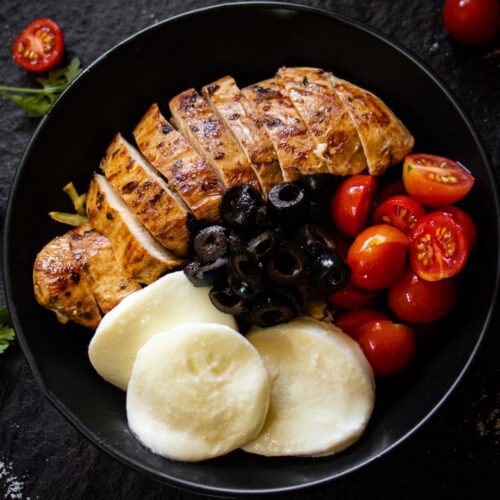 Keto Chicken Rice Bowl
A super simple and easy Keto chicken rice bowl
Ingredients
For the chicken (this makes 3 servings)
450

grams

Chicken Breast

that's 3 full breasts

1

Tbsp

olive oil

1

Tsp

Balsamic Vinegar

1

Tsp

Dried Oregano

Salt to Taste
For the dressing (this makes 3 servings)
1

Tbsp

Pesto

1

Tbsp

olive oil

1

Tsp

Balsamic Vinegar

1

Tbsp

Mayonnaise
For the rice bowl
1

serving

Chicken Breast

from the recipe above

1

serving

HK's Pesto Dressing

100

grams

Zucchini Rice

50

grams

Cherry Tomatoes

75

grams

Buffalo Mozeralla

20

grams

Sliced Black Olives
Instructions
Marinate the chicken in the olive oil, balsamic vinegar, dried oregano and salt. Then cook on a non stick pan for about 3-4 minutes on each side till the chicken is cooked all the way through and has a nice golden brown colour on it.

In a mixing bowl add the pesto, olive oil, balsamic vinegar and mayonnaise. Give it good mix and your dressing is ready.

Slice up your chicken after it's rested into nice big pieces, also halve your cherry tomatoes and slice up the buffalo mozzarella

In your bowl add the zucchini rice, top it with the chicken, tomatoes, mozzarella and olives.

Dress it with the pesto dressing and serve.