Cooking Thai Basil Chicken
Stir-Fried Thai Basil Chicken: The Easiest Pad Krapow Gai Recipe for Everyone!
Horns up, and welcome back to another quick recipe. On today's menu, we have my all-time favorite Thai recipe – Thai Basil Chicken. This is also known as Pad Krapow Gai, which literally translates to stir-fried holy basil chicken. 
Not only is it a protein-rich dish, but it also has layers of flavor. Traditionally, it's a well-balanced combination of sweet, salty, tarty and spicy. But I pretty much made it straight out of a packet. So how does that compare? 
Bangkok is one of my most visited countries. My wife and I love going there and we're always in Bangkok to enjoy the food. Naturally we always bring back stuff from the local supermarket. There is where I bought the paste I used in this video. It had been sitting in my pantry for a year and it was time to use it up. I didn't have Thai basil, so I used Italian and purple ones which a local hydroponics company had sent me. Irrespective of that, the end result was very balanced and very flavorful. 
Anyway enough jibber jabber let's get cooking. 
What is the Stir-Fried Holy Basil Chicken all about?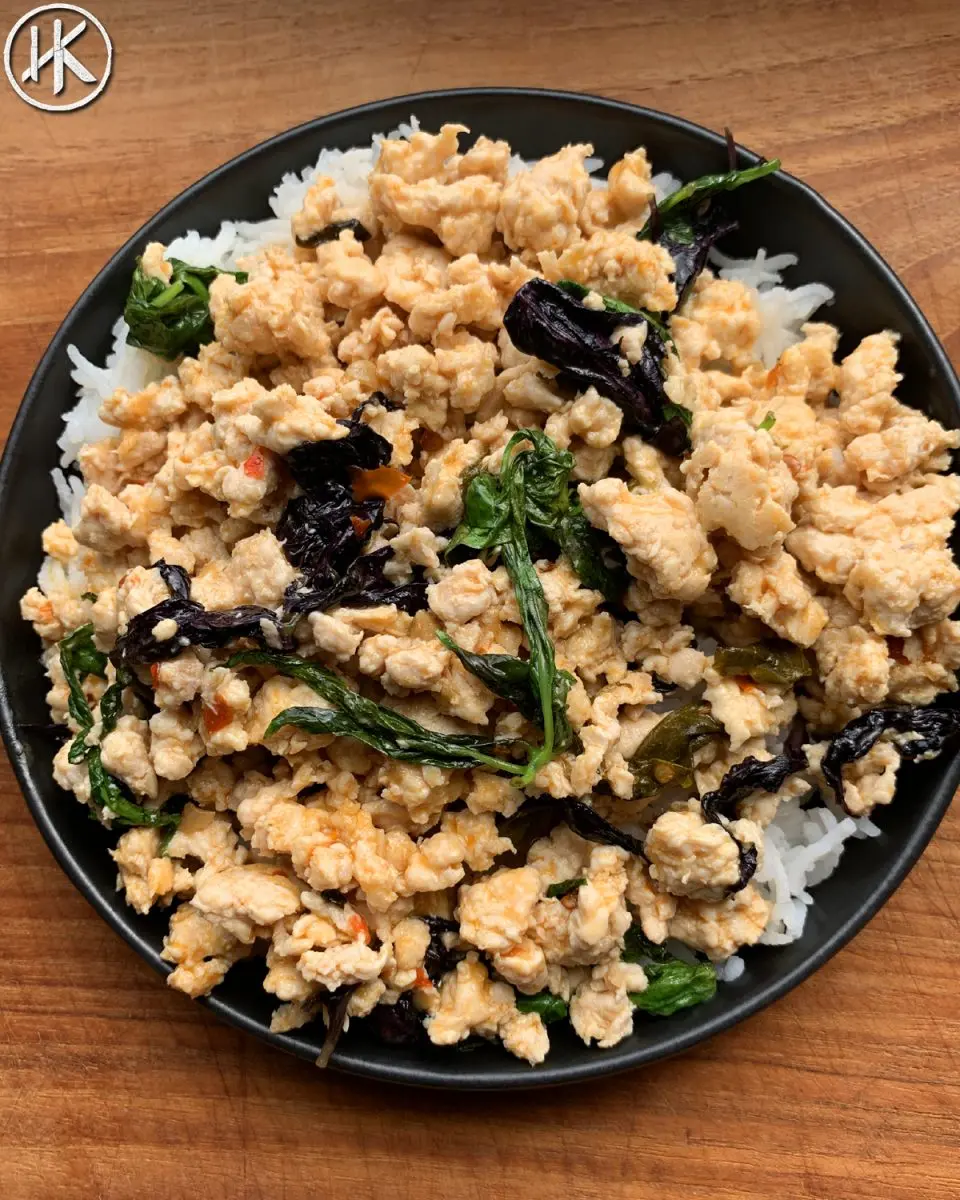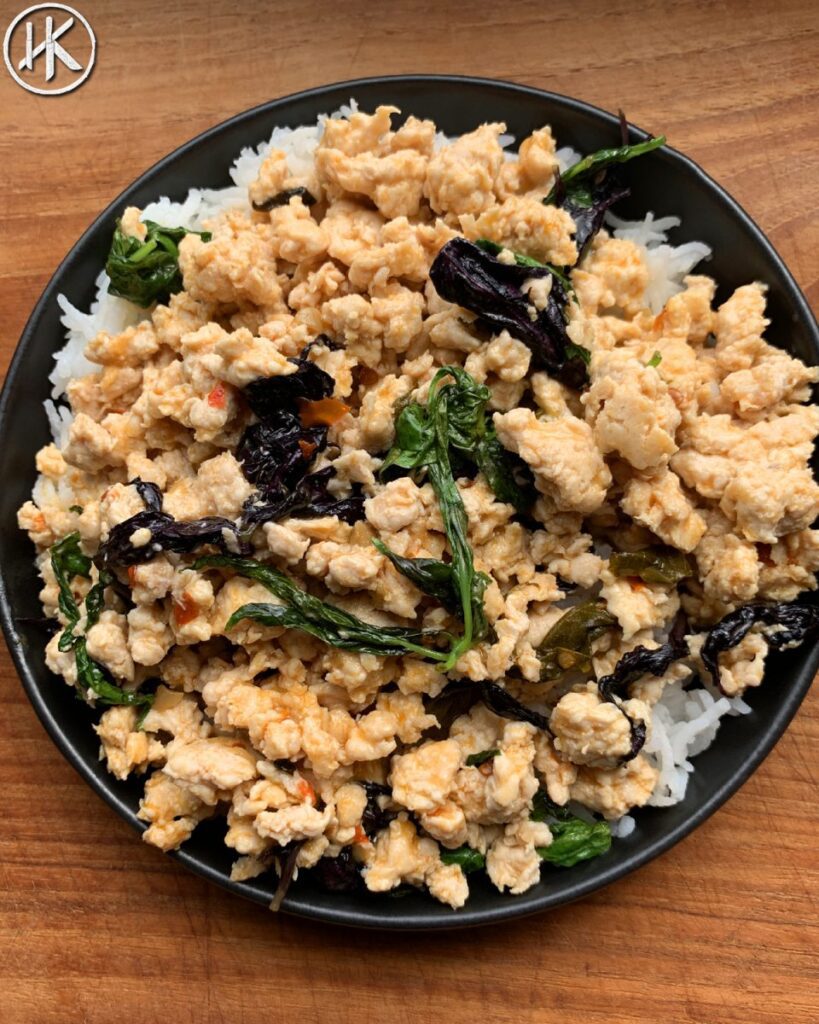 Going through my blog page, you will understand how much I love eating and preparing Thai food. 
In its traditional essence, this dish consists of finely chopped or ground chicken (or pork) cooked with different spices and stir-fried like hell. The spice mix has Thai chilies (the spicy ones), garlic, basil, shallots and galangal, lemongrass and more ingredients. Moreover, to balance out the spiciness, it's seasoned generally with fish sauce, vinegar and palm sugar to add salty, sour and sweet notes. 
Usually, it gets served with rice and a fried egg. If you like Thai flavors, this dish will definitely hit all the spots. 
The Alternatives and Tips
This Thai basil chicken recipe only requires a couple of ingredients. So, there might not be too many alternatives that I can suggest. 
Ideally, you can use any type of ground meat, like chicken, turkey, beef, pork or even vegan mock meat. Alternatively you can use meat pieces as well but my personal preference has always been ground meat of any kind. 
As for the basil, I used Italian and purple because it's what I had on had but you want to try and get Thai Holy basil.  
Yes, the taste might be slightly different, but it'll work. At the end of the day the basil adds a fresh, minty and herb note. Instead of a store-bought sauce, you can make your own at home. Just grind in a few chilies and garlic and mix it with any type of soya, oyster or fish sauce. But generally the store bought pastes have a lot more going on. 
When I initially saw the sauce, I was convinced that it would be the death of me. That was mainly because it looked super spicy. But I ended up balancing it out, and it tasted realllllly good. 
If you are a spice wuss, I highly recommend countering the spices with some sugar. I also added a pinch of MSG, but you can skip that but please don't fall for the fear mongering that MSG is not good for you because it's perfectly safe. As an alternative to coconut milk, you can also use cream but it's not something used in Thai cooking. At least I haven't seen it.  
Note: I served this with rice, but you can use lettuce leaves as a wrap if you would like to keep it Keto or low carb friendly. 
How to Cook the Best Thai Basil Chicken at Home?
The true taste of Thai food doesn't come from Michelin Star restaurants but from its streets. Of course, Thailand ranks 11th on the NDTV's most-liked street food around the world. NDTV is one of the biggest news channels in India that also covers a variety of lifestyle and food content. 
Hence, I decided to cook this Thai basil chicken AGAIN! Oh yes, I initially made this recipe and had my wife taste it. No, it was not the spice wuss version, but the Keto version!
This time, I changed up a few ingredients and made it a quick recipe. Read on!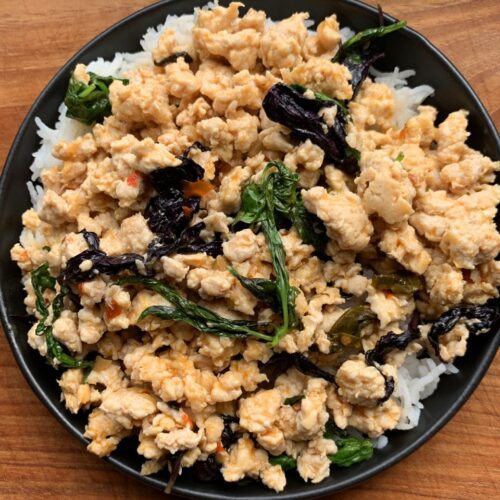 Easiest Recipe for Thai Basil Chicken
This section will take you on a Pad Krapow Gai-making journey. Read on to learn how to curate this authentic Thai dish!
Ingredients
1

Store-bought hot basil stir-fried sauce

tbsp

Oil

450

grams

Ground chicken meat

1

pinch

MSG

100

ml

Coconut Milk

Thai Basil

I used some Italian and some Purple basil

White rice
Instructions
Pour out your store-bought Holy basil spice paste into a bowl and give it a mix to get all the spices together.

Get the pan on heat and add in some oil. Put in your ground chicken meat and stir-fry it. If needed, you can add more oil to the pan.

Once the chicken looks a little cooked, add in the spicy sauce. Then, sprinkle in the secret ingredient - MSG!

Keep frying the chicken for a couple of minutes. Then, add in some coconut milk and mix it very well.

Add in the basil you have. I used Italian and purple. Keep stir-frying till the basil wilts. Once that happens, it's ready!

Get some boiled white rice and put the delicious Thai basil chicken on top. Now, enjoy the taste and the aroma!