NO EGG KETO PIZZA!!!
How many Keto pizza recipes is too many? The answer is that you can never have enough Keto pizza recipes. I started my Keto journey with the humble cauliflower pizza. Little did I know that I had been making Keto pizzas all my life. In 2012 I'd come up with the recipe for an Undying Meatzza which I turned into my Keto meatzza recipe.  As a kid I grew up eating omelet pizzas which my Nana made for me. I made one of those on the channel as well, my chorizo pizza omelet.
But I think the real star of the Keto pizza world has been the Fathead crust. This 5 ingredient version takes that recipe and makes it egg free. Hopefully now the messages asking for 'egg free' versions will stop. Anyway Enjoy!!
Baking Instructions
The main complaint over the years has been about the dough sticking. Apart from that cheese queries a plenty. Allow me to address these. It's best to buy a Silpat for your oven, this is the most efficient of the lot. It's reusable and it works great. A lot of times the pizza sticks if the parchment paper is of poor quality. Also in India we have things like butter paper which masquerade as parchment paper but aren't and will 100% stick to your dough.
Now with the cheese you want shredded mozzarella or the dry kind which you can grate yourself. Fresh mozzarella will not work. I haven't tried this with cheddar or gruyere or any of these other cheese so I can't advise you. The cream cheese can be skipped, it will not hamper the recipe much. Hope this clears any doubts.
Can you cook this without an oven or mircrowave?
Most Indians don't bake. The oven is not a common household appliance here. There are also lots of folks who don't own a microwave. So is there a work around? Well yes there is because Indian mums have been baking cakes in the pressure cooker for years. But we can manage with a good on stick frying pan. Wil the result be the same? Not at all. But it will do the job.
The first problem is melting the cheese in the microwave. If you don't have one just a ban marie is fine. That is a an indirect way of heating the ingredients. You put your cheese in a bowl which you place on top of a pot of boiling water on the stove. This allows for a gentle heat that will slowly melt the cheese. Once the cheese is melted you can remove from the stove and use it to make the dough.
For the cooking method to cook the dough you just spread it on a good on stick pan. Cook on a low heat on one side till it's nice and golden brown. Flip it over and then while the bottom is cooking you can put your tomato sauce and toppings on the cooked side of the pizza dough. Then add your cheese and cover with a lid so that the steam inside melts the cheese.
It's that simple. This is also a great way to heat up leftover pizza. Now don't expect this to have a crispy pizza crust because it's quite possible that won't happen.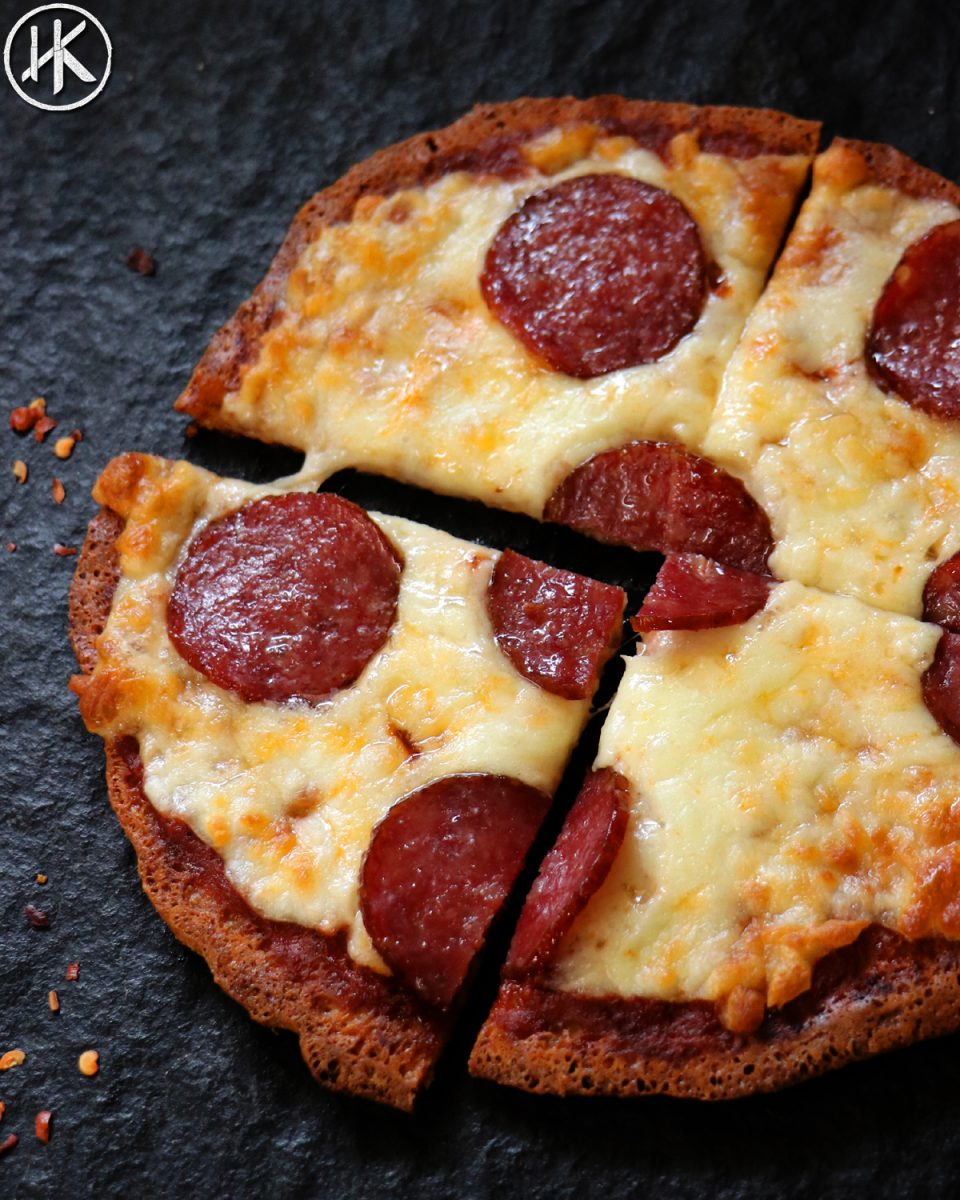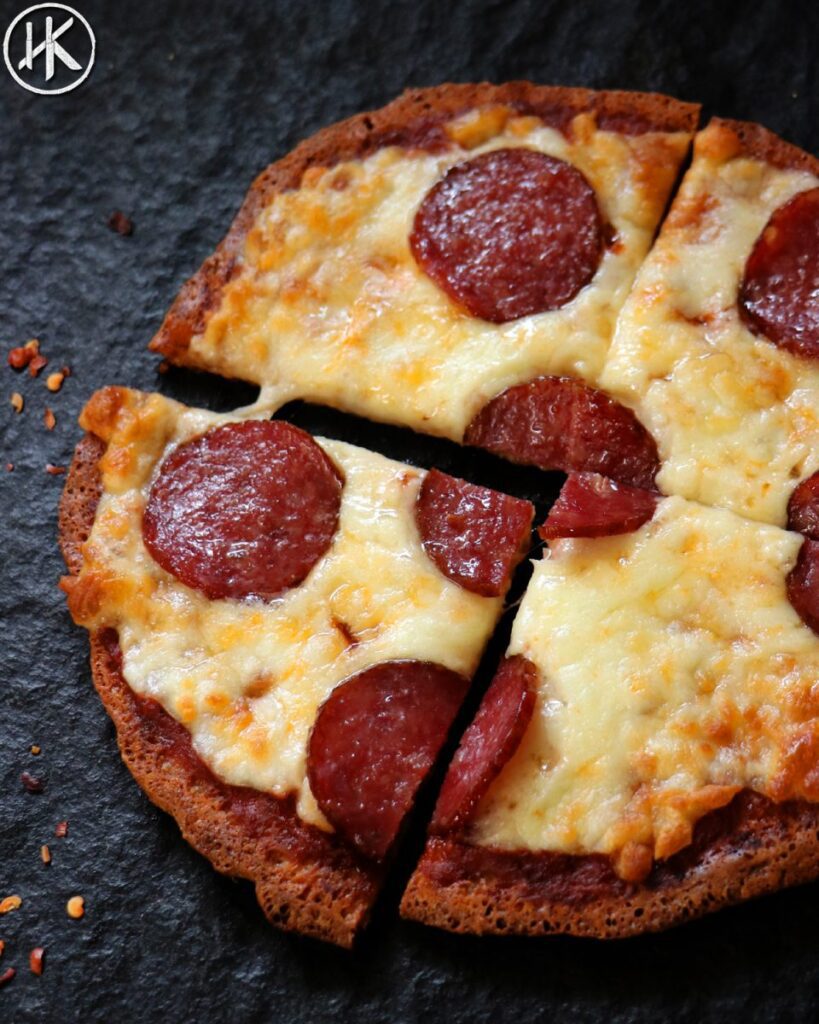 Nutrition Info (Per serving)
Calories: 179
Net Carbs: 1g
Carbs: 3g
Fat: 15g
Protein: 11g
Fiber: 2g
This recipe makes 4 servings. Cut the pizza into 4 equal slices and 1 slice = 1 serving. Get this recipe on myfitnesspal.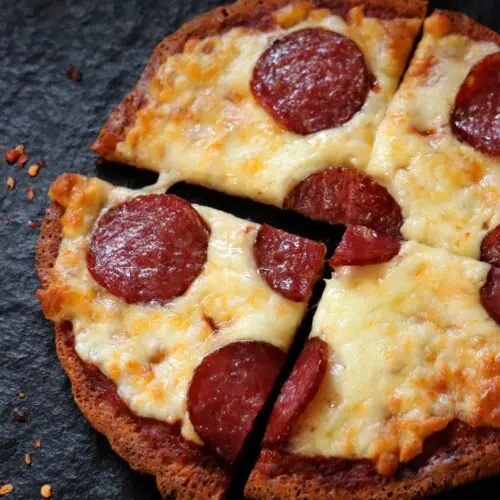 Keto Pizza (NO EGG)
The easiest Keto pizza ever! And with NO EGG!!
Ingredients
25

grams

Almond Flour

I use this

100

grams

Shredded Mozzarella Cheese

20

grams

Cream Cheese

25

grams

Pizza Sauce

30

grams

Pepperoni

Salt
Instructions
In a microwave safe bowl add in 50g of the shredded mozzarella and the cream cheese and microwave for 30 seconds or till melted. Season with salt and add in the almond flour and mix well to form the dough.

Pre heat your oven to 200C/400F and then line your baking tray with parchment paper or a silpat of some sort. Then shape the dough with wet hands to form the crust on the paper.

Then bake for 7-8 min or till golden brown. Remove and then flip the base over, top with the sauce, remaining 50g of cheese and the pepperoni.

Return to the oven with the broiler setting to melt the cheese. Cut into 4 pieces and serve. This recipe makes 1 serving or 1 personal pan size pizza.