Eat this delicious Tandoori Chicken Wrap
Today we're making my Tandoori chicken wrap. This is an easy and delicious high protein meal that is great for muscle building and keeping those calories in check. You could even call this anabolic. And I have to be honest I did get inspired to start eating wraps again from Greg Doucette aka Coach Greg. So credit where it's due. Though I was making wraps long before watching him but now I make them much healthier and less calorie dense. Anyway enjoy the video.
And for this recipe we'll be using my healthy tandoori chicken so check out that recipe.
A wrap is just a round sandwich
There are some basic ideas here which will help you create amazing wraps every time. We've got the main component here which is the meat. Now you can make tandoori prawns, tandoori fish or even tandoori lamb. Same recipe for all but only cooking times vary. However you don't have to restrict yourself to tandoori because there are many Indian kebabs that will work in this. I've got recipes for everything from chicken tikka to reshmi kebab to malai kebab. All will work.
Now for the slaw and dressing. The dressing is yogurt based and it's just mixed with some chaat masala and chutney. You can also use mayonnaise if you want a creamier dressing and you can also swap out the chutney with any other kind of hot sauce if you want some heat. While cabbage and capsicum is my choice for the vegetables you can also maybe use carrots, cucumber and other kinds of bell peppers. You can keep these raw or cook them by sauteeing in a pan with some salt. The choice is yours.
And finally the pickled onions. Again you can play around here and maybe use cucumbers or carrots or even cabbage for that matter. The idea is to have some acidity in the wrap and finally some fresh herbs like the coriander. So meat, veggies, dressing, pickled element and a fresh herb. And if you have the calories you can add cheese.

Nutrition Info (Per serving)
So for this recipe you just got to input the items individually because everyone's going to use different things for the wrap so I am sure you can manage it. You will find the tandoori chicken macros on the recipe page and you can add that. For the wraps scan the barcode based on what brand and size you use. Veggies as well since they are raw or pickled you can weigh them and add it. Same for the yogurt dressing, just adding the amount of yogurt will work because the calories form the mint/coriander chutney is hardly anything. I've done a rough calculation and using about 100g of the tandoori chicken, 50-60grams of vegetables and about 2tbsp of the yogurt dressing it's about 400 calories for a single wrap. Hope that helps. Looking at 9g fat, 44g carbs and 49g protein.
Of course if you are Keto or want to make this Keto use a Keto wrap, make the tandoori chicken with thigh meat, instead of yogurt use full fat greek yogurt or mayonnaise. In fact I did an awesome Keto chutney recipe which has the chutney mayo recipe in it. And then just add your veggies. You can additionally add cheese if you are on Keto. Just keep an eye on the calories though.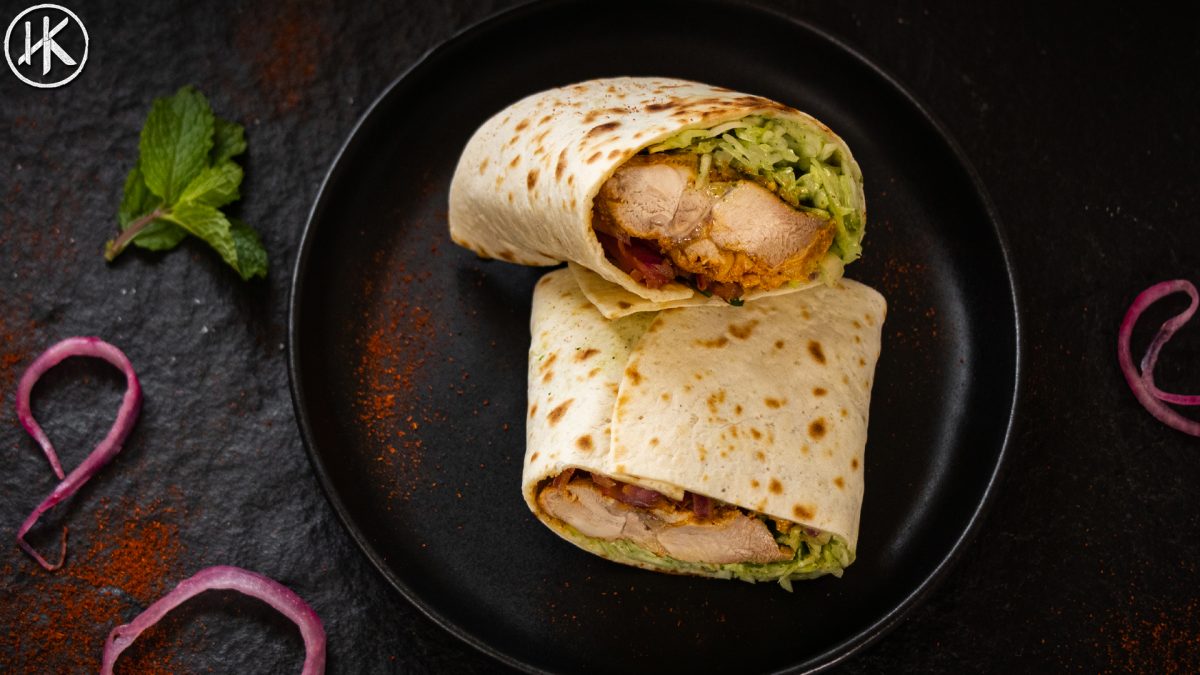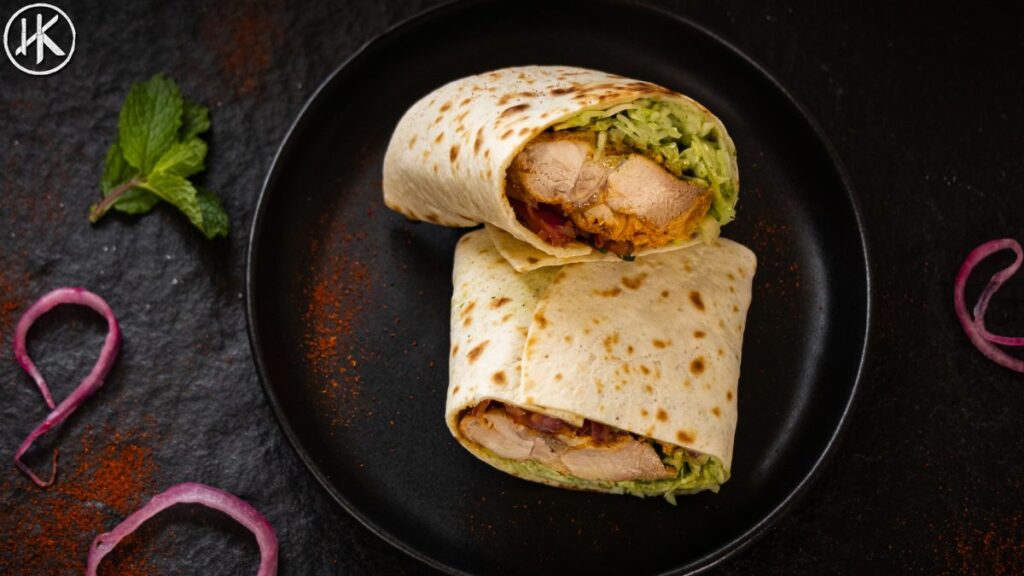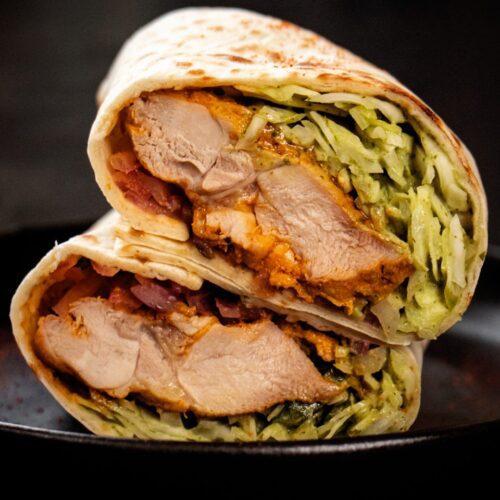 Tandoori Chicken Wrap
A delicious and easy tandoori chicken wrap
Ingredients
For the green chutney
25

grams

Mint Leaves

25

grams

Coriander

1

Green Chili

the juice of half a lime

Salt to Taste

a little water to blend
Creamy Yogurt Dressing
100

grams

Plain Yogurt

30

grams

Green Chutney

1

Tsp

Chaat Masala

Order online

salt if needed
Pickled Onions
1

Red onion

1

Lime

1/2

Tsp

Salt
For the wrap
100

grams

HK's Healthy Tandoori Chicken

Get the recipe here

1

Tortilla Wrap of choice

50

grams

Cabbage

20

grams

Green Bell Pepper

1

Tbsp

Creamy Yogurt Dressing

15

grams

Pickled Onions
Instructions
Start by blending all the chutney ingredients in your food processor to make the chutney.

In a mixing bowl first whisk the yogurt to make it nice and smooth and then add the chutney and chaat masala and give it a good mix to make the dressing.

Slice the onions for the pickles and mix in a bowl with the juice of the lime and salt and then set in the fridge to chill.

Slice the cabbage very finely and dice the capsicum and mix in a bowl with 1 or 2 tbsp of the yogurt dressing and let it chill in the fridge.

Before assembling the wrap warp up the tortilla in a pan on the stove.

Assemble the wrap by filling it with the slaw, followed by the tandoori chicken and the picked onions. Add a spring of fresh coriander as well.

Now just wrap it up by wrapping it up and enjoy your wrap!