Cauliflower Mac and Cheese
Nostalgia drove me to make a keto pasta!
If you were an Indian kid growing up in the 80s, you ate the usual – dal, rice, roti, sabzi. Not me, though. As a card-carrying member of the Sindhi diaspora displaced during the Partition of India, my family's childhood menu was eclectic, to say the least. Ham sandwiches, tuna salad, roast chicken and macaroni and cheese were my staples, alongside a mix of Indian cuisine. We called mac and cheese 'Cheese Macaroni' and obviously it was one of our favourites growing up, because which kid doesn't love cheese? So reinventing it by making a keto cauliflower cheese brought back all those memories I had of eating the dish when I was growing up. The key spice in this recipe is freshly ground nutmeg. Nostalgia alert!
Making a cauliflower mac and cheese
Like in most keto recipes, it's cauliflower to the rescue. Be it as a substitute pizza base or, in this case, the macaroni, cauliflower provides the perfect vehicle for the cheesy goodness of that sauce. Originally, for a mac and cheese, you'd use a béchamel sauce, with a flour roux. But, in this case it's just butter, cream, cheese and spices all melded together. It's pretty simple – just pour it over the cauliflower, add your choice of meats or veggies, add more cheese and then in it goes in the oven to bake.
This cauliflower bake is a blank canvas for you to paint on, because you can throw in a variety of veggies, ranging from mushrooms to broccoli. Likewise, with the meats, replace the ham with bacon, shredded chicken, pulled pork, breakfast sausage or any meat treat you like.
Growing up, what did your mother add in her mac and cheese? Let me know in the comments below.
Looking for more low-carb pasta recipes? How about a zucchini alfredo fettuccine? Or a pesto pappardelle?
Cheers & Keep Cooking!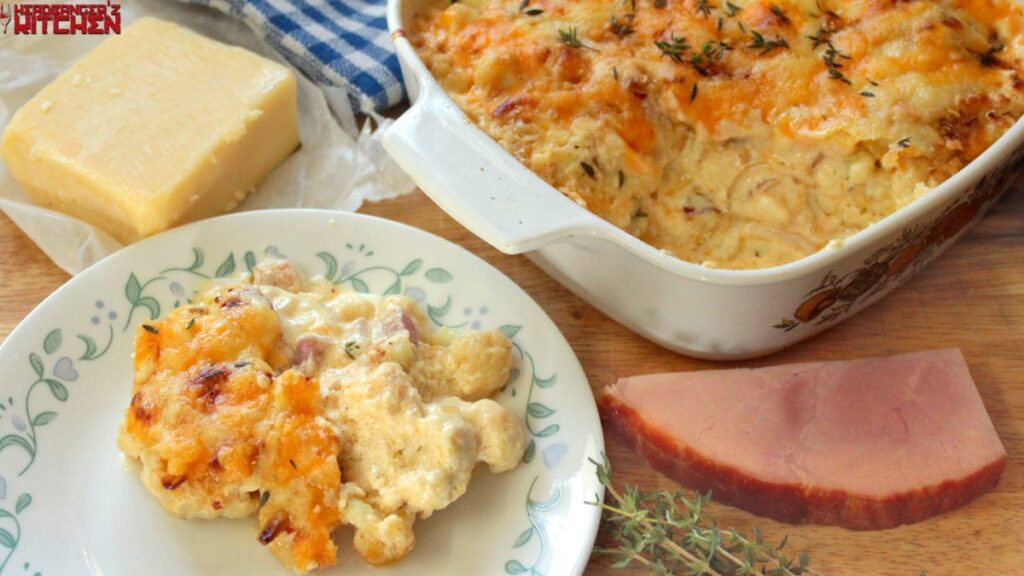 Nutrition Info (Per serving)
Calories: 481
Net Carbs: 9g
Carbs: 12g
Fat: 43g
Protein: 17g
Fiber: 3g
This recipe makes 4 servings. Get this recipe on myfitnesspal.
Low Carb Pasta Recipie
A delicious low carb cauliflower mac and cheese that's cheesier than my jokes
Ingredients
500

Grams

Cauliflower

100

Grams

Ham

(Chopped)

1

Small Onion

1/2

Tsp

Red Chilli Flakes

300

Ml

Heavy Cream

150

Grams

Cheddar Cheese

50

Grams

Salted Butter

Try this one

1

Tsp

Garlic Butter

1/2

Chicken Stock Cube

25

Grams

Pine Nuts

I recommend these

1

Tsp

Fresh Thyme

1/2

Tsp

Nutmeg

grated

1/2

Tsp

Cayenne Pepper

I recommend this one

1/2

Tsp

Garlic Powder

I recommend this one
Instructions
Chop and sweat the onions in a pan with the garlic butter.

Add in the chopped ham and chilly flakes.

Sauté for a few minutes and set aside.

Cut the cauliflower florets off the stalks, season with salt and microwave for 5 minutes.

Melt 50 grams of butter in a saucepan and add in the garlic powder, cayenne, pepper, nutmeg, fresh thyme and stock cube

Once the butter has melted and everything is well mixed in, add the cream and mix vigorously together.

Add in 100 grams of your favourite cheese and cook till fully melted into the sauce.

Finish the sauce with fresh pepper.

Mix together the cauliflower, ham and onions and cheese sauce in a bowl.

Put the mixture into casserole and top with crushed pine nuts and the remaining cheese.

Bake for 10-12 minutes in the oven at 200C (390F) and then broil for 2 minutes

Serve!
Notes
Try a mix of sharp cheeses to really bump up the flavour.