Low Fat Chicken Tikka Kebab
Anabolic Chicken Tikka Kebab Recipe
I got to admit I've done low fat recipes before. I've eaten a high protein diet to build muscle before. But it's only after I started watching Greg Douctte's videos did I start using or labeling things 'Anabolic'. Anyway I've been eating these wraps (inspired by Coach Greg) but of course with my own spin/twist to it and these low fat chicken tikkas are the perfect filling for the wrap. I hope you enjoy this delicious anabolic chicken recipe.
It's got a few spices but remember you these are pretty much the basic Indian spices to stock up these and you can use them in many other recipes as well.
Oven & Grill Cooking
These kebabs can also be made on the grill or using an oven. The grill is definitely going to add a lovely smoky flavour to the meat. In the oven you got to be careful because breast meat can dry out and that's why I prefer the pan. But you can turn up the oven to the max and cook it. I'd suggest using the thermometer to get it cooked perfectly.
I would also recommend if you don't care as much about protein and fat macros then use chicken leg/thigh instead and use a little more ghee when cooking or baste with ghee when in the oven. That will definitely get you closer to what you taste in a restaurant because they really bathe things in fat.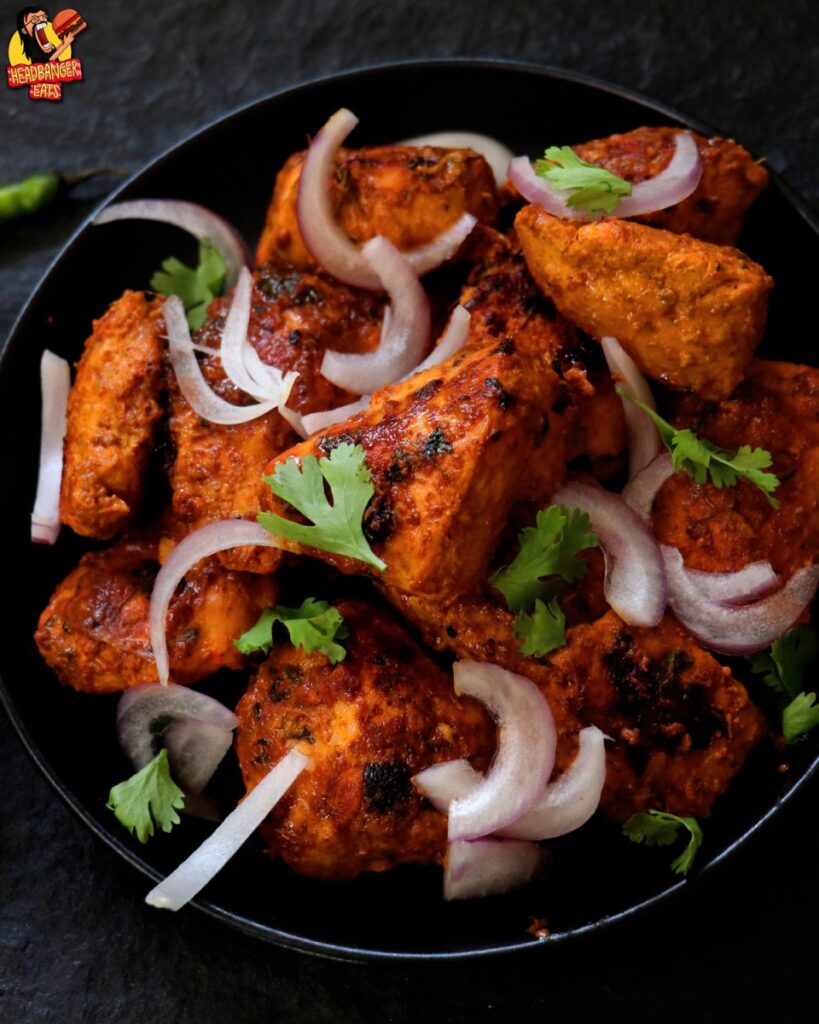 Nutrition Info (Per serving)
Calories: 201
Carbs: 1g
Fat: 7g
Protein: 31g
Fiber: 0g
This recipe makes 5 servings. Get this recipe on myfitnesspal. To calculate the serving size place all the cooked kebabs on your weighing scale and divide by 5 and then portion out accordingly.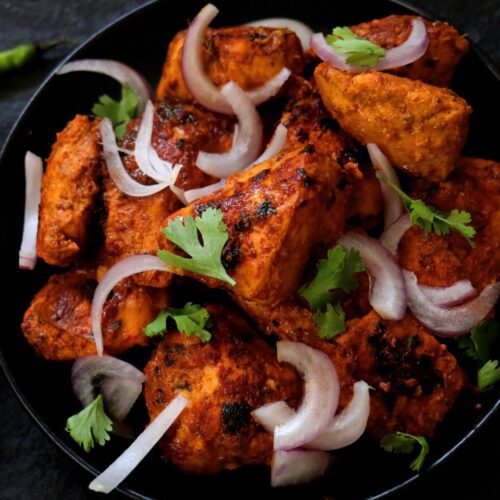 Low Fat Chicken Tikka Kebab
Easy Low Fat Chicken Tikka
Ingredients
500

grams

Skinless Boneless Chicken Breasts

60

grams

Yogurt (Regular Dahi)

Alternatively unflavoured Greek Yogurt

1

Tbsp

Mustard Oil

alternative is ghee

1

Tsp

Salt

1

Tbsp

Ginger Garlic Paste

1/2

Lime

2

Tsp

Kashmiri Red Chilli Powder

Order online

1/2

Tsp

Tumeric

Order online

1

Tsp

Coriander Powder

Order online

1/2

Tsp

Cumin Powder

Order online

1/2

Tsp

Garam Masala

Order online

1/2

Tsp

Mango Powder

Order online

1

Drop

Red Food Colour

Optional
Instructions
Cut the chicken breast into tikka size chunks and marinate with salt, ginger garlic paste, 1tsp kashmiri red chili powder and the juice of half a lime. Marinate for 15-20minutes

To make the 2nd marinade hang the curd in a cloth to get rid of some of the water. In a bowl heat the mustard oil for 30 seconds in the micro and mix with the remaining Kashmiri chili powder to bring out the red colour.

Then add in the hung curd and remaining spices including the kasuri methi. Add the chicken into this marinade and let it sit for an hour.

Cook the kebabs on a non stick frying pan using either pan spray or a very light coating of ghee. No more than 20 calories worth of it. Cook them in 2 batches so as to not crowd the pan. Chicken breast cooks quickly so about 4minutes on each side.

Once your chicken is cooked, serve with a nice green chutney and garlic with some sliced raw red onions and coriander.