A Keto Chicken Kebab
A lot of people seem to think Indian food is very carb heavy. While this is true to an extent, there is a huge range of Indian food that falls under the Keto friendly umbrella. I personally find Chinese food to be less Keto friendly because of the sauces they use, which do contain a fair amount of sugar. However I digress (and before I begin a Keto war). Kebabs are a Keto friendly staple at any Indian restaurant and they are also great to make at home. The process is pretty simple and between a home BBQ, oven or a frying pan, you can make them taste delicious.
Most of you know me as the Indian guy who doesn't like spicy food. Which is why I rarely enjoyed Indian food or ever wanted to visit an Indian restaurant (I still don't). The times that I did find myself at one I always ended up ordering a Reshmi Tikka or a Malai Tikka. Since I've already made a Keto Reshmi Tikka I figured now was as good a time as any to make a killer Keto Malai Kebab. This is a simple chicken kebab made with cheese, cream and just 2 spices, cardamom powder and black pepper.
Malai = Cream
For those who don't speak Hindi or aren't familiar with Indian cuisine, malai effectively meals cream. So for anyone who plans to ask me for a dairy free option, use coconut cream. I must warm you, it will taste nothing like a Malai kebab, it's like asking for an eggless omelet. When it comes to kebabs I always prefer to use the chicken thigh meat as it's more succulent, juicy and doesn't cook (dry out) like chicken breast does. While I cooked these on the cast iron pan you can make them in the oven (cook at the highest temp).
One of the things I also mentioned was the Indian processed cheese, this refers to what we get in stores called as 'block cheese'. It's very unique to India (the brand is irrelevant but Amul & Britannia are the ones I see used most). It's not really a cheddar and thankfully it's made from milk and not vegetable fat or something. If you can't get your hands on this you can always use any other hard cheese or something like cheddar.
Now you can use fresh ginger and garlic in place of ginger garlic paste but you will need to pulp it down to a paste for it to adhere to the kebab meat. I mean not one wants pieces of ginger and garlic on their kebabs. You can also add green chillies if you want to add some spice but I always leave it out. I think the pepper powder is enough. Some people like to also add garam masala powder but not me.
Murgh Malai kebab
That literally is chicken cream kebab. The chicken malai kabab is not the same as chicken reshmi kabab. While they are similar they aren't the same. Both are beautiful boneless chicken pieces marinated in different spices and then put on skewers and grilled in a tandoor. Throw on a bit of chaat masala and lemon juice and enjoy. Always serve with green chutney and pickled onions.
One of the interesting things we do is take the cheese and the heavy cream and mash them down together to create almost like a thick paste. This is very unlike to India cooking I think taking a hard cheese and mashing it.
Now of course at home you can either bake them in the oven or cook it on a tawa or frying pan. In the oven you'd want to place your skewers on a wire rack. Put that on your baking tray and cook at the highest temp. You want to line your tray with aluminum foil for easy clean up. I've made chicken kababs like this many times but I prefer the pan version and I'll explain why.
Turn the flame on high and fry the kebabs. What happens is unlike in the oven the marinade holds onto the meat and reduces in the pan concentrating the flavour which for me makes better tasting kebabs. There is a moisture in pan cooked kebabs that I love. I also like cooking them on a high heat so I can get some of that char on it.
These are actually my two fav kebabs because they aren't spicy unlike most other kebabs. Chicken tikka or the green kebab (I forget what it's called) are normally spicy so I prefer to not order those. Anyway enjoy this chicken malai tikka recipe.
Nutrition Info (Per serving)
Calories: 290
Net Carbs: 1g
Carbs: 1g
Fat: 18g
Protein: 29g
Fiber: 0g
This recipe makes 4 servings. Get this recipe on myfitnesspal.
For everyone asking about that stove stop grill mesh that I am using with the handle. It's called a Papad Jali in India. It's available on Amazon. Click here to buy.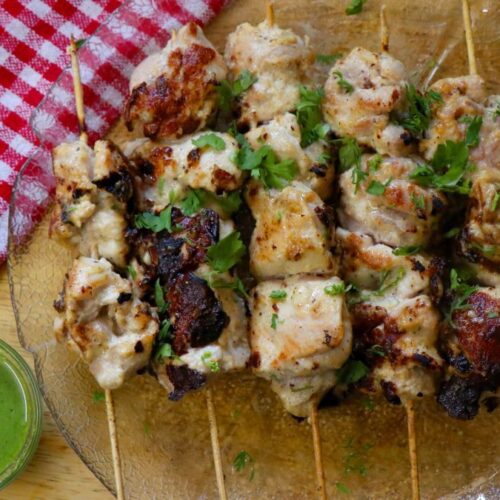 Keto Malai Kebab
A delicious creamy and cheesy chicken kebab
Ingredients
500

grams

Boneless Chicken Leg and Thigh Meat

100

ml

Heavy Cream/Double Cream

I recommend this one

50

grams

Cheese

Ideally Indian Processed Cheese like Britannia or Amul (Block Cheese)

10

grams

Ginger Garlic Paste

I recommend this

2

Tsp

Ghee

For the marinade plus additional for cooking Try this one

1/2

Tsp

Salt

1/2

Tsp

Black Pepper Powder

Try this one

1/4

Tsp

Cardamom Powder

Try this one

Juice of half a lime
Instructions
Cut the chicken into kebab size pieces.

In a bowl mix the cheese, cream, ginger garlic paste, salt, pepper, cardamom powder and lime juice. Mix everything well till you have a nice creamy marinade.

Add in the chicken and give it all a good mix. Set aside to marinate overnight or for at least 1 hour.

To cook the kebabs skewer them and fry on a cast iron or non stick pan. You can alternatively cook them in the oven as well at the highest temperature.

I like to finish these off by giving them a char on the stove with the naked flame.

Serve with chutney and lime.
Notes
Soak the skewers in water before using them. This prevents them burning.