Grilled Pesto Chicken with Cheese & Parsley Cauliflower Mash and Sauteed Mushrooms
A great Keto meal – Keto Pesto Chicken
I had a friend of mine called Bipro coming home for lunch, he's the lead singer of a heavy metal band called Albatross, who have been on the show before. Long story short I cooked up a Pesto Grilled Chicken with a chunky cauliflower mash which had cheese and parsley and some sauteed mushrooms with sour cream and chives. He's eaten my food before but watch the episode to see his reaction. You can watch my interview with his band Albatross here.
This meal was delicious and the best part is the recipe is super simple, prepared in minutes and is great meal prep option too. Enjoy!
Headbanger's Kitchen Pesto
I count my recipe for Keto basil pesto to be a Keto Essential. It's so versatile and can be used in a variety of ways. This chicken itself is a great example. Also you can make a pesto zucchini pasta with it. The best part is you have a tasty high fat condiment. It can be great for salad dressings as well.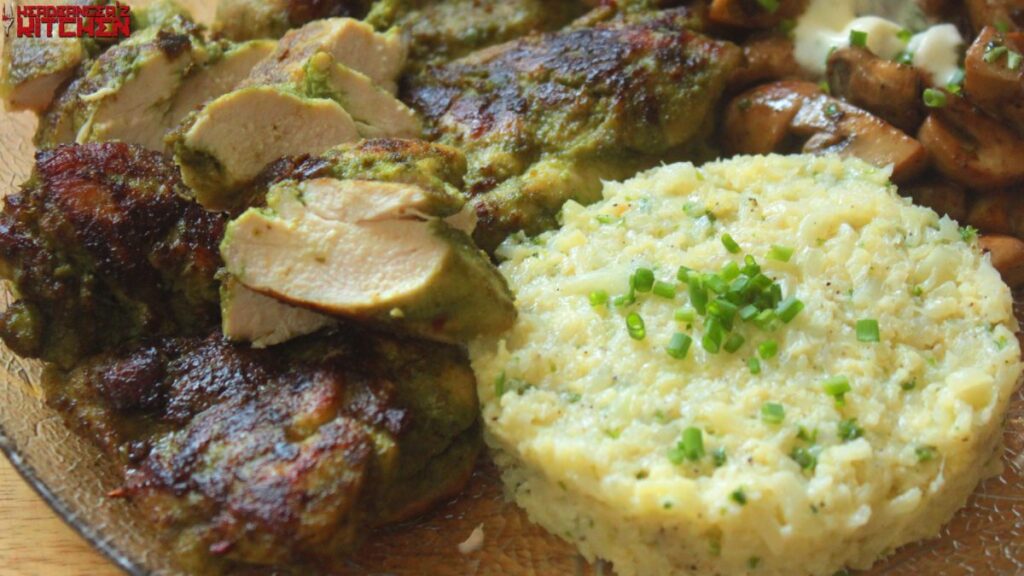 Counting the macros
I'm not putting macros for this recipe because it's really not required. You can simply input the raw ingredients for all the items since it's less than 4 ingredients. So just weight out the chicken, the pesto, the mushrooms and oil/butter and input that into MFP. If I find some time later once all the other recipes are up I'll sit and calculate them. For now I'm just leaving them out.
Grilled Pesto Chicken with Cheese & Parsley Cauliflower Mash and Sauteed Mushrooms
A complete Keto meal. Meat and veggies.
Ingredients
For Cauliflower mash
1

Head of cauliflower cleaned and cut

1

Tbsp

Butter

2

Tbsp

Fresh Parsley

30

grams

Cheese

30

ml

Heavy Whipping Cream

Salt to Taste

Pepper to taste
Instructions
For Chicken & Mushrooms
Marinate the chicken with the pesto and some chilli flakes. Allow to marinate for an hour.

Heat some oil in a pan and fry the chicken till fully cooked.

In the same pan add some butter, fresh parsley and then the mushrooms

Season the mushrooms with salt and cook till the water is released.

Pour in the resting juices from the chicken

Add in the garlic and cook the mushrooms till they get caramelized.

Turn off the stove and add in a dollop of sour cream and top with chives and mix well

Serve together.
For Cauliflower mash
Microwave the cauliflower for about 10 minutes or till fully cooked. You can also boil or steam it.

While still hot add in the butter, parsley and salt and mash with a potato masher.

Then add in the cheese and heavy whipping cream and mash

Add some pepper powder to finish it off.

Serve