Cream of Cauliflower
Winter is coming and this Keto cauliflower soup will keep you warm. Game of thrones references aside it's that time of the year for most people. I say most because in Bombay it's 20C in Winter (global warming is real people) and soups and stews are perfect comfort food. I've already done a wide variety of soup recipes like my Keto broccoli soup and my cream of chicken soup. I thought it was time to add a few more recipes into that catalog. So the obvious choice for me was to do a delicious cream of cauliflower soup. Simple, rich and creamy.
Tips & Tricks
Normally you would just do salt and pepper for this recipe. That would be super basic. I however chose some nutmeg and fresh thyme along with using onions and garlic to amp up the flavour. It's all really down to personal choice. You can skip the nutmeg and thyme. You could also pass on the garlic. I would recommend keeping the onions in though.
To make this soup completely vegan you could replace the heavy cream with coconut cream and skip the cheese completely. Also a double helping of avocado oil instead of the butter. You could vary up the spices in this soup and maybe add some cumin powder, tumeric, red chilli powder to give it sort of an Indian taste. Garam masala powder would do that as well. I would also say try 'Pumpkin Spice' in this soup I feel you will have a winner there.
Another great way to amp up the flavour is to use chicken stock or beef stock instead of the vegetable stock. I feel there is much more flavour in those compared to vegetable stock. In short there are plenty of ways to tweak this recipe. I'd love for you to leave your comments with all the tweaks you made if you did at all.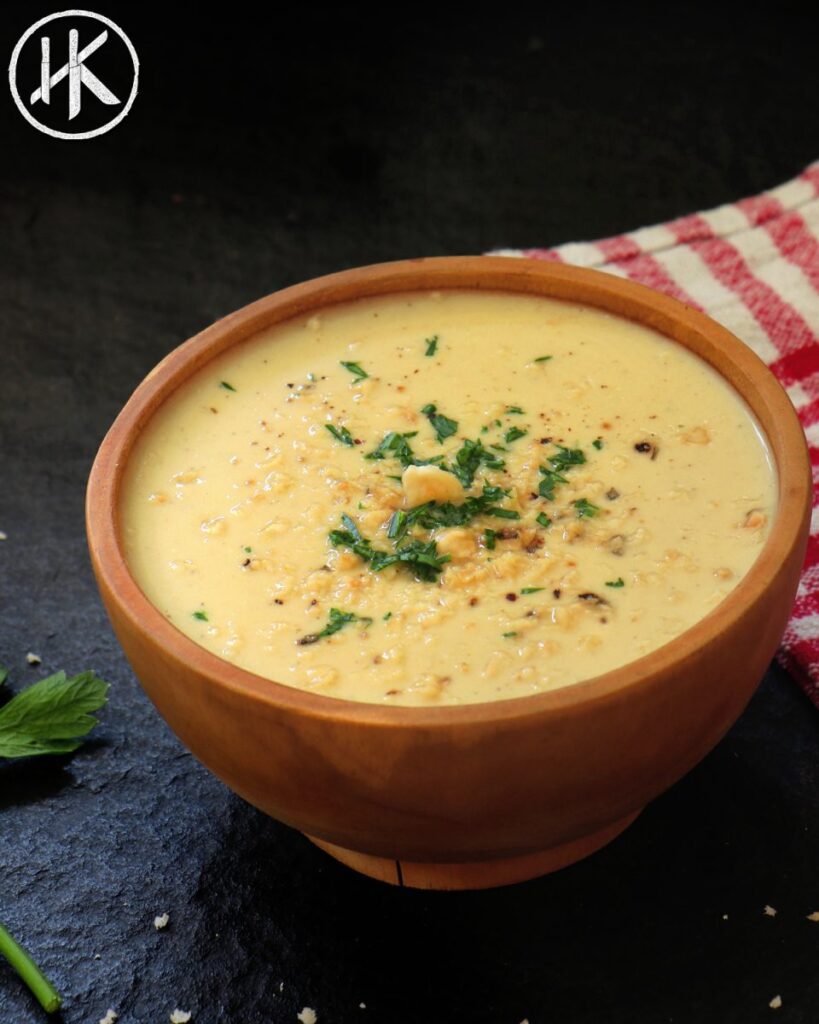 Nutrition Info (Per serving)
Calories: 196
Net Carbs: 7g
Carbs: 11g
Fat: 16g
Protein: 4g
Fiber: 4g
This recipe makes 4 servings. Get this recipe on myfitnesspal. The macros do not include any CHEESE nor do they include any NUTS used to top the soup with those. You can input those items individually. To make the soup less carb heavy you can skip the onions or just reduce the amounts of the garlic and onions. I personally don't stress about carbs from vegetables.
Keto Cauliflower Soup
A delicious low carb cream of cauliflower soup
Ingredients
500

grams

Cauliflower

75

grams

Onion

10

grams

Garlic

100

ml

Heavy Cream/Double Cream

Order online

500

ml

Water

1

Stock Cube

1/2

Tsp

Black Pepper

1/2

Tsp

Fresh Thyme

1/4

Tsp

Nutmeg Powder

Order online

Salt to Taste

1

Tbsp

Butter

Order online

1

Tbsp

Avocado Oil

Order online
Instructions
Start by slicing the onions and prepping the cauliflower. You want to separate the florets and also trim the stalk and chop it up. We will use all parts of the cauliflower. If you have good looking cauliflower leaves you can sautee them in butter and garlic and make a side dish with it.

Heat the avocado oil and butter in a heavy bottom saucepan and then sautee the onions till they turn translucent.

Next turn up the heat and add in the cauliflower. We are looking to char the cauliflower a bit and get it slightly brown and roasty. You need to keep an eye on it.

Also add in the garlic, thyme, stock cube, nutmeg and pepper. Once the bottom of the pan starts to turn dark brown deglaze with the water.

Bring up to a simmer and cover and cook for 15 minutes on a low heat till the cauliflower becomes nice and tender. Run your knife through a piece and it should cut through like a hot knife through butter. That means it's done.

Then either use an immersion blender and or a regular blender and blitz the soup into a lovely creamy consistency. Add more water if needed. Strain through a sieve for a velvety smooth texture.

Bring it back on the stove on a low heat and add in the heavy cream and give it a good mix. Check for seasoning as well.

Now you can optionally add some of your favourite cheese to make it nice and cheesy. If the soup is too thick then add water or stock to thin it. If it's too thin then reduce it by cooking for maybe 10-15 minutes on a medium heat till it reduces down.

Serve it with some fresh pepper, toasted nuts and parsley on top. Bacon bits are always a great addition as well.