Honey Soy Chicken (2 Ingredient Marinade)
Honey Soy Chicken = Honey + Soya Sauce
I mean it's honey soy chicken right? I don't think it could be simpler. This recipe is by far the most fuss free dish I've made. It's the perfect dinner on a weeknight when you are tired. There is no chopping vegetables, no long duration marinade process or complex cooking. It's about 15 minutes in and out. Serve it with steam rice or vegetables and you're good to go.
So I hope you will try this epic recipe.
Chicken Breast? It can be done!
Most people prefer to buy chicken breast. I'll never understand why but they do. So if you want to make this which chicken breast you can but you need to cook it properly. Here the catch, chicken breast cooks very fast. We want the marinade to cook and reduce down to a sticky glaze without overcooking the chicken. So here is what you need to do. Start in a slightly hotter pan than I do in the video and furiously toss the chicken so that nothing sticks to the pan or burns. Do this till the chicken releases it's liquid and once it's swimming in that liquid remove the chicken. Now let that liquid reduce. This should take a minute or two.
At this point pour in any resting juices from the chicken breast and continue reducing the sauce. Once it's a sticky glaze coating the back of the spoon throw the chicken back in and cook it till it's all well coated in that glaze. Now this is a lot of cooking by feel and intuition that's why I prefer if you're a novice you use chicken thigh meat. It's relatively impossible to overcook. So give it a try and trust me once you start eating the dark meat you'll forget the lean boring chicken breast.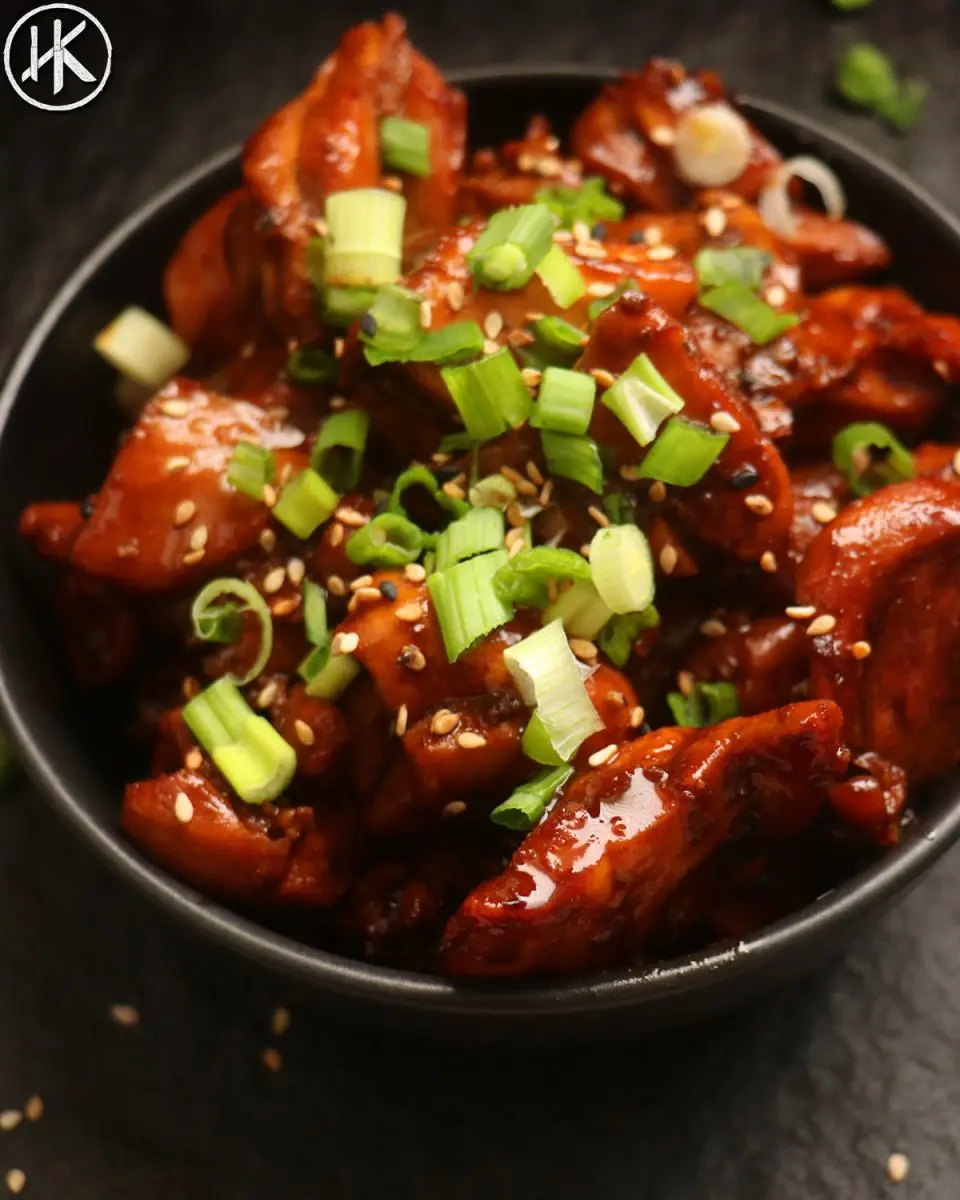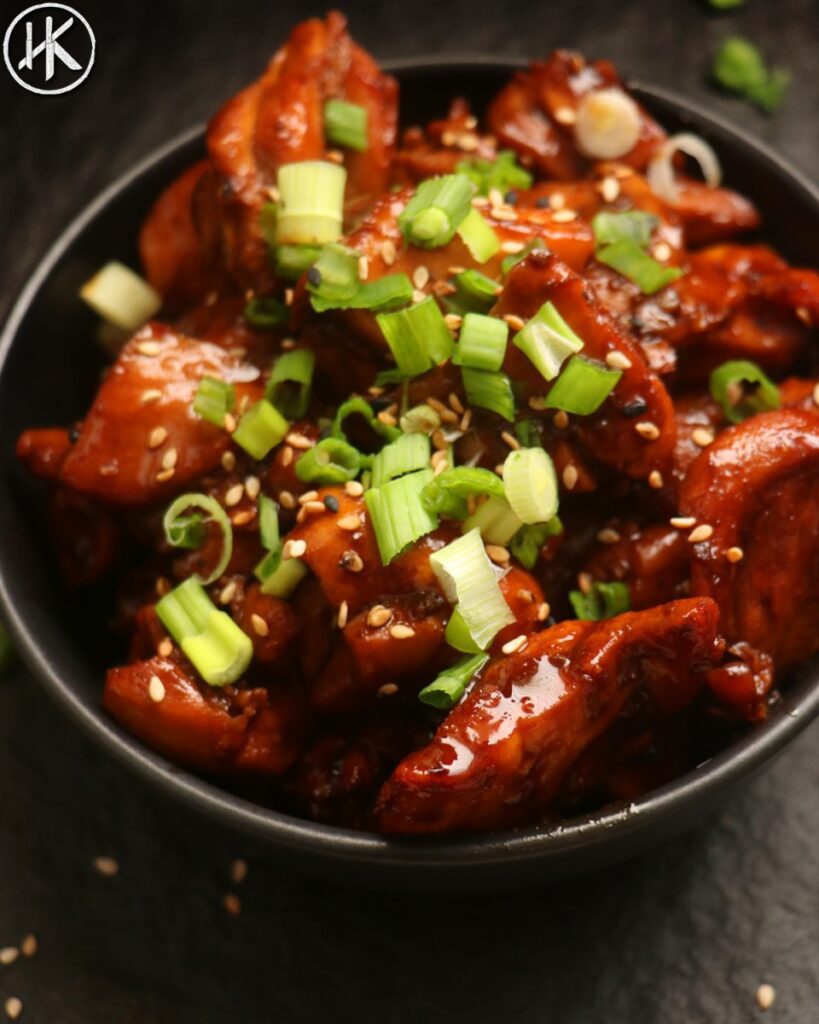 Make it Keto (though it already is)
At 6g net carbs a serving, this is Keto. But if you're someone who is more concerned with using honey than the carbs then just replace the honey with a sugar free/Keto friendly maple syrup or a tsp of erythritol. The idea is to give a bet of sweetness in there. Now honestly I will still tell you that it's 1tbsp of honey over 3 servings. Also if you are going to bring up blood sugar and GI of food etc. You aren't eating the honey straight from the jar, you are eating it along with the chicken which makes a big difference.
If you are Keto don't forget to serve this with cauliflower rice or just eat it as it is, like an appetizer. I recommend making my Miso butter vegetables on the side of this. Either way I hope you enjoy!
Spice it up
Now if you got time or are feeling fancy, there is a lot you can do with this recipe. Throw in some chilies or garlic to amp up the flavours. You can also add a bit of chicken stock and make it more like gravy dish if you don't want it dry. Throw in some day old rice and you got fried rice. There are many ways to create epic dishes from this simple chicken dish.
Play around with and share your best variations with me in the comments. Cheers!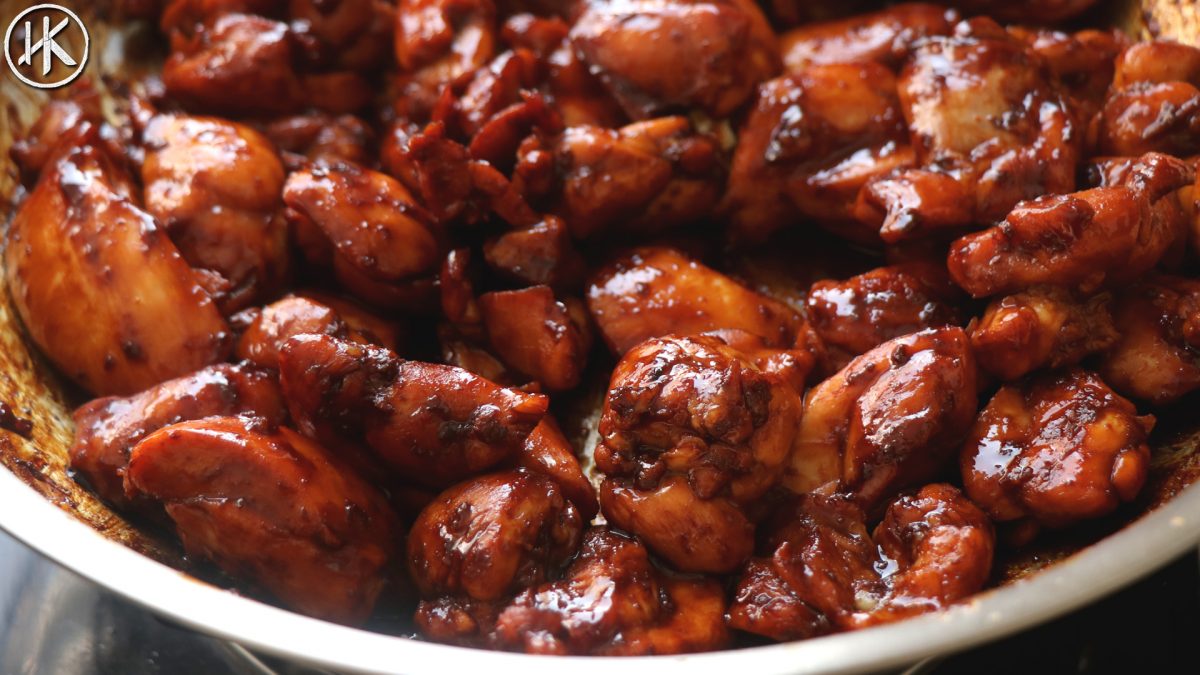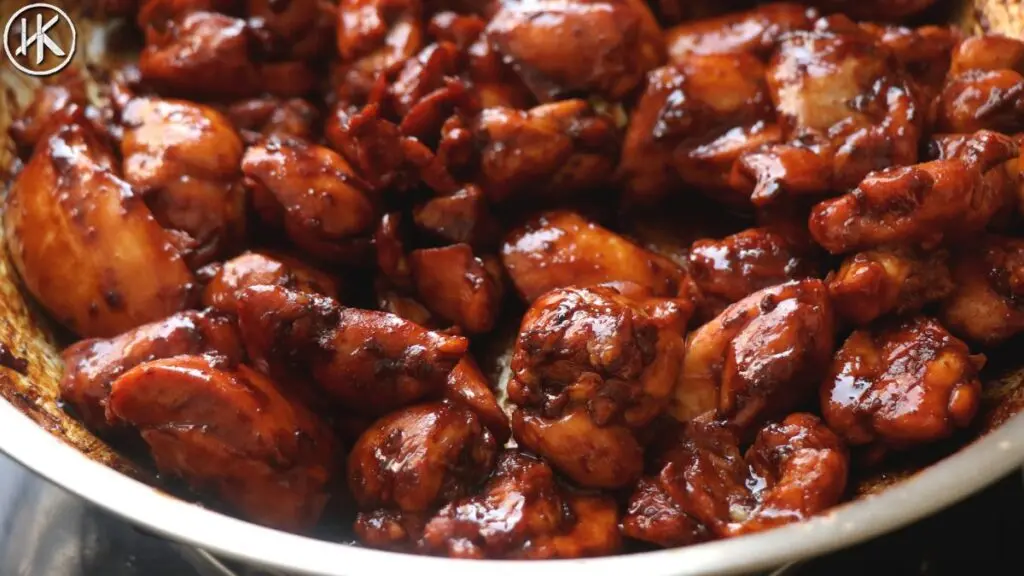 Nutrition Info Per Serving
Calories: 303
Net Carbs: 6g
Carbs: 6g
Fat: 13g
Protein: 36g
Fiber: 0g
This recipe makes 3 servings.  Get the recipe on myfitnesspal.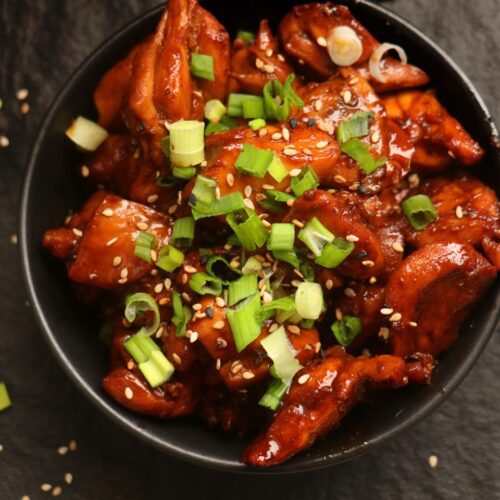 Honey Soy Chicken (2 Ingredient Marinade)
Easy, high protein weeknight dinner
Ingredients
450

grams

Boneless & Skinless Chicken Thighs

1

Tbsp

Soya Sauce

1

Tbsp

Honey

1

Tsp

Furikake Seasoning (optional)

Try this one

1

Tsp

Chives/Spring Onion Green for Garnish

Salt & Pepper to taste

if needed

1

Tsp

Olive oil for frying
Instructions
Chop the chicken thighs into bite size pieces with your knife or you can even use a kitchen/poultry scissors.

Marinate the chicken in the soya sauce and honey for 15 minutes. If you have any toasted sesame oil at home add a few drops and thank me later.

Heat the oil in a pan and once nice and warm add in the chicken.

Cook for 2-3 minutes without moving and then give it a good mix, cover with a lid and cook for 2-3 minutes more.

Open the lid and now cook down till all the liquid reduces to a sticky syrup consistency and coats the chicken.

Finish with the Furikake seasoning and spring onions. Also taste and season with salt and pepper if required.

Enjoy over rice or just as is.