Filling Keto Breakfast Recipes
Are you looking for filling breakfast recipes that fit into your keto diet? Well, look no further than these filling keto breakfast recipes! These recipes use low-carb ingredients, healthy fats, and high protein to give you a delicious breakfast that keeps you full all morning long. Plus, these easy keto breakfast recipes are perfect for busy mornings when you don't have a ton of time to cook. So, if your taste buds are watering and you want to know how you can make these keto-friendly breakfast recipes, keep reading!
These keto egg muffins are so easy to make and are a great way to start your day! All you need are some eggs, bacon, and spinach, and you can whip up these mini egg cups in minutes. What I love about this recipe is that you can add whatever you want to make it your own. For example, if you don't like bacon, you can add ham or beef. You can also add cheddar cheese, goat cheese, keto sausage, or whatever you want!
Want a break from eggs and bacon? Then, you should definitely try this Keto Blueberry Muffin. This single-serve low-carb breakfast recipe is one of the best ways to eat blueberry muffins while on the ketogenic diet. For this recipe, I used almond flour, cinnamon, baking powder, an egg, blueberries, keto sweetener, and vanilla extract. This recipe is perfect for anyone with a sweet tooth who doesn't want to overthrow their carb intake!
These fluffy, crumbly biscuits are the keto version of breakfast biscuits. This easy recipe incorporates 3 simple ingredients – one egg, almond flour, and baking powder. The rest is up to you! You can add whatever you want into these biscuits which is why they're the perfect recipe for breakfast. You can add sharp cheddar, crispy bacon, cut-up bell peppers, or whatever else you like!
Want to make boring old eggs more interesting? Then, you should try out these Greek Scrambled Eggs! This easy breakfast consists of fluffy eggs, tomatoes, and feta cheese, giving you a moderate amount of protein and good fat. The best part about this recipe is that you can customize it however you want! For example, I've seen people include onions, balsamic vinegar, and other spices to jazz up their eggs.
This decadent, savory breakfast is one of the most delicious keto breakfast recipes I've tried. For this recipe, you need Greek yogurt, two whole eggs, garlic, butter, olive oil, and spices to create a super indulgent, filling breakfast. Trust me; eggs and yogurt are a fantastic combo, so don't knock it til you try it! I also have a Keto Eggs Benedict that's super similar to this recipe.
Dessert for breakfast? Count me in! These fluffy pancakes are perfect for curbing that sweet tooth while maintaining a low-carb diet. For this recipe, you will need heavy whipping cream, coconut flour, almond flour, and cream cheese for the frosting! I love this recipe because it gives you a good reason to eat cake for breakfast!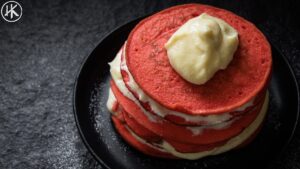 This Keto Breakfast Bowl is basically an omelet in a bowl with creamy tahini dressing on top! However, instead of making your egg into an omelet, I left my eggs sunny side up because I LOVE a runny yolk. I also used pumpkin rice as my base for the bowl, which is a keto-approved low carb rice option. The best part about this recipe is that you can customize it however you want, making it a great recipe for everyone!
This healthy breakfast is a great keto breakfast idea for those who are short on time and need a quick recipe. This recipe calls for one whole egg, my homemade marinara sauce, feta cheese, chili flakes, chopped parsley, and butter. The best part about this recipe is that it's a spicy twist on classic eggs, making breakfast time a lot more flavorful!
This super easy, 3-ingredient recipe is the perfect way to start the most important meal of the day. All you need is some almond flour, butter, cinnamon, eggs, and Stevia (or any other keto sweetener) to taste. The best thing about this recipe is that you can add fun extras like blueberries, sugar-free chocolate chips, peanut butter, or anything else you like!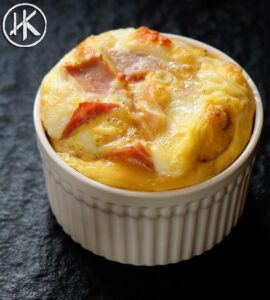 This quick, grab-and-go breakfast consists of mini omelets in muffin cups. This recipe is one of my favorite ways to make eggs because it's super easy and you can customize it however you want! For example, I used ham, cheese, eggs, and butter, but you can add things like bell peppers, bacon, green onions, mushrooms, spinach, or whatever else you're craving!
I hope you enjoyed this roundup of the best keto breakfast recipes that will keep you full until lunch!