Keto blueberry muffin > muffin top
You know how sometimes you just get an intense craving for dessert after meals? You want to just sink your teeth into some cake or a muffin and a single square of dark chocolate just won't cut it. My biggest problem with Keto desserts is that I end up making multiple portions. That's all very well when you're, say, meal planning, but what about when you want just one? This Keto blueberry muffin fits perfectly into that sweet spot. And what's more, it makes the perfect breakfast for that one day when you want a break from the eggs and bacon.
This Keto blueberry muffin retains the moistness of a regular muffin with the blueberries adding little pops of sweetness. It's no dissimilar to a mug cake (it is, in fact, a mug cake) and you can make this in your oven or microwave.
Is it a mug cake or a muffin?
Potayto/Potahto. Or, as they say in Keto, CaulifloWer/CauliflAAHr. The truth is they're both made exactly the same way, so it could either be breakfast or dessert. If there's any distinction I'd make between the two it's that mug cakes can be made a bit sweeter and topped with frosting or compote. But seriously, this can be breakfast, dessert or snack, and you can fancy it up any way you like.
Also, not everyone has blueberries just lying around. I didn't either – I actually spent half my life savings to buy a punnet of blueberries in Mumbai because they're just so hideously expensive here. I exaggerate only a little bit – a hundred grams of blueberries can cost anywhere from $4 to $10 in India. I'd bought a bunch for my Keto blueberry iced tea recipe, and knew I needed to use them up more… er fruitfully… rather than just snacking on them. If you're using frozen blueberries, you need to be careful about the amount of liquid you're introducing to the mix – try and keep that at a minimum.
If you don't have blueberries, you can always sub them out for other berries – strawberries work just fine, as would blackberries and even pitted cherries. Just keep an eye for the changing macros. Give my Keto berry mug cake a go if you want to turn this into a more decadent dessert.
Nutrition Info (Per serving)
Calories: 368
Net Carbs: 3g
Carbs: 6g
Fat: 32g
Protein: 13g
Fiber: 3g
This recipe makes 1 serving. Get this recipe on myfitnesspal.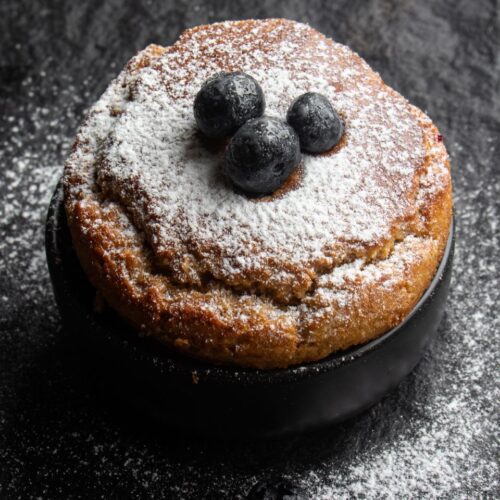 Keto Blueberry Muffin
A simple and easy grab and go Keto breakfast/snack
Ingredients
30

grams

Almond Flour

1/2

tsp

Baking Powder

1

Egg

15

grams

butter melted

2

tsp

Keto sweetener

or 1 tbsp Lakanto maple flavoured syrup

1/2

tsp

Vanilla Extract

1/4

tsp

Cinnamon

20

gram

blueberries
Instructions
Preheat your oven to 200C (390F)

In a bowl, add in the melted butter (or microwave for 15 seconds to melt it), your Keto sweetener (I'm using Lakanto syrup, but you can use any sweetener of your choice), vanilla extract, and the egg and give it all a good mix till well combined.

Now add your dry ingredients to the bowl - the almond flour, baking powder and cinnamon powder and mix well.

Add in the whole blueberries and gently fold through the mixture.

Grease an oven-proof ramekin with butter and pour in the batter. Top with a couple of blueberries for visual appeal.

Bake in the oven for about 12-15 mins or 90 seconds in the microwave. If a toothpick poked through the centre comes out with a few crumbs, or clean, your muffin is done.

Serve warm or chilled, depending on your preference.