Is it an Egg Cup or an Egg Muffin?
Whether you call it Egg Cup or Egg muffin this recipe is a great twist on the traditional omelet. It's kind of like soufflé in that we make it in a ramekin and it rises but not quite the same way. It's rich and decadent and it's easy to make. Mix it all in the ramekin and pop it in the oven while you get ready to do whatever it is you do and then sit down and enjoy this delicious Keto egg muffin. I used ham and cheese in mine but you can really use whatever is left over in your fridge.
Anyway give this recipe a go and let me know what you think and also what combination of ingredients did you use. Stick to the good old ham and cheese or did you spice it up with something different?
Meal prep this bad boy!
I'm making this every morning fresh for my breakfast. But perhaps you don't even have the time to mix things and pop it in the oven or microwave. Maybe you need a more grab and go breakfast. Well the good news is that you can meal prep these bad boys. I'd say 4x the recipe, so 8 eggs instead of 2 and use a muffin tin or tray to bake it in. So you have smaller egg cups and you can just grab and go in the morning.
Though you might not be going anywhere given the current world situation (this might not be the case if you are reading this in the future) but either way the grab and go option exists.
Stay safe!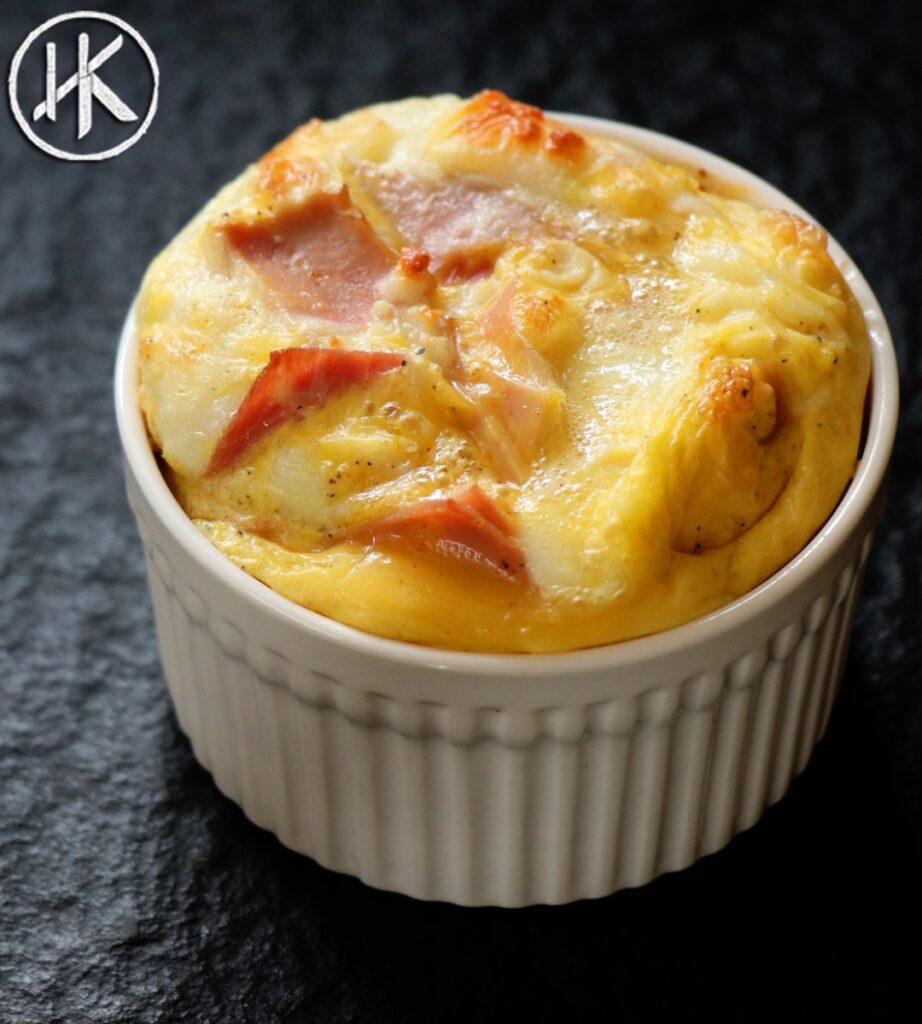 Nutrition Info (Per serving)
Calories: 424
Net Carbs: 3g
Carbs: 3g
Fat: 30g
Protein: 33g
Fiber: 0g
This recipe makes 1 serving. Get this recipe on myfitnesspal.
3 Ingredient Egg Cup
A quick and easy breakfast.
Ingredients
2

Eggs

30

grams

Ham

30

grams

Cheddar Cheese

5

grams

Butter

Salt & Pepper to taste
Instructions
Grease a ramekin with butter.

Preheat your oven to 200C if not using a microwave.

Beat 2 eggs in a bowl with salt and pepper and then add the chopped ham and grated cheese and mix well. P

our into ramekin and microwave for 90 seconds or cook in the preheated oven for 12-15 minutes till the cheese has browned and the eggs cooked.

Enjoy it! Alternatively make a big batch by 4x-ing the recipe and use a muffin tin to make it and store in the fridge for 7-8 days.