Red Velvet Pancakes or a Red Velvet Cake?
If you love red velvet anything you will love these red velvet pancakes. In fact I don't know if this is a breakfast dish or a dessert but it's definitely a sweet treat. I've done many pancake recipes on this channel. I started with almond flour pancakes, then coconut flour followed by chocolate chip pancakes and finally 3 ingredient Keto pancakes. But this time I decided to use a mix of coconut flour and almond flour to make a hybrid pancake.
But this recipe will work with any pancake batter, the idea is a plain vanilla pancake layered with delicious cream cheese frosting. OOhhhh Yeah!!
My tips and tricks!
Now I skipped the coco powder in this recipe which adds a bit of that chocolate flavour to the red velvet pancakes. But since I only had super dark cocoa powder it would definitely turn the pancakes a dark shade and almost maroon. I mean that happened when I made my red velvet cupcakes. They weren't really red you know? So I skipped that in this recipe for a redder colour at the end.
I also used my blender to mix everything but honestly I think a bowl works just fine. It's actually easier to get everything out of the bowl at the end. And don't be scared to add a bit of water to thin out the mixture if it's too thick. You can also turn these into waffles and if you have one of those mini waffle makers it will be PERFECT!
And finally use any sweetener you like the taste of. At the end of the day with Keto desserts the biggest hurdle is the sweetener. No matter how good the recipe is if you aren't a fan of the artificial or natural sugar substitute you will not enjoy the dessert. So find one you like.

Nutrition Info (Per serving) – For the pancakes
Calories: 152
Net Carbs: 3g
Carbs: 4g
Fat: 12g
Protein: 7g
Fiber: 1g
This recipe makes 6 servings. 1 serving = 1 pancake. Get this recipe on myfitnesspal. This is just the pancake, no frosting. This also doesn't include any butter for cooking. If you use a pan spray then that's maybe 10 calories more per pancake. If you a 'pat' of butter (5g) that's about 36 calories more and 4g of fat.
Nutrition Info (Per serving) – For the frosting
Calories: 146
Net Carbs: 1g
Carbs: 1g
Fat: 15g
Protein: 2g
Fiber: 0g
This recipe makes 10 servings. Get this recipe on myfitnesspal. The net weight of the frosting is about 350grams. So frost each pancake with about 35grams of icing to get 1 serving. You can for sure use more but that's gonna be a LOT of calories for a single pancake.
Now if you make THE FULL CAKE like I did then that's 1642 calories. So that is A LOT OF CALORIES!! So please EAT IN MODERATION. This is not a one sitting dessert or breakfast. Ideally you want to eat 1 pancake with 1 serving of frosting for say breakfast or a snack. That is about 298 calories. If you have a bigger appetite then at 596 calories you can eat 2 servings.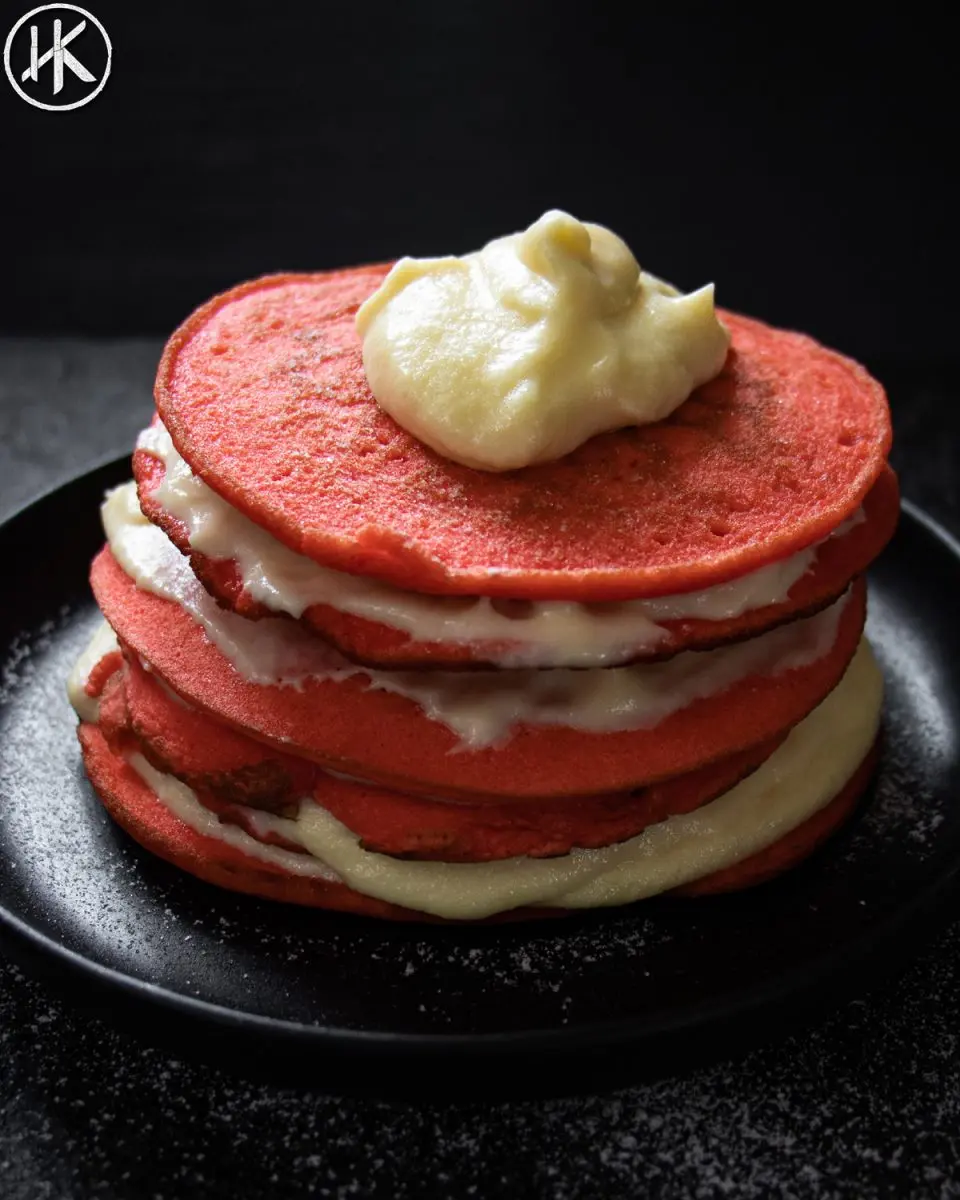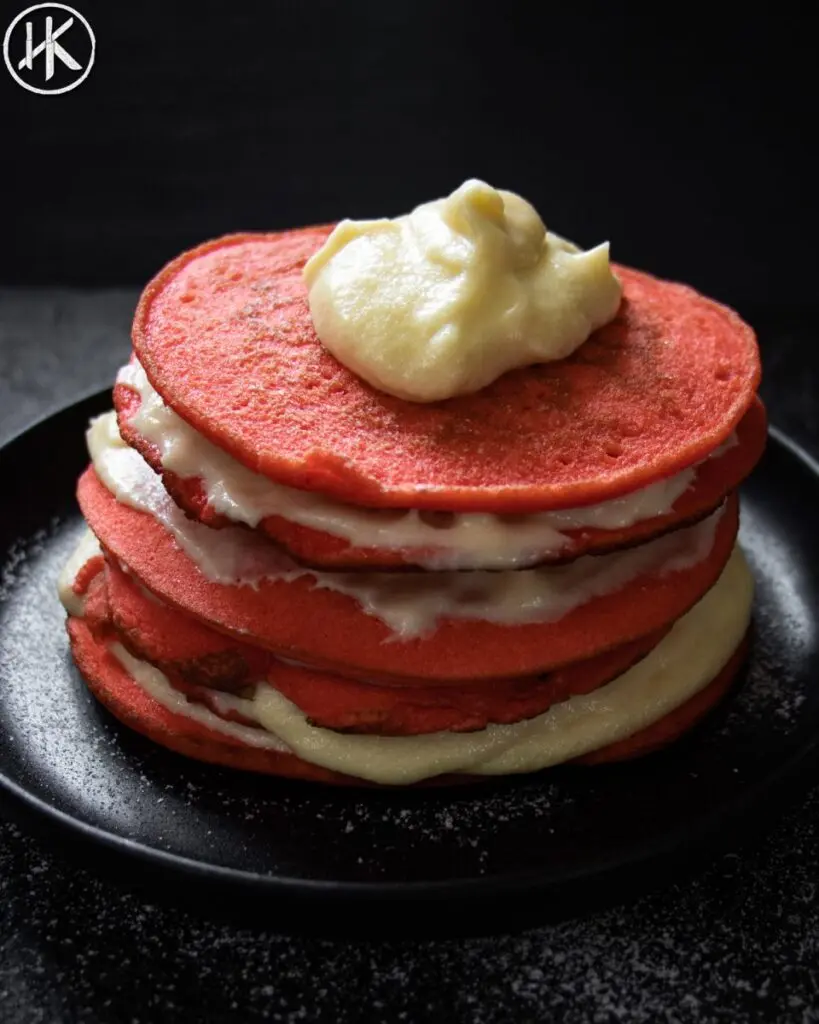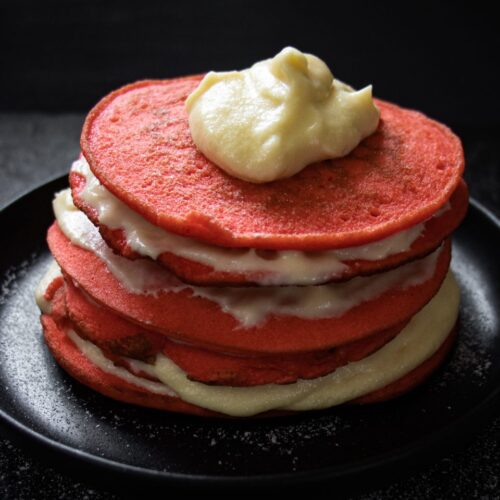 Keto Red Velvet Pancakes
Delicious Keto red velvet pancakes with a cream cheese frosting
Ingredients
For the pancakes
50

grams

Almond Flour

30

grams

Coconut Flour

60

ml

Heavy Whipping Cream

4

Eggs

1/2

Tsp

Baking Powder

1

Tsp

Vanilla Extract

a pinch of salt

a few drops

Red Food Colour

3

microspoons

Stevia

1 microspoon = 1 tsp so use 3 tsp of 1:1 sugar replacement

Butter for cooking
For the frosting (this makes 10 servings and you need 6 for this recipe)
200

grams

Cream Cheese

100

grams

Butter

50

grams

Erythritol or Swerve

This is for any 1:1 sugar replacement otherwise sweeten to taste

1

Tsp

Vanilla Extract
Instructions
In a large bowl or in your blender add the almond flour, coconut flour, whipping cream, eggs, baking powder, vanilla extract, salt, stevia and red food colour.

Whisk everything well or blend till nice and smooth.

Heat some butter in a pan and add in the pancake batter to make your pancakes.

I like to cover the pancakes so that it sets and when you flip it you don't splatter batter everywhere. It's also kind of cooks it all the way through and you just need to cook it 30 seconds on the 2nd side.

Now to make the frosting mix everything in a bowl and whip it. Then put it in the fridge to cool for a while. 30 minutes should be enough.

Now if you eating this for breakfast just serving 1 pancake with 1 serving of the frosting.

If you want to make it into the cake like I did then layer 1 pancake, frost it, then another and frost it and basically stack it up and keep adding a layer of frosting.

Chill in the fridge for 30 minutes before eating so it sets.

Enjoy with friends. DO NOT EAT IT ALONE THE WHOLE THING IS 1642 CALORIES!!!!!!