Easy Egg Muffins with Bacon & Spinach
Perfectly easy egg muffins
We've made easy egg muffins before. Truth is they are just omelets in a cup. But it's so easy to make and I don't know if it's just me but I feel it tastes different from an omelet even though it's technically the same thing. So the idea here is to make this breakfast nice and healthy. I mean at the end of the day, whole natural ingredients are what define healthy food for me. I think spinach is one of those vegetables that really packs a punch and while I hated it as a child, I love it as an adult.
Pork on the other hand is a meat I've loved always and while I don't buy into the hype of bacon I do eat it fairly often. The great part of cooking with bacon is that we don't need any additional fat because the bacon has all the fat I need. The idea is even if you are on Keto you don't want to load up on calories so it makes sense to fry the bacon and then use the fat to cook the rest of the dish.
Anyway that's been enough jibber jabber, let's get cooking!
This is good for any diet
These easy egg cups aren't just for people doing Keto or low carb. They are great for anyone looking for a healthy lifestyle. You can honestly eat this with a toast if you like or you can eat it as it is. You don't even need to go out and buy special ingredients you can just use what you have left over in your fridge.
The most common question is from people who don't eat bacon. No problem, use some ham or sausage, shredded chicken, left over fish. It's all good. You can even make it vegetarian. Go wild with the veggies, add some bell peppers, asparagus, broccoli, carrots, peas, I mean nothing is off limits. If you don't have sour cream throw in some cheese.
Nutrition Information (Per serving)
Calories: 350
Net Carbs: 2g
Carbs: 4g
Fat: 29g
Protein: 19g
Fiber: 2g
This recipe makes 1 serving.  Get this recipe on myfitnesspal.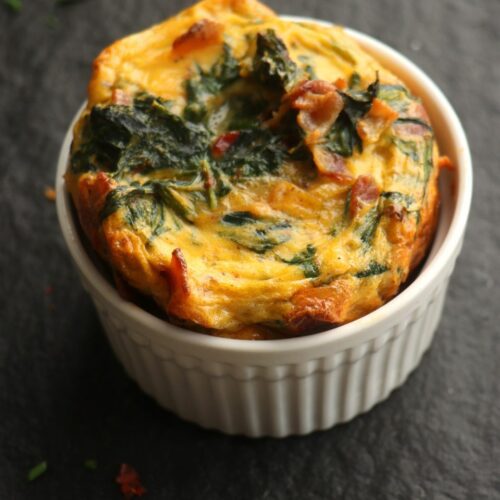 Easy Egg Muffins with Bacon & Spinach
A quick and easy Keto breakfast
Ingredients
2

Eggs

2

rashers

bacon

75

grams

Spinach

1

Tbsp

Sour Cream

1/4

Tsp

Paprika

1/4

Tsp

Black Pepper

Salt to Taste
Instructions
Place the bacon in a cold pan and turn on the heat to medium. Allow the bacon to render out and cook in it's own fat. Cook the bacon to your liking and then set it aside. Remove about a spoon of the residual oil in the pan.

In the same pan with the remaining bacon fat chop and add the spinach. Season with salt and pepper. Cook till the spinach wilts down and releases it's water. You want to make sure you cook out that water and dry it up as much as possible. Then add in your sour cream, turn off the heat and mix well and set it aside to cool.

In a bowl crack the two eggs, season with salt, pepper and paprika and give it a good mix.

Then chop the bacon and add it in along with the creamed spinach.

Using the reserved bacon fat grease up a ramekin (or two) and then pour in the egg mixture.

Now you can either microwave it for about 90 seconds or cook for 15-18 minutes in an oven that you have preheated to 200C or 400F till the eggs are cooked through.

Now just remove it and enjoy!