A delicious Keto friendly seafood appetizer
Today we're making Keto crab cakes. Crab cakes are a favourite world over.  In India I'm quite lucky that we have vendors who come to our apartment complexes with fresh produce. It was on one of these days when the local fish monger bought over some crab which my mother cooked and cleaned, I decided to make these crab cakes. Since I wasn't on Keto at the time I did use bread crumbs to make them but apart from that it's pretty much a Keto recipe. So go ahead and make these.
The recipe is flexible and versatile
The great thing about this recipe is that even though in the video I used regular breadcrumbs it's a simple substitution with my Keto breadcrumbs to turn this recipe 100% Keto friendly. If crab is not available where you live or just not economical enough you can replace it with any kind of seafood you like or even cooked and shredded chicken. If you are bored with the regular crab cake flavours you can definitely try my awesome Keto Fish cake recipe which has an Indian spice twist too it. I'm pretty sure it will not disappoint you. Another great option is using pork rinds. You can use these to bind the cake, or just coat it with pork rinds and fry away.
Nutrition Info (Per crab cake)
Calories: 84
Net Carbs: 1g
Carbs: 1g
Fat: 5g
Protein: 7g
Fiber: 0g
This recipe makes 4 crab cakes.  Get this recipe on myfitnesspal.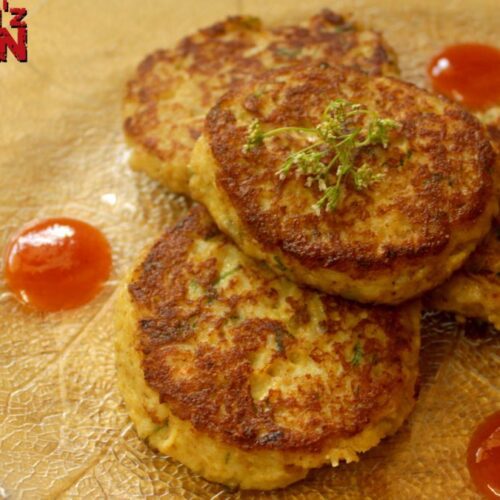 Crab Cakes
Delicious crab cakes
Instructions
Whisk the egg with the mayo, mustard, cayenne pepper, garlic powder, salt and pepper.

Add in the crab meat, onion, coriander and bread crumbs and mix together

Shape the crab cakes using a cookie cutter/mould.

Fry in olive oil for 3-4 minutes on each side on a low/medium heat.

Serve with HOT SAUCE!!