Making a Mexican Corn Salad
How to Make a Killer Mexican Corn Salad?
Horns up, and welcome back to another quick recipe. On today's menu, we have a delicious and vegetarian Mexican corn salad called Esquites. My love for salads has only grown over the years. Be it my Keto diet plan or fat loss diet plan, I have always ensured to put some fresh vegetables in the recipes. 
I also love trying different cuisines, so this Esquites recipe was perfect for me. It only required a few ingredients that I had lying around at home. This makes a great snack or a side dish. 
If you don't want to have a salad but still looking for a quick Mexican-style snack, go ahead and check out my Keto Tortilla and Nachos recipe! With that, you can also make some guacamole. But, for those who want to munch on some Mexican-style crunchy corn, enough jibber jabber, let's get started. 
An Introduction to Esquites 
Did you know that the term Esquites literally translates to "toasted corn?" Well, yeah, that's basically what this dish is! This corn salad is usually found in Mexican local markets, festivals and street foods. 
Some consider this to be a culinary delight enjoyed by most Mexicans. Ideally, this is a corn dish (duh!) served off the cob topped with lime, cheese, mayonnaise, chili powder and other herbs. 
Even though this is classic, various culinary artists have created twisted yet delicious versions. So, I really wanted to hop on the bandwagon! 
My Esquites recipe comprises the basic ingredients mixed with some unique Headbanger's Kitchen twist. Are you ready? 

The Shopping List – A Must-Have List of Ingredients for this Mexican Corn Salad
For this mouth-watering corn Esquites recipe, you will require the following ingredients: 
Frozen corn

Feta cheese

Mayonnaise 

Garlic cloves

Coriander or Cilantro 

Scallions 

Red chili powder

Salt 

Oil

Jalapenos 

Lime
The Alternatives
Instead of frozen corn, you can use fresh corn, no problem. When it comes to ingredient alternatives, you got plenty. Cotija cheese is what is traditionally used in Esquites. I used feta because I live in India, and I couldn't find Cotija anywhere. Of course you can use any cheese you like in the salad. If feta isn't your cup of tea you can grate in some cheddar or gouda as well. Of course maybe don't called it Esquites then and just say corn salad. 
When it comes to spiciness if you are a spice wuss like me, simply skip the red chili powder. As a substitute for fresh jalapenos, you can use the pickled ones. You can use a dash of hot sauce or even chili flakes to give you that kick. . 
Ready? Now let's get on with this Mexican corn salad recipe!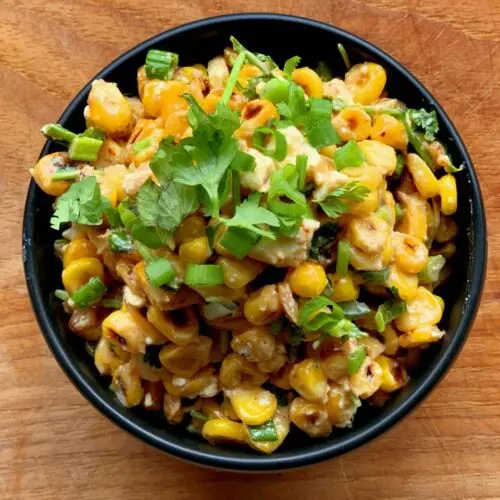 How to Make Esquites at Home? | Made Easy at Headbanger's Kitchen
A quick and easy way to make a healthy bowl of Mexican Corn Salad!
Ingredients
200

grams

Frozen Corn

50

grams

Feta Cheese

1 Tbsp

Mayonnaise

1

clove

garlic

20

grams

Coriander/Cilantro

20

grams

Scallions

1/4

tsp

Red Chili Powder

1/2

tsp

Salt

1

tsp

Oil

1

Jalapeno

1/2

Lime
Instructions
Start by roughly chopping your cilantro/coriander. Then, you can get the scallions and cut them into two halves. Use the green part and slice them up evenly into small pieces.

After that, get one piece of jalapeno. Now, if you like the spiciness keep the seeds and membranes in. But, if you're like me, I 100% recommend removing them. Once done, you can chop it up into small pieces.

Next, get some frozen corn. Let it sit for a few minutes to thaw. Then, get your pan on the stove, heat the olive oil and drop in the corn when it's ribbing hot. Season it with some salt to taste. Keep sautéing, and charring it in the pan.

Flip it and cook away Headbanger's style! Once it's nicely charred (that means black spots, don't worry it's not burnt) remove it from the pan and transfer it to a bowl. Let it cool down. Once cooled, add in the cilantro, scallions, jalapenos, and juice of half a lime.

Grate in a clove of garlic. Now, get your feta cheese and crumble it in. (Don't forget to lick your fingers) Then, add in some mayonnaise and, finally, a touch of red chili powder.

Once you are done putting everything in, give it all a mix with your spoon. And, your Esquites is ready. Get out a serving bowl and serve yourself a hearty snack. You can also garnish it with some coriander.