Keto Poha (Indian Breakfast Dish
Cauliflower to the rescue once again
Poha is a staple Indian breakfast that's made from a flattened and dehydrated rice flake (which is called Poha).  It's a favourite of many Indians and is one of those dishes that people on the Keto lifestyle tend to miss quite a bit. A while back I cooked up a Keto version of Upma, another Indian breakfast dish that's made from semolina flour. I use cauliflower pulsed in the food processor to resemble the semolina. It was pretty obvious that cauliflower would come to my rescue to create a Keto Poha.
When poha was made at my house we always used potato in it (often called batata poha) and I knew I wanted that potato element in my dish. Since I'm been saying it for a while now 'cauliflower' is the new potato, it was pretty obvious what I had to do. I used the cauliflower stalks and chopped them up like a potato and boiled them to replace the potato element. It was perfect! Anyway watch the video and see for yourself.
Carbinator!!!
This recipe has a decent amount of net carbs in it, 9 grams for a single serving of 250 calories. For most Keto folks that is a lot. I would say it's fairly easy to reduce that number by just using less of the red onion, maybe use 30 grams instead of 60 for the whole dish and perhaps use 1/2 the amount of peanuts as well. The meat and potatoes of this dish (no pun intended) is the cauliflower itself and the flavours come largely from the mustard seeds, curry leaves and tumeric. I would also throw some chopped bacon in this. I can already see the scornful look of thy 'pure-vegetarian' viewer. Either way this will definitely appeal to those who are perhaps a bit bored with eggs for breakfast or perhaps just need an interesting keto snack.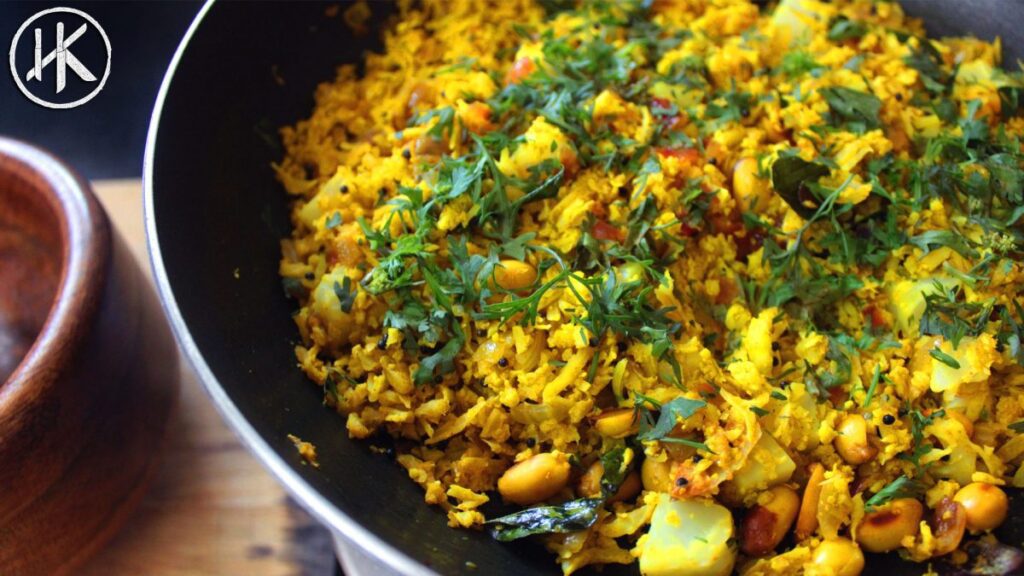 Nutrition Info (Per serving)
Calories: 252
Net Carbs: 9g
Carbs: 14g
Fat: 20g
Protein: 7g
Fiber: 5g
This recipe makes 2 servings.  Get this recipe on myfitnesspal.
Keto Poha (Indian Breakfast Dish)
A savoury and spicy Indian breakfast.
Instructions
Start by prepping the cauliflower. Separate it into florets and the stalks. Wash thoroughly.

Shape and cut the stalk into cubes to resemble potatoes and rice the florets in a food processor.

Boil the stalks in salted water for 10 minutes or till tender

Dry roast the peanuts in a frying pan till they get a nice golden brown colour and set aside

In the same pan heat up 1 tbsp olive oil with 1 tbsp butter (alternatively you can use 2 tbsp of ghee instead)

Then add in the mustard seeds and once they start popping add in the curry leaves and the onions.

Season with some salt and tumeric and fry out the spice

Then add in the peanuts and green chillies and cook for a further minute or so.

Add in the cauliflower rice, season with salt, add a splash of water and cover and cook till tender.

Once the cauliflower has cooked add in the fake potatoes and give it all a good mix.

Finish with coriander and a squeeze of lime juice

Serve.