Bring out the berries for this Valentine's Day
Valentine's Day is a pretty big commercial event if you ask me. We're constantly told we need to buy things for our loved ones and do special deeds to show our love on this day. I personally am not a big proponent of this, I like to show my love all the time, everyday. However, many folks do celebrate in some way and honestly I can just look at it as an excuse for good food. Who doesn't love food? I'd love to know if you celebrate V-Day and what do you generally do?  Let me know.
Now last year I whipped up a decadent Keto chocolate mug cake for V-Day, for you to share with a loved one. This year I thought I'd bring out the berries. I've got a fruity Keto berry mug cake with a vanilla mascarpone frosting to go with it. It's a big cake, meant for two and definitely so delicious that it will impress your loved ones. So go ahead and give it a try.
Counting carbs and calories
So there are a few components in this recipe, the berry compote which makes about 3 servings (about 50 grams each) and the vanilla frosting (which yields 2 servings). This means you will have some left overs. You can either make this mug cake twice (and be left with 1 serving of the berry compote) or you could use the remaining compete for our Keto berry swirl cheesecake. The frosting could be good over any one of our other mug cakes, I'd personally recommend the peanut butter mug cake.
So go ahead and find creative ways to use the left overs. Since you are sharing this cake (or at least eating it over a couple of sittings) I would suggest cutting it in the middle (horizontally) and either making 2 smaller cakes. Then frost each one and eat separately or pile em up over each other for a layer cake.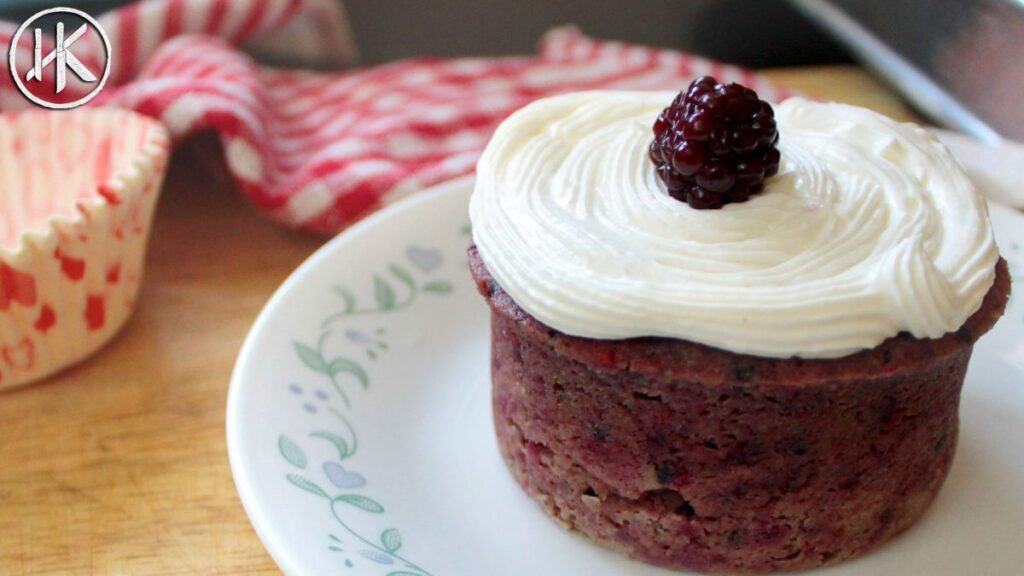 Nutrition Info (Per serving)
Calories: 627
Net Carbs: 10g
Carbs: 15g
Fat: 55g
Protein: 12g
Fiber: 5g
One serving = 1 full cake with frosting. Each cake uses 1 serving of frosting and the recipe for the frosting makes 2 servings. Get this recipe on myfitnesspal.
The berry compote recipe on MFP  and vanilla mascarpone frosting on MFP.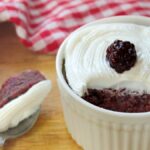 A berry microwave mug cake to satisfy your sweet cravings.
Servings

Prep Time

2

servings

15

minutes
Servings

Prep Time

2

servings

15

minutes
A berry microwave mug cake to satisfy your sweet cravings.

Servings

Prep Time

2

servings

15

minutes

Servings

Prep Time

2

servings

15

minutes
For the Vanilla Mascarpone Frosting
In a saucepan add the berries and erythritol. If you are using fresh berries add like 1/2 cup of water.

Heat on a low flame stirring occasionally till the berries cook and you are lefty with a sticky syrupy mixture.

Use in your dessert recipes.
Mix together the mascarpone cheese (at room temp) and the whipping cream, vanilla extract and stevia

Blend well till you get a nice thicky frosting.

Pour into a piping bag and chill in the fridge,
Mix the coconut flour, baking powder, berry compote, whipping cream, butter, stevia and egg in a bowl with a whisk, or directly into a mug.

If you use a mug just pop it in the microwave after mixing. If you want to step it up a bit, butter a ramiken and pour the mixture in

Microwave for 2 1/2 to 3 minutes on the highest setting. If you want to bake this then 10 minutes at 175C or till the toothpick comes out clean

Allow it to cool and then top with the mascarpone frosting.

I personally prefer this cake cold, but you can also eat it warm if you right just after it comes out of the microwave.