Pulled Pork Mac And Cheese
Keto Mac & Cheese, Yes please!
Life doesn't always go according to plan. I had planned to cook a different dish for this episode but alas! it just wasn't my day. When my original recipe flopped I pondered over what I should cook. I remembered I had some pulled pork in the freezer and that's how this dish was born. Today I'm going to show you how to make a pulled pork Keto mac and cheese. When I made the first Keto mac and cheese recipe I had used cauliflower to replace the traditional macaroni. In today's recipe I'm adding broccoli to the mix as well.
I've already done the recipe for the pulled pork. You can however use any meat you like or you can even skip it for a completely vegetarian version. Anyway enough jibber jabber, lettuce cook!
Cauliflower vs Broccoli
You would have noticed that in this recipe I cooked the cauliflower but left the broccoli raw before baking. The reason because they have different cooking times, cauliflower takes a lot longer to cook while broccoli is done in a jiffy. This recipe can be done with just cauliflower or just broccoli. You could even throw in some cabbage instead. The real key component here is the sauce itself.
I hope you have fun with this recipe and I'd love to know in the comments your own variations of the dish.
Nutrition Info (Per serving)
Calories: 382
Net Carbs: 7g
Carbs: 10g
Fat: 31g
Protein: 18g
Fiber: 3g
This recipe makes 4 servings. Get this recipe on myfitnesspal.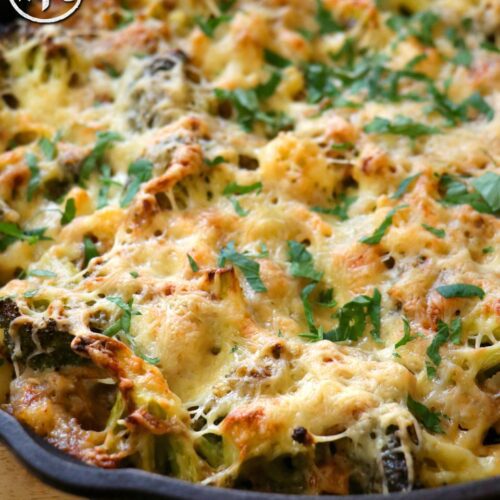 Pulled Pork Mac And Cheese
A Keto classic taken up a notch with some delicious pulled pork.
Ingredients
250

grams

Cauliflower

250

grams

broccoli

150

grams

Pulled Pork

Get the recipe here

100

ml

Heavy Cream/Double Cream

100

grams

Cheese

Use your favourite, I used half cheddar and half mozzarella

30

grams

Red onion

1

clove

garlic

1

Tsp

Salt

1/2

Tsp

Black Pepper

1/2

Tsp

White Pepper

1/2

Tsp

Nutmeg Powder

Parsley for garnish

100

ml

Water

2

Tbsp

Pork Fat/Lard for cooking

You can alternatively use butter, ghee or olive oil

20

grams

Cream Cheese
Instructions
Cut, wash and separate the cauliflower and broccoli into florets. Set aside 250grams of each for this recipe.

Microwave the cauliflower for 5 minutes and set aside.

Heat the pork fat in a frying pan and add in the onions and garlic and once they start to sizzle add in the black pepper, white pepper, nutmeg and salt.

Cook the onions and garlic along with the spices on a lowish heat till they start to turn a nice rich brown colour.

Deglaze the pan with the water and give it all a good mix.

Now add the cream cheese and grate in 50grams of the cheddar/mozzarella cheese that you are using and mix well. The cheese should melt and emulsify to form a sauce. Reduce this down till it's at a syrup like consistency.

Add in the heavy whipping cream and mix everything well. Cook further till it's at a consistency you like. I look for a rich but still fluid kind of sauce. Once done, turn off the stove and set aside.

Add the raw broccoli in the bowl with the microwaved cauliflower and also add in the pulled pork. Give it all a good mix.

Pour over the sauce and give it a final good mix.

Pour the mixture into a cast iron pan or any oven proof dish. Grate the remaining cheese over it.

Bake in a pre heated oven at 220C for about 15-20 minutes till the broccoli is tender and the cheese on top is nice and golden brown.

Remove and garnish with parsley

Serve!